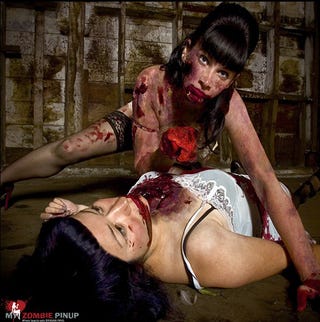 Reason number 712 that I love my fair city of San Francisco is the fact that a group of local lovelies put together this amazing calendar of vintage pinup images in full zombie makeup. The whole gang of them descended on Golden Gate Park with photographers, makeup artists, and an impressively delightful array of vintage outfits (plus lingerie of course). Then they staged 13 spine-tingling scenes of horrifying sexiness. We've got more brain-eating pinups for you below.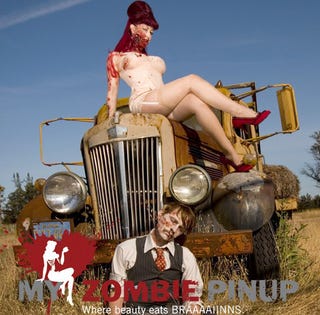 Well, golly. You can't expect an undead girl to drive her tractor all day without a little snack. And that boy sure was snacky.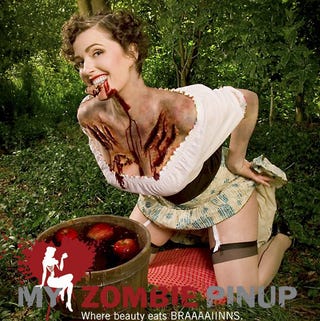 There's nothing sweeter than a necrotic tootsie bobbing for apples. And look what this toothy cutie caught - an ear!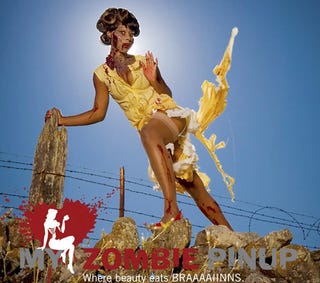 Oh my! Somehow the wind blew this pretty little decaying dame's skirt right up! So it's not our fault if we just can't help gawking at those grisly gams. If you want to see more luscious limb-eaters, check out the
My Zombie Pin-Up
site, and order your limited-edition calendar. And if you're in the Bay Area, you can meet the zombie crew in person at their
Killer Dance Party
on October 25.
Image credits, from top to bottom: Photographer: Robyn Målter | Production Design: Claire Mack | Model: Destin Special Effects: Nick Katich | Hair Stylist: Kathleen Sobelman Photographer: Robyn Målter | Production Design: Claire Mack | Model: LeEvil Special Effects: Nick Katich | Hair Stylist: Lisa Miller Photographer: Shalaco | Production Design: Claire Mack | Model: Neives | Special Effects: Margaret Caragan | Hair Stylist: Kathleen Sobelman | Inspired by Gil Elvgren Photographer: Shalaco | Production Design: Claire Mack | Model: Kailyka Special Effects: Nick Katich | Hair Stylist: Lisa Miller | Inspired by Gil Elvgren