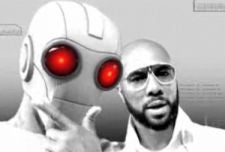 As the Gunsmith in
Wanted
, rapper Common may have looked more wooden than co-star Morgan Freeman, but with a role in
Terminator Salvation
, a new scifi-inspired album and a fledging relationship with Serena Williams, we're convinced that his star is on the rise. We're so convinced, in fact, that no longer can we even consider another actor nabbing a big part in the next SF blockbuster: we demand the man they call Common as our Green Lantern, and for every role thereafter.
Click to view
As
Meredith has already pointed out
, the video for new single
Universal Mind Control
proves that Common clearly already has an affinity for science fiction. Easily better than Alex Proyas' entire
I, Robot
, the recent 3:30 clip is just one example of the way in which he's integrating science fiction-based fashion into his style (He's not the only member of the hip hop community doing so - Kanye West, who's been working with Common since 2005's
Be
album, made his
Glow In The Dark
tour into
a space opera about an astronaut bringing creativity back to Earth
) - ideal for a space cop who has to defend not only Earth but an entire sector of the galaxy.
The Matrix
aside, reliable old Hollywood can usually be counted on to trot out the same small group of talented African-American actors. Don't get me wrong, I'm glad we're keeping Morgan Freeman and Samuel L. Jackson's financials in order because they're both wonderful at what they do, but hip hop has its own exciting roster of young, charismatic stars ready to follow in the footsteps of Mos Def (and Ice Cube - hey,
Ghosts of Mars
and
XXX2
count - and many others) and bring some new blood to the silver screen. Common's roles in
Wanted
,
Terminator: Salvation
and Keanu Reeves/Hugh Laurie team-up crime vehicle
Street Kings
were a good start, but we want to see him make those Green Lantern rumors come true. Not every black superhero has to be played by Will Smith, after all.