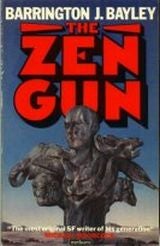 Sometimes the trashiest, pulpiest cover hides something truly spectacular underneath. Certainly that's the case with UK scifi writer Barrington J. Bayley. Admired by writers as diverse as Bruce Sterling and William S. Burroughs, Bayley wrote that he "oscillate[s] between two immovable positions: an overwhelming belief in my own eventual worth, and a crushing feeling of incompetence." Bayley passed away this week due to complications from bowel cancer. We discuss his career and legacy after the jump.Often grouped with J.G. Ballard and Michael Moorcock, Bayley was the less-recognized member of the triumvirate. Barry's writing did contain a few elements of pulp, a quality that eventually became outdated in the
New Worlds
clique. To give some idea of how disrespected Barry Bayley felt, one of the endorsement blurbs on the front page of his website reads, "Seriously underestimated."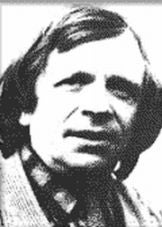 As writer Charles Platt
noted
in an interview:
I think he never got sufficient admiration and respect because it had that [pulp] quality. You know when your first training is in a particular field of writing, it kind of imprints you in various ways. It's like if you're a musician and you first learn one instrument - if you try to play other instruments after that you still have the same kind of patterns you learn. And Barry's first training was writing these adventure comics which are very, very restrictive in what you can and cannot do and how you develop a story.

Inspired by theorist
J.W. Dunne
, Bayley's writing had elevated ideas in an accessible format, a dynamic mix that won him plenty of admirers among other writers. When you can't measure the import of a writer by popularity, it starts to matter more
which
minds are affected. Legends like Bruce Sterling and William Gibson were fans. Longtime friend Moorcock also thought Bayley was a writer's writer:
Did you know William Burroughs loved the Star Virus and wrote to tell me he'd used it as inspiration? The idea of people as a virus very much appealed to Burroughs, who enjoyed at least some of Barry's work, though I don't know how much he read. Burroughs definitely recognised the originality of mind.
If you find his glorious covers intriguing and want to learn more, begin with what most consider Bayley's finest novel,
Collision with Chronos
. Between time travel and neo-Nazis there's a lot to take in, but if you get tired of something, he's already onto the next concept.
The Star Virus
also holds up well; there's a reason Burroughs read it. Bayley's short stories are full of inventiveness to the point where even if it doesn't entirely pay off, you're amused by the idea.
The Knights of the Limits
,
re-released in 2001
, is a useful starting point for that form. Barry J. Bayley, RIP.
The Astounding World of Barrington J. Bayley
[Oivas.com]