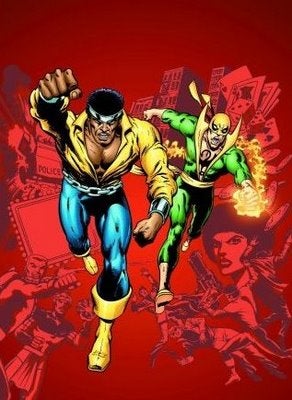 Awesome Marvel superheroes Power Man and Iron Fist have both had movies in development hell for nearly a decade — so why not put them together in one movie? After all, it worked in the comics. Up-and-comer Malcolm Lee (
Soul Men
,
The Best Man
) threw his director's hat into the comic-book ring, calling a Power Man/Iron Fist movie his dream project. It could be the best buddy-hero team since Starsky and Hutch. And speaking of dream movies, Samuel L. Jackson has an important message about
Iron Man 2
.When asked by Latino Review how he would pursue a Power Man-Iron Fist movie, Lee said he'd keep it in the realm of all that's just and good, by staying true to the buddy-cop system of comedy and action:
You got a white karate dude and a big blaxplotation dude. I want it to be an action-comedy.
Alas, he doesn't have an idea who he would cast in it. But Lee needs to have a pow wow with
Transformers
star Tyrese Gibson, who has been
campaigning
to fill in the yellow boots for a long tie now. Also at the
Soul Men
junket was the one and only Samuel L. Jackson who
confirmed
that he would be playing superspy Nick Fury in
Iron Man 2
more than in the first movie (though he didn't reveal how much more). But director Jon Favreau told Jackson that his appearance in the film is on track.. Apparently he isn't as expendable as
Howard
. [
Latino Review
]