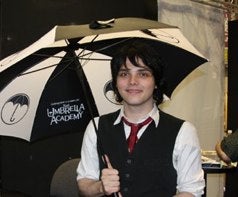 Comics writer/My Chemical Romance frontman Gerard Way recently
let slip
that Universal Pictures has optioned his Dark Horse Comics series,
Umbrella Academy
, for the big screen. The series is about a group of estranged misfit superheroes who reunite after their mentor's untimely demise and a global menace's dastardly ascent. Is this the hipper
Justice League
alternative we've been waiting for? We contacted a few folks associated with the
Umbrella
movie for more details.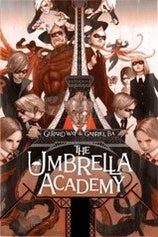 A source close to the project, co-produced by Dark Horse Entertainment, insists that "there is a movie deal on the table… but the option hasn't actually been signed." According to Way, Universal wants
Juno
scribe Diablo Cody for the unfilled scripting gig, and adds that Alfonso Cuarón (
Children of Men
) sits atop his wish list of directors—though, according to the source, there is no solid commitment yet from Cuarón. Meanwhile, not one to waste time, Way has already approached wardrobe consultant Colleen Atwood (Tim Burton's
Sweeney Todd
) about outfitting the still-uncast
Umbrella
characters. "I think the costume designer already said yes," says
Umbrella
artist Gabriel Bá (who previously drew
Casanova
). As for his role in the feature film? "Gerard said he would want me to get involved with the production art, approval, etc.… [But] they're trying to get a director before going forward with this." Gerard Way photo courtesy of
CassieWay