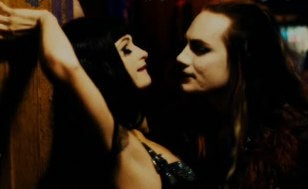 Our favorite dystopian surgery movie,
Repo! The Genetic Opera
, has released a feature exposing the "scalpel sluts" of the future — those people who just can't stop hacking into their bodies and faces for new parts. Paris Hilton plays one of the many sluts who just can't get their fill of the surgery drug Zydrate. Her dual personalities on
Repo
come to light in this clip — one is the adorable "sweet" spokesperson for Zydrate, the other is a Zydrate junkie jonesing for the sweet relief that comes in the little glass vial. The clip also features the Zydrate song, which is by far my favorite
Repo
tune.
Click to view
[
Repo
]