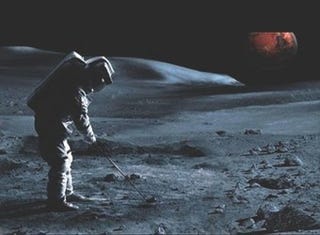 Remember
Space Jam
, that 1996 movie where Michael Jordan gives a b-ball assist to a gaggle of Looney Tunes characters who're harassed by evil aliens—as captured in half live action/half animation? Now
word
has arrived that former NFL linebacker Ken Harvey, formerly of the Phoenix Cardinals and Washington Redskins, wants to make more sports-in-space movies. And it'd sound completely nuts were Harvey not totally cool: The football vet has been
physically training so-called space tourists
using elements of football drills to help them sustain in low-gravity environments. In a bid to take his tongue-twisty "
space sportilization
" movement to this next level, Harvey plans to attend the Global Space Technology forum Nov. 16–18 in Abu Dhabi, where he'll ideally nudge some absurdly deep-pocketed U.A.E. folks into funding the whole thing. To whet their appetites, he'd also like to shoot the live-action picture overseas. Enthuses Harvey: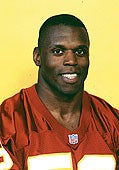 In Abu Dhabi and Dubai, everything is new and exciting and the hi-tech landscape fits the sci-fi look. There's everything there to create something unbelievable.
He even has a plot for the prospective movie, according to
The National
, an Abu Dhabi newspaper that
writes
, "The proposed film's plot centers on a young boy, Jonathan, joining a space-sport team in his quest to avenge the death of his father and to win the rights to mine for Helium-3 on the moon. Helium-3 is thought by some scientists to be a possible fuel." Okay, so the plot
maaaaay
need a bit of work. But who knew when astronaut Alan Shepard
played "golf"
on the moon in 1971 that he'd be inspiring a whole cinematic sub-genre?