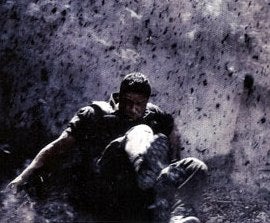 The future trapped-in-a-video-game thriller Game had its first test screenings, and the results were not great. According to an Ain't It Cool News source that was in one of the screenings, the Gerard Butler-starring Game is a terrible fail and in need of a complete overhaul from start to finish. Even more disappointingly, Michael C. Hall and Butler's incredible acting abilities are buried under a mass of poor action scenes and bad dialogue. It's not surprising that the producers of Crank would unleash a fast paced movie that may be a bit confusing at times, but it's a dreadful shame to think that Hall and Butler aren't being fully utilized. Spoilers below.In Game, convicts take part in a kind of video game, being controlled remotely via brain chips by viewers. The game is a brutal online fight where many will perish. Michael C. Hall, of Dexter fame, plays the villain and Gerard Butler plays the action-figure man controlled from a far. Sexy Whisk (the AICN spy) insists that the movie is, "beyond boring and the action was completely unexciting." Simply said:
I'm sure most of you remember "Children of Men" - whether you loved it or hated it - you must agree how amazingly chaotic and action packed it was without ever having to cut the camera! Now that is talent. GAME however is the complete opposite - it's trying sooo hard to be exciting and fresh and appeal to "gamers" - its cuts from dark to computer screens to action to more computer screens to close-ups...
The informant insists that the movie tries way too hard and delivers nothing. The action scenes are apparently so confusing they become boring, and not even Gerard Butler can save the terrible work. Also they claim that Hall isn't used at all and got a meager few minutes on screen — and he has a weird accent. Still this is a very early screening, and they've pushed the release date way back, hopefully to deal with many of these issues.
Game
won't be released until the summer of 2009. [
AICN
]