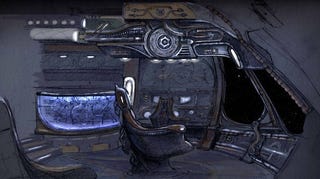 The next batch of gaters' ship, The Destiny, is starting to take shape. Sci Fi Wire is hosting a bunch of concept art from the brand new series
Stargate Universe
, and it's looking great. From the looks of it, this show seems to still be in the same heavily mechanical
Stargate
wheelhouse, but the exposed wires and do-dads may be the parts that make this ship an ancient mystery. Check out another glimpse down the new crew's corridor.
Stargate Universe
follows a fairly young crew that get stuck on an ancient ship that can never return to Earth, so the crew is constantly traveling through an uncharted area of space. We already
reported
the crew details but my fingers are crossed for an interstellar young love affair or two, among all these new recruits.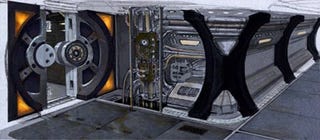 To see more images, and higher resolution, check out Sci Fi Wires'
collection
of concept art.