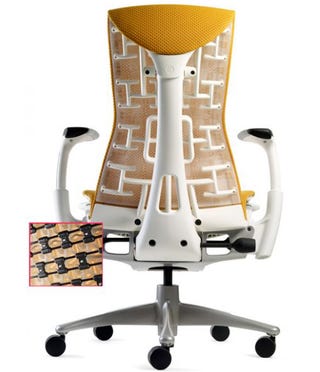 This chair was designed specifically to prevent cubicle-induced spine agony. Its back a mass of constantly-shifting, quiet springs and special "pliable" textile mesh, the Embody chair (pictured) is the latest thing from ergonomics wonder company Herman "Aeron Chair" Miller. The designer, Stumpf, is known for chairs specifically designed for people who work at computers all day, and the Embody is supposed to be the greatest of all his inventions.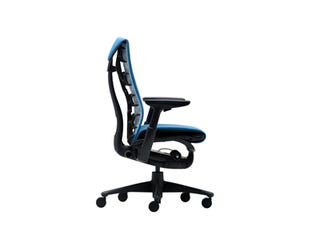 Advertorial on the Herman Miller site claims that the chair somehow keeps your blood flow going and maintains a healthy metabolic rate. While that's not particularly convincing, what is intriguing is the way the chair back is designed to spring into the shape of your back and offer support no matter what position you're sitting in. Its natural position is to give lower back support (above), but the network of springs in back (closeup below) allow it to remold as you shift around in your seat.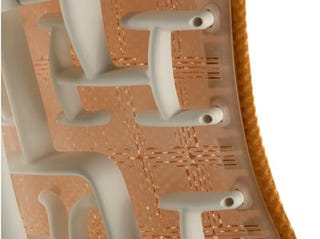 As I type this, I'm sitting in the Herman Miller Aeron chair, another of Stumpf's ergo designs for computer jockeys, and if the Embody is anything like the Aeron, I think it might be worth checking out. Herman Miller chairs look almost like exoskeletons for a reason. They offer support, structural engineering style.
Embody Chairs
[Herman Miller via
PopSci
]