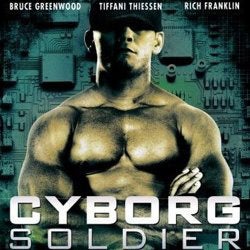 Capote
actor Bruce Greenwood plays the baddie in
a new direct-to-DVD movie
,
Cyborg Soldier
. And whether or not anyone enjoys watching
Cyborg Soldier
, it sounds as though Greenwood had a lot of fun acting in it. In a new interview, Greenwood (who also plays Captain Pike in
Star Trek
) talks about how much fun he had chewing the scenery and dispensing with subtext altogether. His honesty is sort of refreshing, actually. Talking to Cinemablend, Greenwood said he thought it would be fun to be in a campy movie and chew some scenery. Asked why the cyborg soldier in the film looks just like a regular human, Greenwood says, "Anybody with any sense would realize that this cyborg looks a lot like a human because it's a low-budget movie." Ha. I feel like I've read a ton of interviews lately where actors in cheesy TV shows and B-movies try to pretend they were making fantastic art, so it's sort of refreshing. Greenwood plays the head of an agency that creates a killer cyborg, played by professional fighter Rich Franklin. The cyborg escapes and tries to find out who he really is. Greenwood says he had fun making this movie because it had zero levels:
You don't take it nearly as seriously. You try and make it interesting, and because the situations are so absurd, you can't lose too much sleep about being believable. [...] This kind of movie, you're shooting seven or eight scenes a day. The general vibe of the set, although it's high energy and good, it's "mush ahead." You don't get to sit around for 20 minutes like you can on Capote and discuss what the two and three subtextual levels are.
More details (including the obligatory boilerplate quote about how great Chris Pine is as Captain Kirk) at the link. [
Cinemablend
]