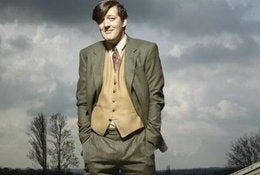 With rumors about Paterson Joseph taking over the role of the Doctor from David Tennant in 2010's fifth season of
Doctor Who
continuing to circulate, it's beginning to look more and more likely that West Lothian's favorite son might not be the man in the time-traveling blue box for much longer. And while I have nothing against Paterson Joseph, there's one other person that I'd like to nominate for the role: Stephen Fry.Fry, for those who aren't familiar with him, is an English actor, writer, comedian and jack-of-all-trades (although perhaps without that "and master of none" bit at the end); he started in the business we call show alongside
House MD
's Hugh Laurie as part of a comedy duo, before going on to appear in such shows and movies as
Blackadder
,
Jeeves and Wooster
,
Wilde
, the movie version of
The Hitchhikers Guide To The Galaxy
,
Bones
and
V For Vendetta
, amongst many other projects. He's also very much a fan of
Doctor Who
, and has been since the very first episode, as
he explains
:
When I was 7 my parents moved house. Well, we all moved house as a family, I don't mean my parents left me behind, though who would blame them if they had? We owned, in those days, a television that disguised itself as a mahogany drinks cabinet, in the way they did – and they were never called just televisions, by the way, they were television sets. This one's screen was, of course, black and white, it boasted one channel, the BBC (what we'd now call BBC1) and had a knurled volume knob in dark brown Bakelite. The set smelled the way dust always did when it was cooked on Mullard valves as they warmed up. It slid about on castors and had doors that closed with a satisfactory snick as a ball bearing rolled into its slots to secure it. The week before we moved, the BBC started a new drama, starring William Hartnell. An old man, whose name appeared to be Grandfather or the Doctor, had a police phone box of the kind we saw in the street all the time in those days. It turned out to be a magical and unimaginably wonderful time machine. My brother and I watched this drama in complete amazement. The first ever episode of Doctor Who. I had never been so excited in all my life. A whole week to wait to watch the next instalment. Never have seven days crawled so slowly by, for all that they involved a complicated house move from Buckinghamshire to Norfolk. A week later, in that new house, my brother and I turned on the good old television set in its new sitting room, ready to watch Episode 2. The TV had been damaged in transit and was never to work again. We missed that episode and nothing that has transpired in my life since has ever, or could ever, make up for that terrible, terrible disappointment.
In between all of his other day jobs, Fry narrowly missed out on a dream opportunity a couple of years ago, when he
had to back out of writing an episode of Doctor Who's third season
(after it had already gone through three drafts and
been bumped from the second season for having been "too ambitious"
), but that's not why I'm suggesting that he be considered to take over the unusual wardrobe and ownership of however many sonic screwdrivers - Although, if guilt works on the BBC, I think we should leave that possibility open - Instead, I just happen to think that Fry embodies the best of what a Doctor should be: He's wildly intelligent, amusing, eccentric, and just ever so slightly patronizing in the best way possible. Sure, he may not be able to do all the action scenes that we've come to expect from Tennant and Christopher Eccleston, but come on; William Hartnell and Sylvester McCoy were never really men of excitement, either. There may be some other problems - What self-respecting cockney companion would end up falling for Fry's deep-lidded gaze? - but I'd be willing to jettison some of the new cliches of
Who
's current run in favor of a funnier, smarter and, dammit, just plain Stephen Fry-ier hour of television. And if we can't get Fry, remind me to explain why Richard E. Grant should reprise the role for longer next time: