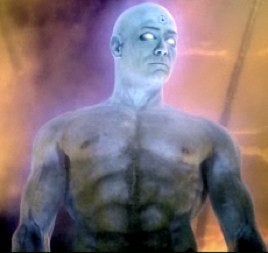 We reported about the
great lengths
that director of the
Watchmen
comic book adaptation Zack Snyder went to keep Dr. Manhattan's blue downstairs tasteful yet accurate for viewers. Heck, we've even blogged the almost
wang exposing
moments where you got to see Billy Crudup (Dr. Manhattan's) "manness" in the
Watchmen
diaries and making of Manhattan moments. But finally we're bringing you the full Dr. Manhattan in HD no less. Obviously NSFW.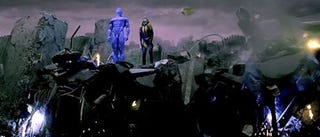 The
new trailer
for Snyder's Watchmen that was played at this years Scream Awards was later released on
HD
and low and behold there was Dr. Manhattans blue wonder. One of the many things I'm loving about the Watchmen live action movie is that they're embracing Dr. Manhattan's "character." Good on you Zack.
Watchmen
will open on March 6. [via
Newsarama
]