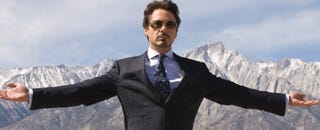 We've known it was coming for some time, but Marvel Studios decided to make it official: Robert Downey Jr. has signed on for 2011's superhero team-up movie,
The Avengers
movie — as well as 2012's newly official
Iron Man 3
. And that's not all. The brand new War Machine, Don Cheadle, is coming along for the ride as well... as is director Jon Favreau.Marvel's Tuesday announcement confirmed not only that Downey Jr. and Cheadle would be two of the stars for the Avengers, which tells how Marvel's biggest heroes formed a team, but that
Iron Man
director Favreau will act as executive producer for the 2011 movie. No plot details for
Avengers
or
Iron Man 2
have been announced, although we can now add the creation of Rhodey's War Machine armor to
the existing "Hulk goes bad" rumors
. As for those rumors about the Hulk going bad,
some sites are concluding
the Hulk won't actually be the villain in Avengers, because one Marvel press release refers to Hulk as a member of the team. The release also says the heroes, including the Hulk, face the biggest threat they've ever encountered. So does that mean the Hulk isn't the villain of that movie? Or he joins the team but later goes rogue? (Just as long as he pretends to be a
robot clown
, like in the comics.)
Iron Man 2
is due to be released May 7, 2010, with
Avengers
following on July 15, 2011.
Downey Jr. extends Marvel deal
[Variety]