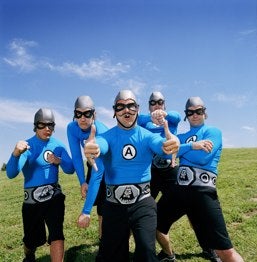 Writer-directors Christian Jacobs and Scott Schultz—two of the whimsical visionaries behind Nickelodeon's endlessly delightful
Yo Gabba Gabba!
—have created a live-action/animated pilot starring occasional
Gabba
guest-voices The Aquabats. For those not familiar,
The Aquabats
are a band of pop-punk/ska/surf-rock superheroes who don coordinated spandex outfits and wield names like The MC Bat Commander (a.k.a. Jacobs), Crash McLarson, and Eagle "Bones" Falconhawk. (Sidenote: what would it take to get these dudes to join sonic forces with the Eagles of Death Metal, which boasts awesome nicknames like Boots Electric, Baby Duck, and Sexi Mexi?) After a tease of things to come at this year's San Diego Comic-Con, their long-awaited, full-length pilot is finally available for viewing now. Formed in 1994 in the nondescript environs of Huntington Beach, Calif.—their most famous alum being a pre-blink-182 Travis Barker—The Aquabats "travel the highways and by-ways of the land in their trusty super customized Winnebego tour vehicle…[and] find themselves on a never-ending quest to right wrongs, destroy boredom and seek justice for all! Especially the kids!" You know, like Scooby Doo and his pals, only more upper-than-downer and with a better soundtrack. And, yes, The Aquabats actually do tour, spreading their unique gospel of
self-empowerment
,
medicinal leeches
, and
Burt Reynolds
. Feast your eyes and ears on the entire indefatigable, Technicolored, sing-songy first episode of the upcoming
Aquabats Super Show
for yourself
here
(note: requires a free registration).