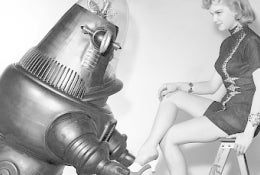 It seems like only two weeks ago, we were asking where why
more movies weren't remaking the classics
, and apparently Warners was listening... kind of.
Forbidden Planet
, the sci-fi version of Shakespeare's
The Tempest
, is getting the makeover treatment, courtesy of
Babylon 5
's J. Michael Straczynski and producer Joel Silver.The Hollywood Reporter says that Straczynski - currently hot again in Hollywood thanks to his script for Clint Eastwood's
The Changeling
, after semi-retreating into comic book work like
Amazing Spider-Man
and
Thor
-is scripting the project for Joel Silver's Silver Pictures. This isn't the first attempt to remake the 1956 classic, however;
Forbidden Planet
has been passed around from studio to studio and director to director for years, having been a potential project for
The Chronicles of Riddick
's director David Twohy and James Cameron, amongst others. No word, yet, on who would direct this version.
'Changeling' scribe on 'Forbidden Planet'
[Hollywood Reporter]