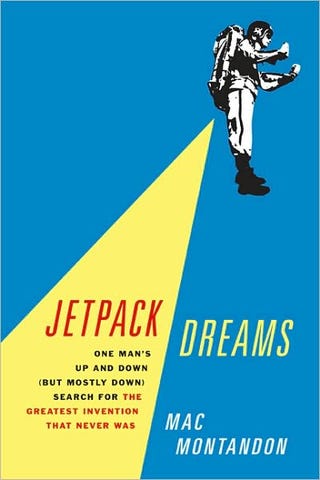 Click to view
Love Boba Fett? 'Course you do. So does Mac Montandon, who recently published a detailed report of his quest to find the jetpack of his dreams. Montandon, a freelance writer from Brooklyn, decided after living thirty-five jetpackless years that enough was enough and pulled out all the stops to travel across America (and to Mexico) in search of a personal booster device that would satisfy him. It's an exhilarating ride for anyone who thrills to the sight of
Star Wars
's bounty hunter, but its anecdotes, mini-biographies, photos, and tales from the edge of science will rouse even the most Earth-minded.I am no stranger to the jetpack dream. This may be a surprise to Montandon, since his book made frequent note of the dearth of women in the jetpack-sleuthing world, but that future he imagines — the one with new gadgets and better engines — will bring gender equality as well. Conversations with my half-female group of aerospace engineer friends at MIT often ended with one of us blurting out, "We should just build a damn jetpack already!" With a jetpack, we could get to class faster, which would leave us more time for personal projects, like building jetpacks ... and perhaps that's the conundrum.
Jetpack Dreams
is certainly food for the souls of people like us, whose eyes leap to the sky to search for contrails every time we hear an engine. Montandon, who has written for
The New York Times
and
Salon
, uses his considerable talent and experience to craft an engaging and accessible narrative of North American jetpack dreamers. His book is at once a history of and update on the emergence of this futuristic device: Montandon starts with the 1951 Jet Vest (which never flew) and ends with his own test flight of
Jet Pack T-73
. Though his lack of engineering training shows — he explains the concepts of lift and drag in vague and utterly basic terms, recounts the jokes and activities of jetpack engineers with undisguised bewilderment, and even refers to one fellow dreamer as "Super Geek" — his writing still shines. His description of experiencing a zero-g parabola in a small airplane, for example, is spot-on; he deftly catalogues every detail of the "voluptuous panic" that is flight. Making your way through
Jetpack Dreams
will put you right at Montandon's side for his journey, which means you get a front-row pass for conventions, demonstrations, and even intimate conversations with jetpack enthusiasts. You also get a front-row pass to his life: Montandon spends time introducing his wife, his daughters, his father, and several of his friends — along with, of course, jetpack builders, jetpack pilots, and jetpack financiers. This nonfiction story of the jetpack's evolution reads as easily as chick lit, and it rewards with adventures through aerospace. It could be a fun holiday read, but it's also a necessity for the library of anyone who wants — to take a line from the book — "[to kick] gravity's ass like it [has] never been kicked before."
JetpackDreamsTheBook.com