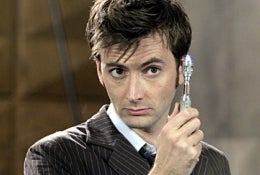 With news of David Tennant's resignation as
Doctor Who
's eponymous timelord still making grown fans weep, the aftermath is beginning to be felt around the internet: Who are the frontrunners for the role of replacement? What made Tennant almost change his mind? And what storyline has possibly been killed as a result of Tennant's departure? We've got some answers for you - or, at least, what some people are claiming are the answers.Rich Johnston - the man who broke the "Paterson Joseph is the new Doctor" rumor before Tennant had officially announced he was leaving - continues his streak of
Who
rumors in this week's edition of his Lying In The Gutters column, claiming that the reasons that Tennant has been giving for deciding to leave aren't
exactly
true:
So was David Tennant's leaving the show all down to his need to move on? A now or never thing? Not quite. He had been in negotiations with the BBC for a fifth, even a sixth full series, but wanted another 2009-lite Doctor Who break in 2011, a film pursued, and money above the current BBC wage cap. It didn't happen.
Something that
did
give Tennant reason to rethink his leaving, according to Tennant himself, was the appointment of Steven Moffat as new showrunner:
I had a meeting with Steven Moffat and in a way that's been the most difficult bit because I'm such a big fan of his. He told me some of his ideas for what's coming up in the show and it's going to be so good. When I finally thought I'd made a decision suddenly I was tempted to change my mind again.
Those ideas include a storyarc that will either have to be reworked considerably, or junked entirely, according to Johnston:
The one bigger casualty, as well as casting for The Doctor sooner than expected, has been an arc in Series Five for the River Song character, revealed in Series 4 as the Doctor's possible future wife. Arc plans are being rewritten, but the new team has plenty of time...
As well as Paterson Joseph, Johnston claims that
Sean Pertwee
and
Marc Warren
are in the running to take over the Tardis in 2010, which may make
this comment
more understandable:
I have it on veeeeery good authority that the next Doctor has already been chosen. It's an interesting new direction, and the choice (assuming no changes of heart) will probably surprise - and divide - many. The name I've heard isn't Paterson Joseph. Or John Simm. Or James Nesbitt.
Admit it; it's
Mos Def
, isn't it?
Lying In The Gutters
[Comic Book Resources],
Tennant: 'Moffat almost changed my mind'
[Digital Spy]