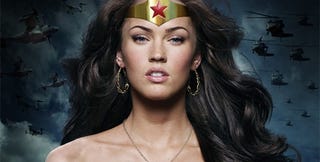 Ignore the rumors going around this here internet:
Transformers
star Megan Fox is
not
going to be cinema's next Amazon Princess. The image above isn't from some teaser campaign for a previously incredibly well-hidden
Wonder Woman
movie, but just the latest in a long line of anonymous fan efforts hoping to convince other fans — and maybe a few movie executives as well — that Fox would be perfect in the role. But at least the five-day tease was more elaborate than most. We've got the full Fox, as well as the rest of the tease, under the jump.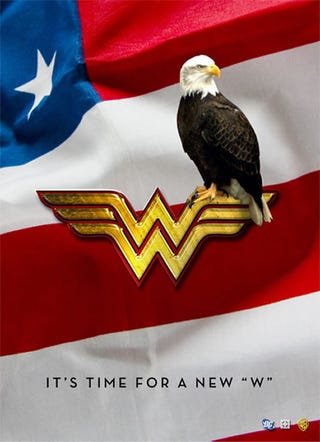 The first image, above, appeared last week without fanfare at Wonder-Who.com, and the presence of the DC Comics, Warner Bros. and Legendary Pictures logos was enough to convince some fans —
and some more gullible journalists
— that it was a genuine site for an upcoming
Wonder Woman
movie. (The Legendary Pictures logo is the giveaway; Joel Silver's the one who's working on any WW movie, and his production companies are Silver Pictures and Dark Castle Entertainment; Legendary's logo probably appears here because they produced the last two Batman movies, as well as
Superman Returns
).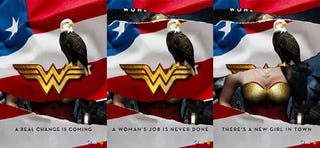 Over the next three days, the image went under a slow transformation into the full reveal of an obvious photoshop that makes Megan Fox into a high-hairlined version of Diana Prince herself: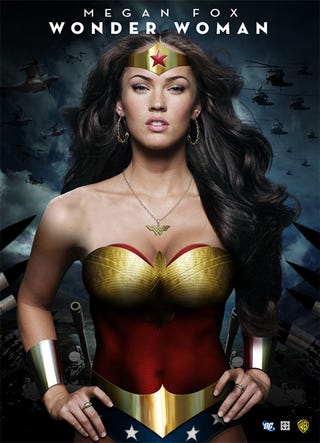 The site still has the tagline "The Truth Will Be Revealed!" under the poster - So perhaps we should stay tuned to find out what purpose, if any, these images served. Beyond, of course, masturbatory material for the fanboy faithful. [
Wonder Who
]