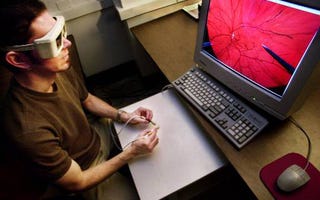 Got any great ideas about the future of medicine? Now's your chance to share them with the world — and reap fame and fortune, plus a free handheld computer, into the bargain. MedGadget, the internet journal of emerging medical technologies, is running its third annual Scifi Writing Contest, seeking stories about future medical technology, as well as future ethical dilemmas.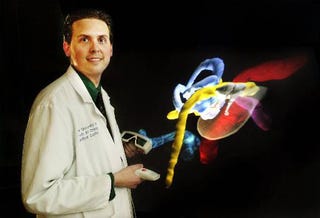 Here are the details of
the MedGadget contest
: stories should be between 250 and 2500 words. Entries should be in plain text, in English, and work-safe, since they'll be published on the MedGadget site. Entries will be blinded, meaning the judges won't know your identity. The winner gets published at MedGadget, plus a free Palm Tungsten E2 handheld computer loaded with Epocrates medical software. You also get a complete set of the Lemony Snicket
Series Of Unfortunate Events
books, to help console you if you accidentally kill one of your patients. A few runners up also get published at MedGadget. You only have until Nov. 16, so get cracking!
Virtual medicine images by M. Spencer Green/Associated Press.
[
MedGadget
]