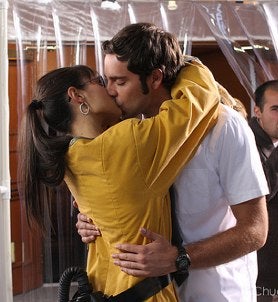 When we found out that NBC's spy-fi comedy
Chuck
was planning a special 3D episode for next year, we were excited - and now that creator Josh Schwartz is promising us at least
one
special 3D sight that we've never seen before (Hint: It includes the words "urinal cake"). We can't wait to see what else the show has lined up for its February red-and-green bonanza. Schwartz explains why we're getting 3D
Chuck
in the first place, and also identifies the two dream guest-stars for the show, below.Somewhat surprisingly, according to Scwartz,
Chuck
's 3D episode comes because of NBC's special plans for next year's Superbowl:
It was NBC['s idea]. They were doing this big promotion inside of the Superbowl and handing out 150 million 3-D glasses, so we are the beneficiaries of that. Initially their plan was to have a bunch of shows do it, but it was logistically complicated, so "Chuck" seemed like the best fit for that type of thing... [You'll get to see] Jeff eating a urinal cake in 3-D. The director of [Medium's 2006 3-D] episode is actually our resident director, so he had lots of experience with 3-D, and the technology has come a long way.
Who knew that organized sports could give such a gift to nerds? But the magic of three dimensions isn't the only thing that Schwartz is working on when it comes to the cast and crew of the BuyMore:
[The show's use of guest-stars] began, for me, as a search for Steven Seagal and Jan Claude Van Damme. While that proved fruitless, there were a lot of other people interested in doing the show... I'm not giving up [on Seagal and Van Damme]!
The muscles from Brussels teaming up with Charles Carmichael? Yeah, that might just make our year.
Reflections: Josh Schwartz
[Comic Book Resources]