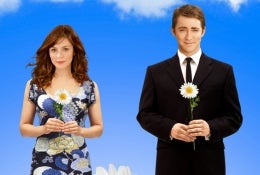 Click to view
Many
Heroes
fans are now actively hoping for the end of ABC's
Pushing Daisies
so that show creator Bryan Fuller can return to NBC's troubled superpowered soap. That's why it's worth taking a quick look at just how the show is actually performing, and just how likely it is that
Heroes
showrunner Tim Kring will have a helping hand to guide the show back to the light anytime soon.While
Daisies
has underperformed for almost the entirety of its second season, things may be about to turn around for the unofficial Best Network Show That You're Not Watching; ratings were up by a million for the last episode, and
Fuller himself remains committed to the show
:
I love Heroes. I had a wonderful time there during the first season. I love the writers. I love the cast. I love the crew. But I want Daisies to stay on the air. There are so many great stories in the back 9 that deepen the world and enrichen the characters. Is enrichen a word?
(According to the internet, no,
it's not
.) Entertainment Weekly is
currently reporting that no final decision has been made by ABC on whether the go-ahead will be given for those back nine episodes
, but also points out that production on the final episode before those nine will wrap this week, and looks at the earlier-than-expected return of
Lost
in January as a bad sign for the show's longevity. Others, however, wonder if
Lost
's return will raise
Daisies
' profile, as the latter may end up as a lead-in to the former, given
Lost
's return to a Wednesday timeslot, and with the news that
Life on Mars is being moved to a Wednesday 10pm slot following Lost in January
, it's possible that the network may be aiming for an all SF/fantasy evening to bolster audiences for all three shows. Although the potential
Heroes
offer may force an earlier commitment (or otherwise), ABC has until mid-January to make a final decision about
Pushing Daisies
.