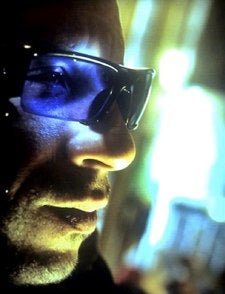 It's never a good sign when your first DVD release has two different versions of your film, but Vin Diesel's
Babylon A.D.
was a special kind of terrible. In the January 6 DVD release there will be two Babylon A.D. films: One the original theatrical release, and the other an unrated cut. Now, at last, we'll be able to see whether director Mathieu Kassovitz was right that studio meddling is what destroyed his movie. Perhaps this two-movie extravaganza is the result of Kassovitz's justifiable rant against the studio, in which he called making
Babylon A.D.
a
a terrible experience
. Or maybe Fox decided to put out a movie people would want to see. We'll have to wait and see just how different this second cut of the original is — hopefully it is because I don't know if anyone could sit through
Babylon A.D.
twice, no matter how it was re-cut.Besides the two different versions, the DVD will also have a small feature on the adaptation of author Maurice G. Dantec's novel, detailed looks at both the Hummer and the snow mobile chase sequences, stills, and the
Genesis of Aurora
, a graphic novel prequel to
Babylon A.D.
[via
Cinemablend
]