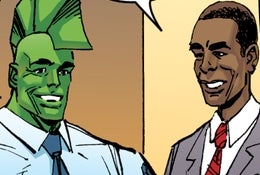 He was one of the first superheroes to get political this year — and now Erik Larsen's
The Savage Dragon
has become the first superhero to shake hands with our new President Elect. The page from an upcoming issue of the Image Comics series was released to the
Chicago Tribune
's Geek To Me blog in celebration of Obama's victory — and the Dragon's return to the Chicago Police Department after twelve years. View the whole thing below.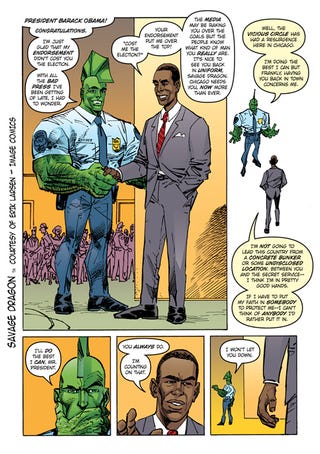 We're fans of seeing real life political figures pop up in comic books. Although, will anything ever be able to top
Teen Titans: The Lost Annual
that revealed that the real JFK was alive and well, and that the assassinated version was an alien duplicate? But we would've preferred an Obama that looked a little more like the real life version, and less like Robert Guillaume.
The Savage Dragon is Back in Blue!
[Geek To Me]