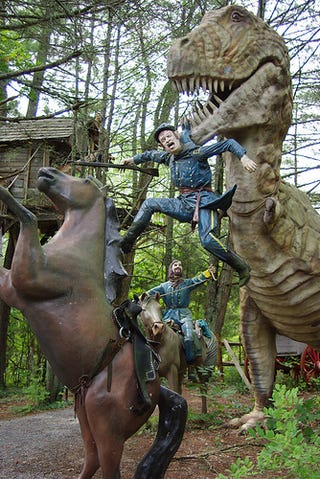 Most speculative fiction surrounding the American Civil War imagines how the world would be different had the Confederacy won its independence. But roadside attraction creator Mark Cline has imagined an entirely different kind of Civil War science fiction. His fiberglass creations tell the tale of a group of Union soldiers who discover a lost valley of dinosaurs in Virginia and plot to use them as weapons against the South.The attraction, called "Professor Cline's Dinosaur Kingdom," imagines a lost chapter from Civil War history. It supposes that in 1863, a group of paleontologists inadvertently stumbled upon a valley of live dinosaurs. The discovery comes to the attention of the Union Army, who, recognizing the destructive power of the giant lizards, decide to capture them and unleash them on the Confederate Army. Naturally, it results in
Jurassic Park
-inspired carnage:
What you see along the path of Dinosaur Kingdom is a series of tableaus depicting the aftermath of this ill-advised military strategy. As you enter, a lunging, bellowing T-Rex head lets you know that the dinosaurs are mad — and they only get madder. A big snake has eaten one Yankee, and is about to eat another. An Allasaurus [sic] grabs a bluecoat off of his rearing horse while a second soldier futilely tries to lasso the big lizard. Another Yankee crawls up a tree with a stolen egg while the mom dinosaur batters it down. Mark has augmented some of these displays with motors: toothy jaws flap, tails and tongues wag.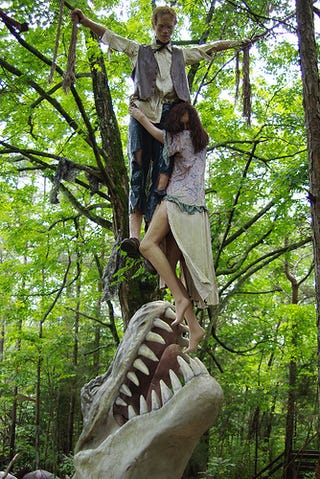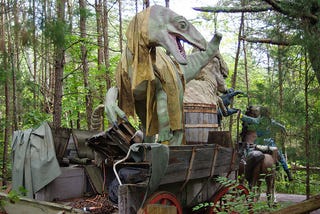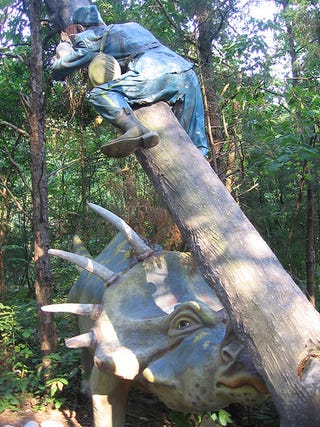 It proves a devastating defeat for the North. The Dinosaur Kingdom is located in Natural Bridge, Virginia, near Cline's other attractions:
Professor Cline's Haunted Monster Museum and Dark Maze
and the fiberglass monument replica
Foamhenge
.
Images from dpcshots and Mr. Kimberly.
[
Roadside America
via
Metafilter
]