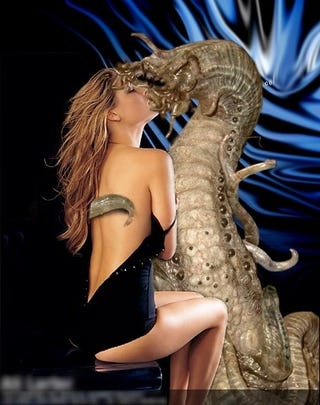 If you can't get enough of the scene in
Galaxy of Terror
where that lady does
something nasty with a giant worm
, then we've got a serious treat for you. There's an entire fan community out there devoted to recreating the wonders of wormly ravishment, and they've stashed a bunch of their creations at a site featuring GOT girls — you know, Galaxy of Terror girls. I feel like I've been completely remiss in my perversion-hunting because I'd never heard of GOT girls until a few days ago. This community has been around for so long that some of these delightful nasties are done in really old-school flash animation. But others are just timelessly great fan art created with Photoshop, pencils, and even a few real-life people in costume. Oh GOT girl, now that I know you, how can I ever let you go?
Got Fan Art Site Vault
[official site archive]
Ali Larter Mashup Image Created by Clusteron.