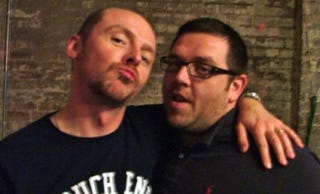 There's something to be said for knowing your audience. As if we weren't excited enough about Simon Pegg's new movie
Paul
, in which he and
Hot Fuzz
co-star Nick Frost take a space alien to San Diego Comic-Con, now we learn that the alien in question is going to have a
Cloverfield
-esque pedigree.Pegg told Empire magazine about the movie, which starts shooting next April with
Superbad
's Greg Mottola directing:
I'm very, very excited about it. I think it's a bigger film than probably Shaun of the Dead and Hot Fuzz put together... We're figuring [the logistics of the alien] out at the moment and having real fun, working closely with Double Negative who did Shaun and Hot Fuzz and Cloverfield and Hellboy II. We're looking to really work to find the best way to do it and to create something which is utterly believable and sympathetic and has gravity and presence and is somebody that you totally buy. He's the eponymous hero, so he has to be amazing.
As great as this movie will undoubtedly be, it's not the much-talked about third movie in the
Shaun
/
Fuzz
trilogy with co-writer and director Edgar Wright. That movie, currently titled
World's End
, is still in pre-production, while Wright works on his adaptation of cult comic
Scott Pilgrim
.
Exclusive: Simon Pegg Talks Paul
[Empire]