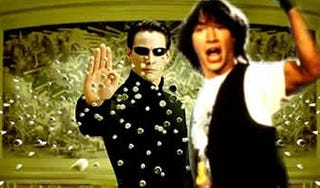 It's been almost ten years since Keanu chose the red pill and made us all believers in virtual reality, but a new comedy script described as "
Bill and Ted
meets
The Matrix
" has just been purchased by
Matrix
studio Warner Bros, in what may be one of the most odd attempts at Keanu Fetishism we've seen. What, they couldn't work a little
Constantine
or
Johnny Mnemonic
in there as well?The potential movie, currently called
Control-Alt-Delete
, is co-written by rookie screenwriter Tim Kelleher and
Roseanne
alumni Danny Zuker, will be made by Unique Features, the Warners production company that's also working on a movie version of Isaac Asimov's
Foundation
. We're hoping that, worst comes to worst, the two movies can be combined to create a movie version of a 1942 concept that just looks like 1999.
WB has the keys to 'Control-Alt-Delete'
[Hollywood Reporter]