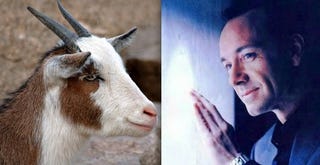 In the upcoming film
Men Who Stare At Goats
Kevin Spacey plays a former psychic soldier, who's now running a prison camp in Iraq. The film, based on Jon Ronson's nonfiction book, explores the secrets behind the U.S. Army's First Earth Battalion who tried to harness paranormal abilities to bring down the enemy. We got a quick chance to talk to Spacey at the
Happy Hearts
Fund Charity Ball. Does Kevin believe we could really use psychic powers to defeat terrorism?
io9: What do you think about the government using Psychic powers like in your new move Men Who Stare At Goats?
Spacey: I don't think that they'll ever acknowledge that any of this was ever true. But apparently it is and I find it rather you know, there's a part of it that's very amusing, that some of these people thought that they could walk through walls, and there's a part of it that's actually kind of interesting when you think about the power of the human mind. So I hope the film will be a lot of fun, we're certainly having a lot of fun making it. So does his character get the chance to walk though walls? "No, I'm a psychic guru." Too bad, but at least this all-star cast has me seriously excited to watch mustached Clooney lose his mind deep in the eyes of our cloven-hoofed friends.