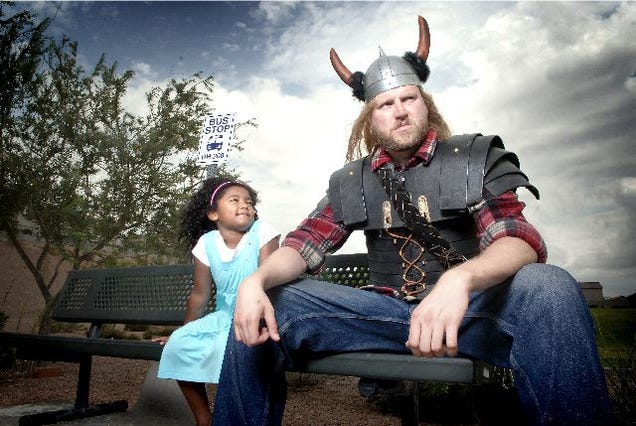 This week, we learned all about the moral responsibilities that come with a toaster that makes golden toast and waited with Thor for the last bus. Plus, we're giving you yet another completely amazing trailer from
Inhabited Island
with more new footage of the blondie Russian space traveler and his new alien pals.We found an adorable little short about two boys who stumble across a magical toaster that turns ordinary breads into solid gold!
The Toaster That Toasted the Golden Toast
was written and directed by Danny Bourque and can be viewed in its entirety
here
. We grabbed a few fun pics below.
In other funny scifi indie news, we've got the trailer for
Thor At The Bus Stop
(Thanks to
Quiet Earth
for pointing out this little gem). Don't let the generic indie guitar music fool you, this looks like quite a little cutie. The film follows Thor, the Norse God, on his last day on Earth, as he knows he must die to save the planet. On his final day, the fearless warrior traverses about a little suburb meeting people and causing a chain reaction through each character.
Thor At The Bus Stop
Trailer: And finally, feast your eyes on the amazing new trailer from Russian scifi epic
Inhabited Island
. This is how you make a space movie: Find a pretty boy, put him in space, and then get him all dirty and angry. In
Inhabited Island
Maxim Kammerer crashlands on a planet wasted by nuclear destruction and ruled by unknown "fathers" who govern with mind-control towers.