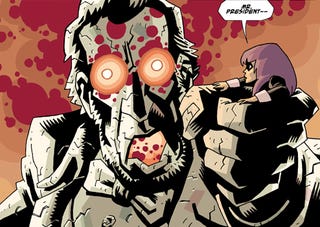 And so, as we approach the start of the holiday season, it's worth asking ourselves, what are we thankful for? Luckily, it only takes one look at the list of comics to find more than a few likely suspects, including a sleepy urban legend, a dysfunctional family that fights together, and some of the best short scifi comics ever made. And why not? These are, after all,
New Comics We Crave
.If you think that your family gathering this Thursday - well, if you're in the US, that is - is looking as if it'll be awkward, take heart; you could be in
The Umbrella Academy
. Gerard Way and Gabriel Ba's superhero family returns in this week's much-anticipated
Umbrella Academy: Dallas
, a new six-part series that shows what happens after you've saved the world - and why it's always worth remembering that JFK did more than just get shot forty-five years ago (You can view a trailer for the series
here
). Also, if you've never picked up an
Umbrella Academy
comic before and have $79.95 to spare, the first series,
Apocalypse Suite
, is re-released in a limited edition hardcover this week for your education and enjoyment. (Fans of less outre superheroes aren't left unsatisfied this week; as well as the much-delayed final part of
Batman RIP
- in
Batman
#681 - there is also
Green Lantern Corps: Ringquest
,
Captain America: The Death Of Captain America Vol. 3
, the first of the
New Avengers
hardcover collections of their "Secret Invasion" issues, and the
Wonder Woman
issue that we previewed yesterday.)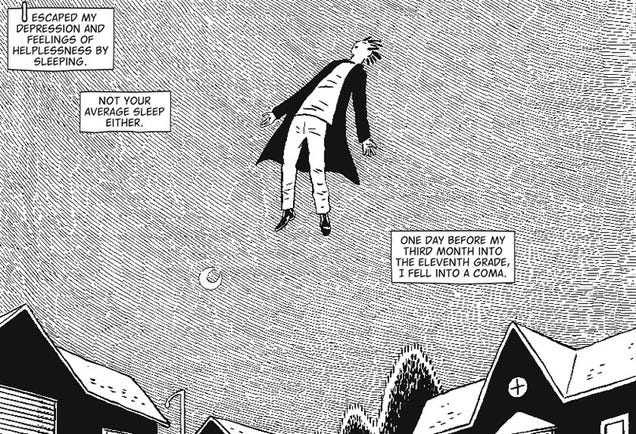 Two of the most interesting books this week have nothing to do with superheroes, however;
2000AD: The Best Of Tharg's Future Shocks
collects some of the best five-page short stories that've appeared in the last 30+ years of Britain's legendary sci-fi comic, with work from Grant Morrison, Neil Gaiman, Peter Milligan and many, many others who cut their teeth on the Galaxy's self-proclaimed Greatest Comic, and is highly recommended. Even
more
recommended, however, is
Sloth
, Gilbert Hernandez' spooky suburban dread of a graphic novel, about the boy who fell into a coma because of the boredom of life... and what happened after he woke up (There's a preview
here
). I know, I know; you're wondering if there is even more to be grateful for, and the answer is:
check out the complete list of this week's new comic releases and smile
. And then use
the Comic Shop Locator Service
to find out where the closest place to go is, just to go and smile in person. That's right; share the love. Make
other people
thankful.