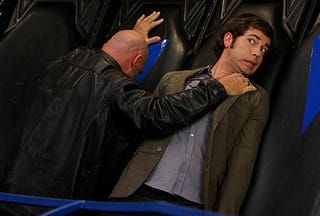 Owning up to a plot that stretched credibility beyond the show's norm
and
giving me an attempt at the Special Thanksgiving Episode that I asked for this weekend? Is there any way that NBC's
Chuck
won't attempt to make me love it? Apparently not. They even managed to end the "return of Chuck's ex" storyline in a way that's both final and yet leaves the door open for her return if Jordana Brewster ever becomes a better actress. The question is, though, did it work?I have a love/hate relationship with
Chuck
; I always want it to be better than it actually ends up being, and am always kind of surprised when it disappoints me for whatever reason, even though it's never actually
not
disappointed me. So color me surprised that "Chuck Versus The Graviton" seemed to... well, do everything if not entirely right, then at least right-ish. I admit; I was won over very early by Chuck voicing my concern from last week, that it was ridiculous that his ex-girlfriend was also a spy - and amused by the explanation that, yes actually, the evil spy organization Fulcrum really
does
recruit Stanford students on campus (Yes, it's silly, but knowingly so, which goes a long way with me). From there, the Jill plot may have continued to hit the expected points - She's betrayed her evil spy masters! No, it's a double-bluff! Or is it? - but did so quickly and without insulting the viewers' intelligence too much (Skipping from the unseen "Negative" on the lie detector to Chuck at gunpoint within a minute, instead of dragging it out for another act, for example), and at least ended with her capture - and at the hands of Mr. Bartowski himself, no less. Also, for the second week running - And I hope, I hope, that this is a sign of things to come - the Buy More B-plot tied in with the main story (In fact, was necessary for the climax, which was nice), and didn't treat its characters as one-dimensional buffoons? It was like a different, better, show that had caught an episode of
Chuck
earlier this season and thought "Hey,
I
could do better than that." There were even call-outs to previous episodes (Morgan's Thanksgiving excitement) and foreshadowing for future ones (The way that a visit from the Awesomes freaked Ellie out)! I don't know what made the writing come together so well this week, but can we make that happen every week from now on? I enjoyed the episode so much that I didn't even mind the continued deconstruction of what made Chuck Chuck back when we first met him, although I'm still nervous that the more competent Chuck gets at the spy stuff, the less point there is in the show at all, and, for that matter, the more it turns into
Alias
... which isn't a good thing. That said, I have to admit that the glimpse of that show's Carl Lumbly in the trailer for next week made me smile...