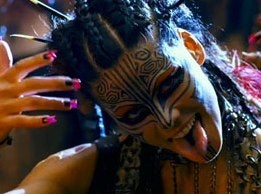 Remember the awesome-but-panned Doomsday movie that was a cross between Medieval Times, Mad Max and Resident Evil? Well, they're making lemonade out of tattoo faced cadavers, and trying a Doomsday TV movie, with Trekkies.
Let me get it out of the way and say I loved Neil Marshall's Doomsday, loved it. It was silly, wrong, made little sense but went for the throat with sky-high dreams of strange government conspiracy and medieval garb. So I'm excited because what Doomsday really needed was another chance.
Whether or not it will succeed on the Sci Fi Channel is another matter entirely. But I'm still excited because playing the "Government Official" in the Doomsday TV movie will be Star Trek's one and only Counselor Deanna Troi, Marina Sirtis. Also Luke Goss is rumored to be attached to the project — you remember him as the pissed off white-haired fella in Hellboy 2, or as one half of pop duo Bros. When will he be famous? Maybe now, if this adaptation takes off.
Director Nick Lyon, who worked on the not-so-loved Grendel TV movie, and writer Rafael Jordan. are both working on the film. So please, take my advice. Make the medieval garb less Renaissance Faire costumey, but keep the fighting and sword play. Also figure out a way to bring more lady ass-kicking in super tight outfits. All cleared up? Okay.
There is still no word whether or not this is a sequel or a prequel, but I think both side of the story are greatly lacking in explanations, so there's a lot of material to play with. And we can always hope that it gets picked up as an ongoing series. [IMDB]