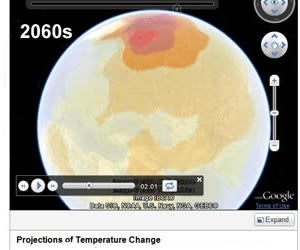 Wondering how you too can warn people about the dangers of global warning? Google have created a way to make all of us into mini-Al Gores, by adding an Estimated Climate Change option to Google Earth.
According to Google's official blog,
In collaboration with the Danish government and others, we are launching a series of Google Earth layers and tours to allow you to explore the potential impacts of climate change on our planet and the solutions for managing it. Working with data from the Intergovernmental Panel on Climate Change (IPCC), we show on Google Earth the range of expected temperature and precipitation changes under different global emissions scenarios that could occur throughout the century.
Google climate change tools for COP15 [Googleblog] (Via)