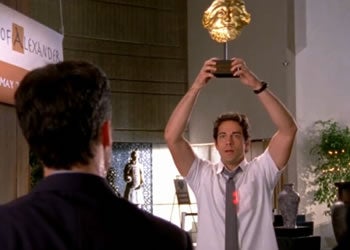 Well, if last week's Chuck clearly marked the darker direction for the rest of the season, last night's episode apparently didn't get the memo. Paranoia subplot: Over after going nowhere! Chuck selfloathing: Over after going nowhere! Spoilers and WTFs ahead.
(Also, I have to wonder why the show realizes that pointing out weaknesses in Chuck's cover just makes the CIA look incompetent. If Chuck's cover for all these missions is supposed to be that he's on Nerd Herd outcalls, why doesn't someone from the CIA just call the BuyMore and request Chuck for some fake job, thereby giving him an alibi?)
I've got no problem with all the soap opera in Chuck; the show has always been a weird hybrid of soap/comedy/spystuff. It's just that episodes like last night's make me wish that it was good soap opera. But what did the rest of you think?