It was recently revealed that Barbie's latest career would be a perky computer engineer with a requisite bright pink laptop. This got us thinking - what other action figures have pursued new jobs? Viking Batman and Cowboy Worf await you!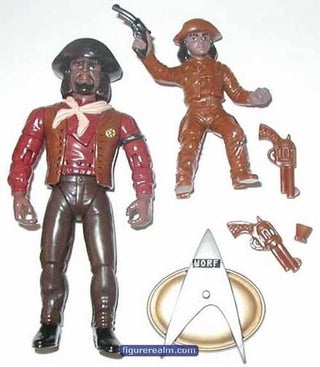 S
Yeah, yeah, I know these are holodeck versions of Worf and Alexander. But I bet that in some household, many Christmases ago, some poor kid had to round out his Enterprise crew with Cowboy Worf because of some arbitrary parental edict about "needing only one of each figure."
PS: This figure is ugly as sin.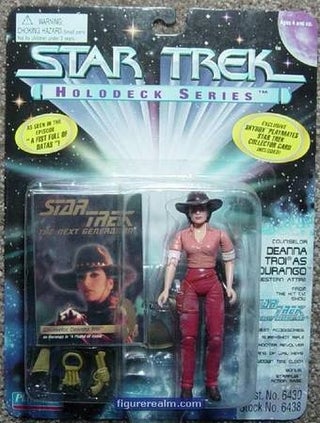 S
Ditto for Troi. Giddyup.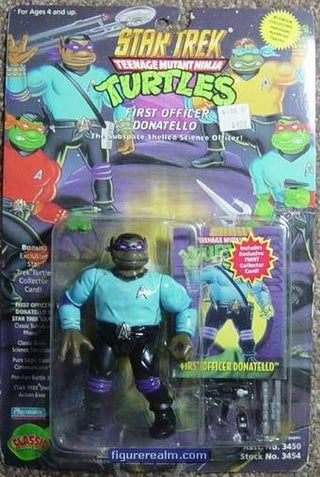 S
Double goes for this guy. You know there was some poor tyke out there who had Spockatello pulling a double shift in the New York sewers and deep space.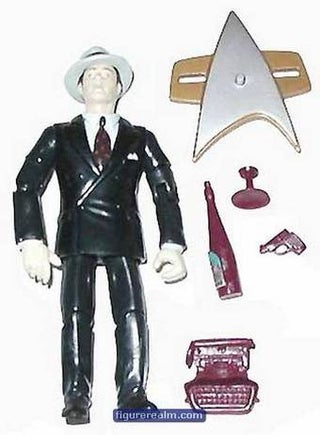 S
Is this gangster Data or Men's Warehouse Seduction Data? The holographic bubbly is throwing me off.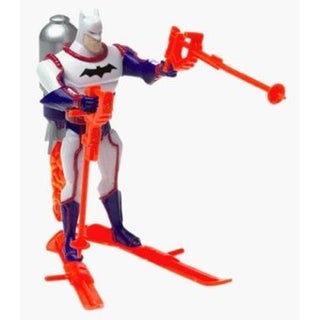 S
When Slalom Racer Batman became an Olympic cross-country skiing champ, Bruce Wayne greased some serious palms.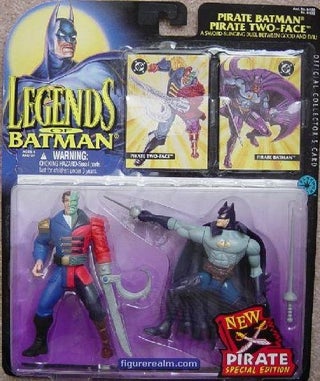 S

Batman's only a crime fighter on land. The laws of the sea don't apply to him.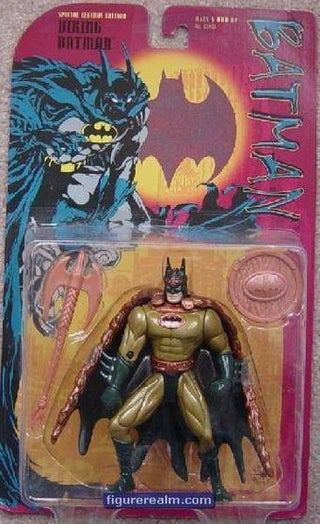 S
Nothing screams "lurking in the shadows" like breath stinking of mead and a 70 lb. battle axe.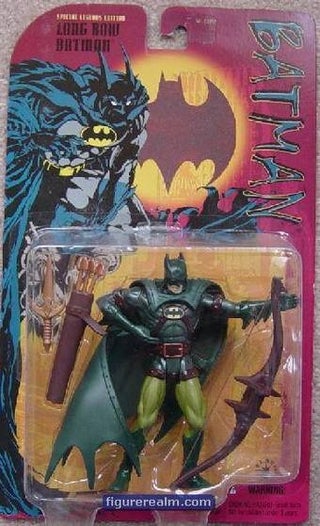 S
If modern Batman refuses to use firearms, shouldn't medieval Batman refuse to resort to archery? Just saying.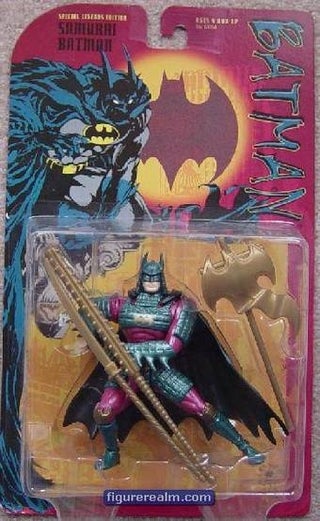 S
After Batman Begins, Samurai Batman seems so done. Yowling Kabuki Batman however is ripe for the picking.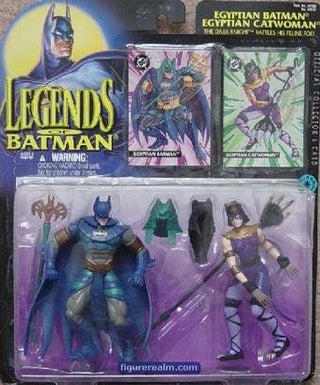 S
When I clicked on Egyptian Batman, I was hoping something more along the lines of Italian Spiderman. Letdown City, occupation: me.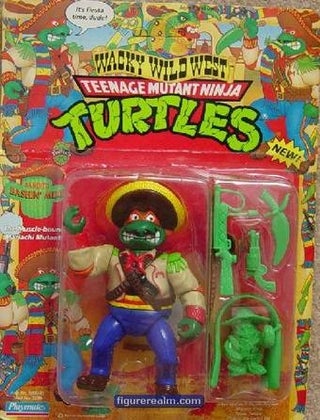 S
Meet Bandito Mike. His careers are "robber" and "stereotype."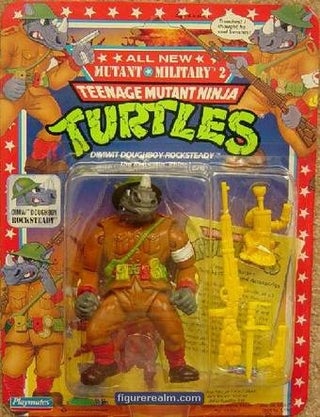 S
I'm not sure what's more offensive - A.) that this is how our generation pays tribute to its servicemen; or B.) that Rocksteady is a good guy.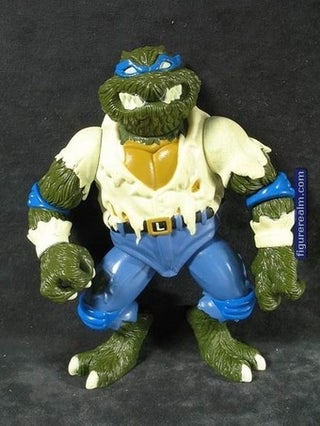 S
I'm not sure if "Wolfman" or "Having Horrific Gout" is a career, but once you start pouring on the adjectives, you get some great Ginsberg-esque poetry. Teenage Wolfman Mutant Ninja Gouty Turtles Cool Blue Yabba Dabba Doo...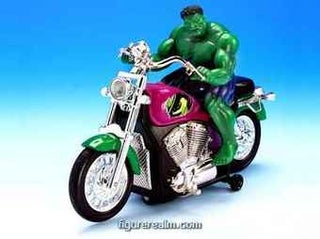 S
Motorcyclist Hulk can only get out of his driveway before he needs a new one.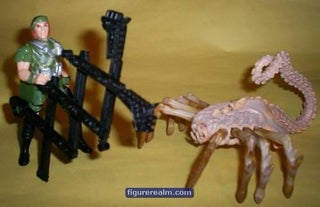 S
What was great about the Kenner Aliens toys was the they introduced all these absurd species of aliens that were never in the movies. My favorite was the Queen Face Hugger, which was just a normal face hugger the size of a cow.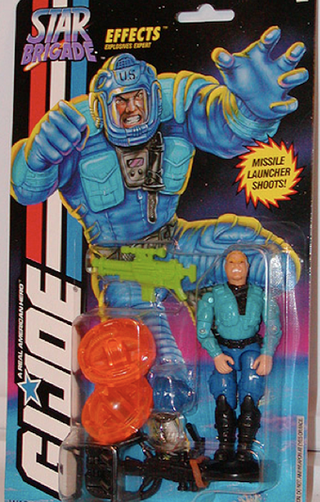 S
At a certain point, G.I. Joe took their battle for world peace to deep space and battled aliens. It was a poor career move.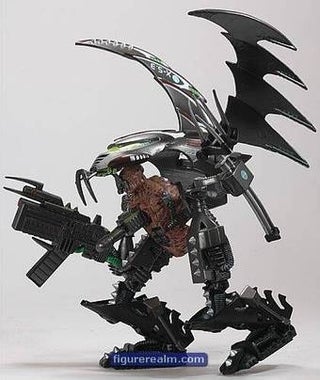 S
Spawn is one of the few superhero action figures with more careers than Barbie. There's medieval Spawn, shogun Spawn, pilot Spawn, etc. My favorite from my childhood was Future Spawn, who looked like a cyberpunk prune.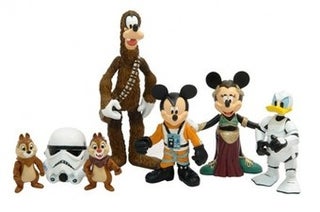 S
I'll never forget the day Han Solo turned into Howard The Duck.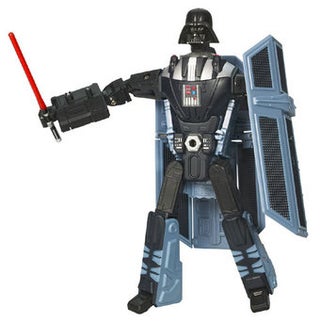 S
Oh, Star Wars Transformers. Is Darth Vader moonlighting as a TIE fighter, or vice versa?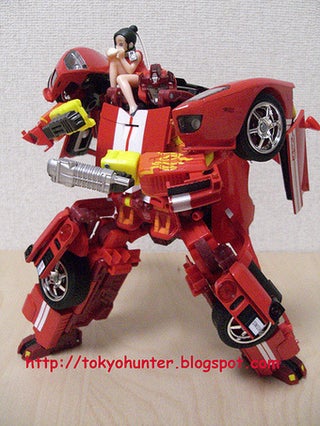 S
And finally here we have the infamous Transformers Kiss Players, whose sordid story I'll let you research all by yourself. Let's just say they're half Autobot, half underage girl.