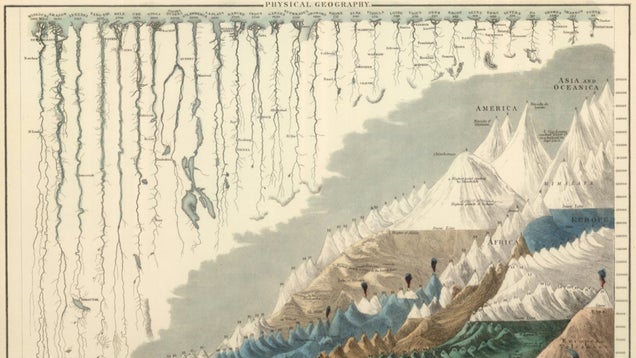 S
This stunning depiction of some of the world's most impressive geographical features is from a copy of General Atlas of the World (do yourself a favor and click here for the uncropped, hi-res version. Seriously, do it now.)
The volume was published in 1854 by A & C Black Publishing Company (known in its day for printing several editions of the Encyclopædia Britannica), and contained upwards of seventy maps, reproduced from the steel engravings of noteworthy cartographers Sidney Hall and William Hughes.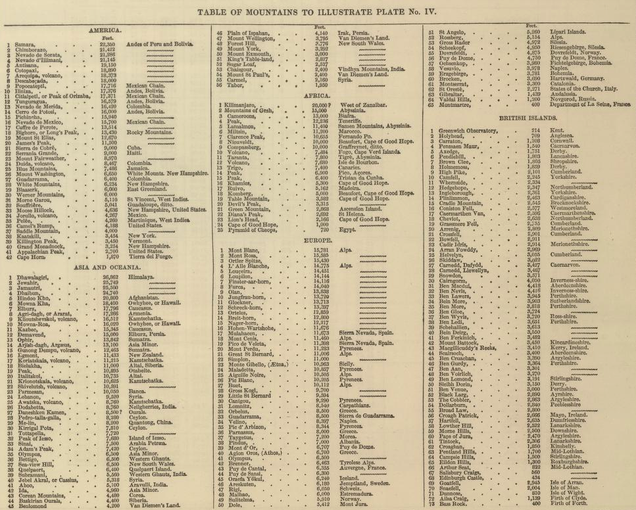 S
The legend that identifies the individual mountains featured on the plate is shown here (an interactive, zoomable version can be viewed by clicking here), and is really worth checking out. You'll notice, for example, that the tallest peak on this map is not Mt. Everest, but "Dhawalagiri," which today is actually regarded as Earth's seventh highest mountain. (The first official height of Everest was not published until 1856, two years after the publication of General Atlas.)
Can you imagine the time and craftsmanship that went into producing this print — from surveying the geography to producing a steel engraving to generating a comprehensible, color-coded print? It's truly impressive to think about, and the final product is wonderful to behold.
A contemporary list of rivers by length can be found here
A contemporary list of mountains by height can be found here
General Atlas of the World via The David Rumsey Map Collection and BibliOdyssey