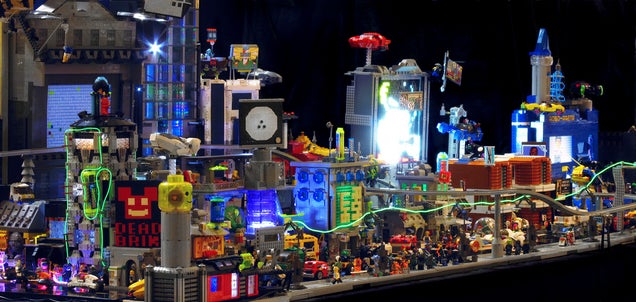 S
Is there anything cooler than an awesome diorama? It's like fan art that you can walk around. The most awesome dioramas tell a story and burst with amazing details — and tons of awesomely weird humor.
Check out some of our favorite dioramas, including tributes to Star Wars, Lord of the Rings, Blade Runner and Futurama — made of LEGO, candy, peeps, and muppets!
The image above is CyberCity Collaborative Project, a futuristic city which seems to mash up Blade Runner, Akira and tons of other amazing stuff.
According to the project's Flickr page:
This was a collaborative display presented at the Bricks by the Bay 2011 Lego convention held in Santa Clara on March 27th. Members from RoninLUG, PCHLUG, and elsewhere (at least 14 builders all together, and from as far off as Europe) combined forces for this cyberpunk near future alien ghetto city diorama. Minds were blown, faces were melted, trophies were won (Best Space Structure, Best in Show, and Public Choice).
You really owe it to yourself to watch the video showing the whole thing in action.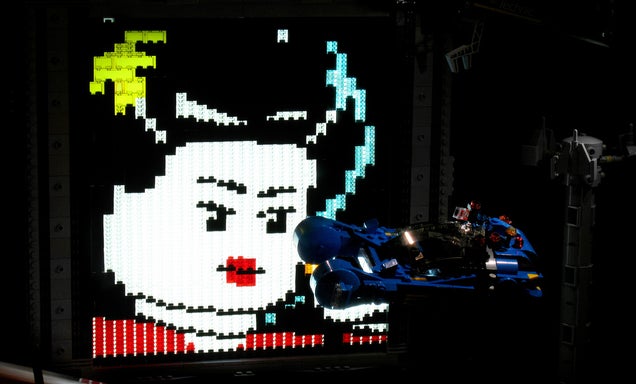 S
Another picture from CyberCity Collaborative Project: "He say you under arrest, Mr. Deckard." Amazing Blade Runner reconstruction. Says the Flickr page:
Mosaic by Polywen on Legosamurai's lightbox building.
Spinner built by icgetaway (based on Kaitimar's design (inspired by Nakany))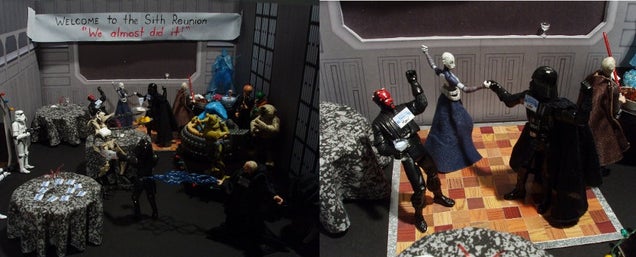 S
"Sith Reunion," our favorite of the fan-made dioramas that were finalists in Hasbro's Star Wars diorama contest. Sadly, the original link is down, but you can see more at Geekologie.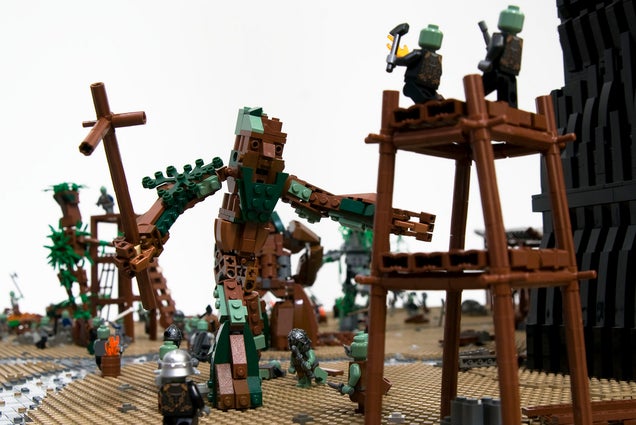 S
The Battle of Isengard from Lord of the Rings, depicted in LEGOs. See more here.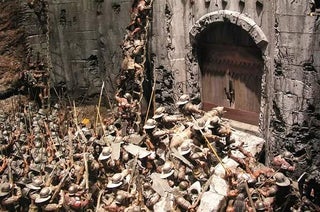 S
The Battle of Helm's Deep, diorama from the storefront of Silver Snail Comics in Toronto. Click the link to see tons more amazing photos.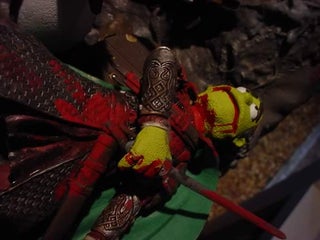 S
And then Silver Snail followed up their "Helm's Deep" diorama with "Ham's Deep" — the Battle of Helm's Deep with Muppets. Seriously. It's the most awesome thing ever — check out more pics at the link.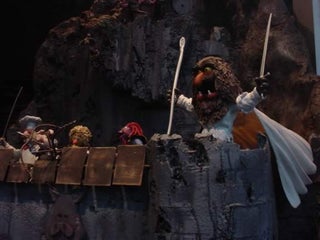 S

Another picture from "Ham's Deep"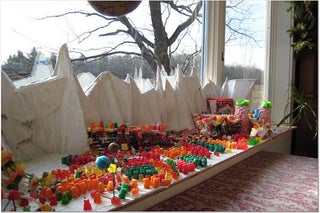 S
And then there's this. The Battle of Helm's Deep in Candy. Tons more pics over at Miss(ed) Manners.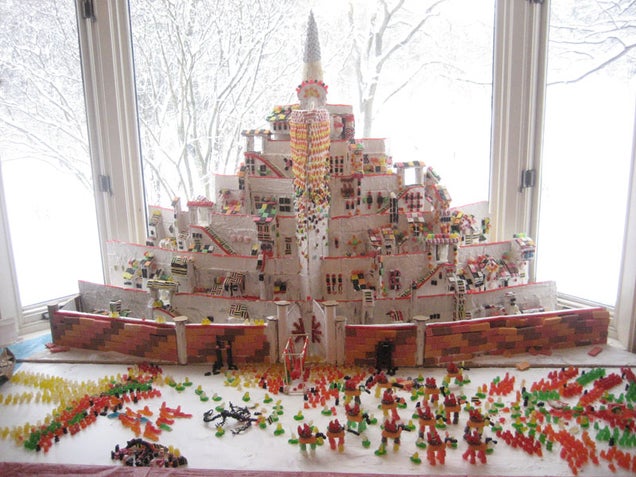 S
The same people followed up a year later by doing the Battle of Pelennor Fields, also in candy. "Behold, the White City of Minas Tirith is under siege by one of the largest, and certainly the tastiest army ever to walk Middle Earth. For two days the evil host, under the brutal licorice fist of the Witch King of Angmar has bombarded the ancient city with stone and fire."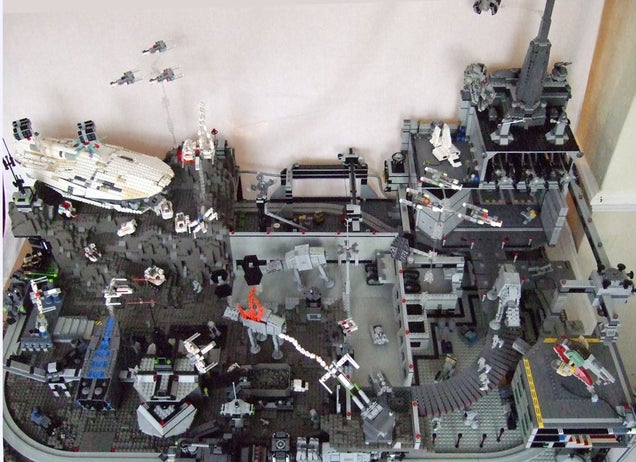 S
A made-up Star Wars battle diorama made of LEGO called "Rebel Attack!" by Rogue Bantha, aka Tim Goddard. The whole thing took him a year to put together, and it's more or less exactly 1:200 scale. Tons more pics at Flickr. [Via Technabob]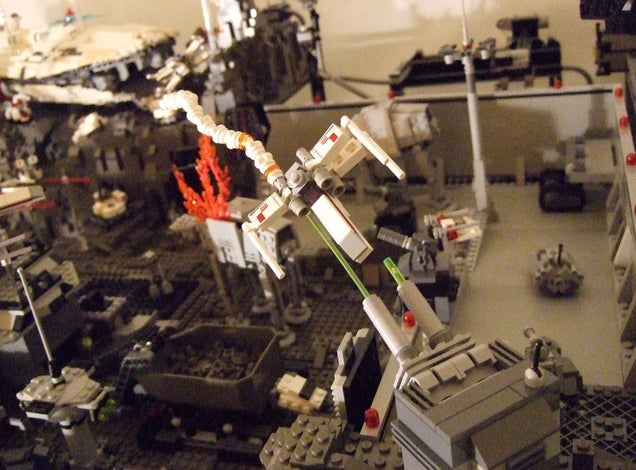 S
Just had to include one more pic from "Rebel Attack" because it's so cool.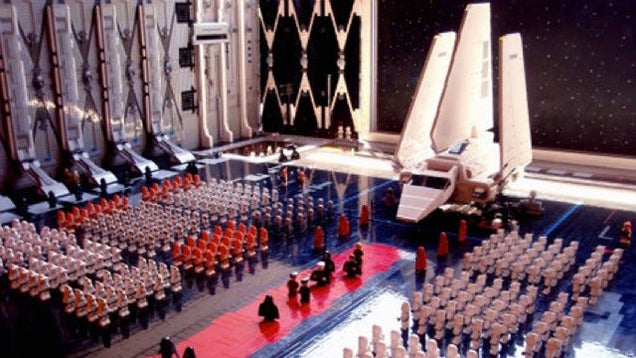 Amazing Lego Death Star diorama — see more here.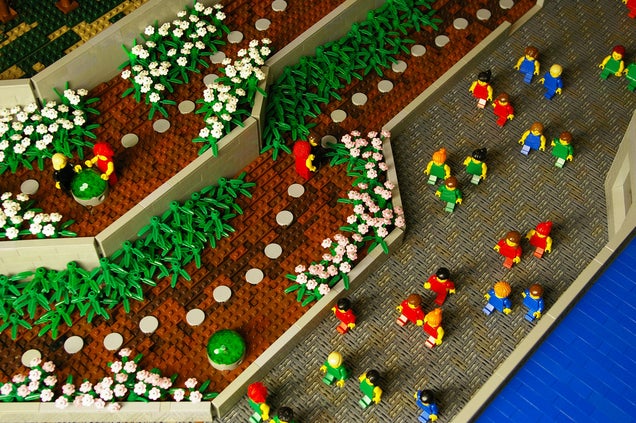 S
Amazing LEGO diorama of Logan's Run — see more here.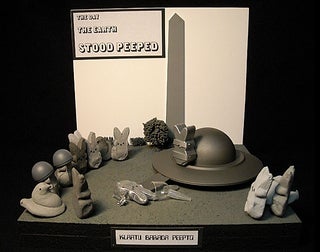 S
The Day The Earth Stood Peeped — part of the Washington Post's astounding annual Peep diorama contest. See tons more, including Batman and Robin, Frankenstein, and Twilight Zone Peeps, over here.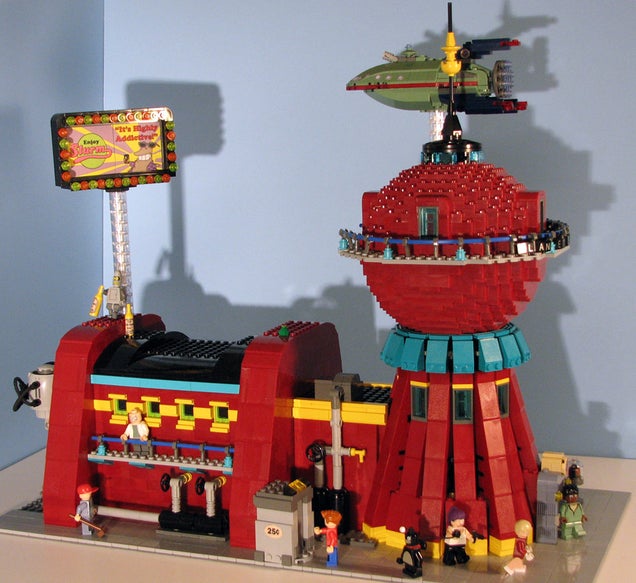 S
Planet Express from Futurama made entirely out of Lego. Tons more pics over at BrickPics.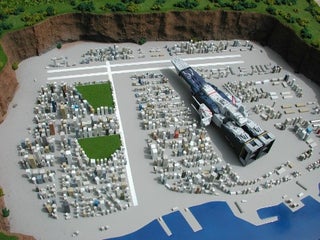 S
Macross City. Robotech community member and creator RT5864 explains, "This is a 1/5000th scale diorama of Macross City with the restored SDF-1 at the air base before its maiden flight. The Robotech Space Fortress SDF-1 model is a 1/5000th scale kit by Revell."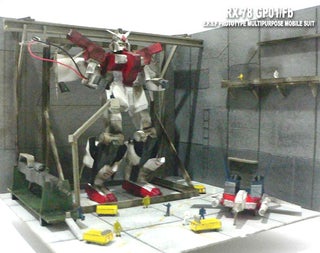 S
Gundam RX-78 GP01/Fb Diorama, via Papercrapt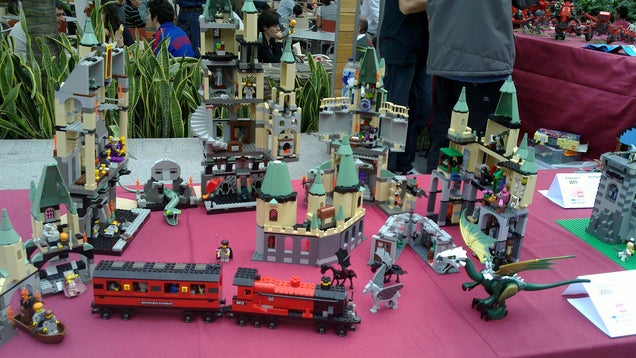 S
Harry Potter diorama from HispaBrick. Via Paco Zafra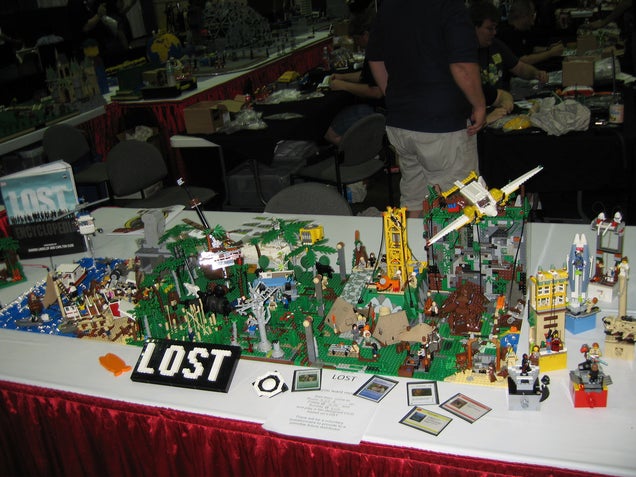 S
LOST LEGO diorama from MegaCon. Via Shawn Chastain