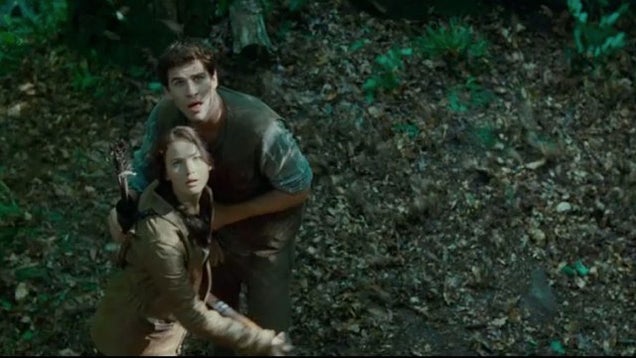 You've seen the brand new trailer for The Hunger Games — now let's dissect each frame, and uncover everything we can about the post-apocalyptic wasteland where the movie's children are fighting to the death.
What's different? Prim is now the owner of the mockingjay pin. And what's exactly what we pictured while reading Suzanne Collins novel? Lenny Kravitz as Cinna is perfect right down to his gold eyeliner. Check out our massive gallery of Hunger Games trailer secrets now. Spoilers ahead...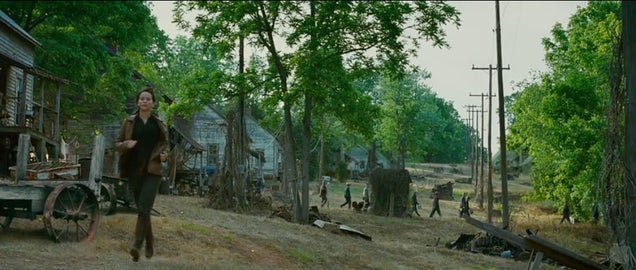 S
Here it is, our very first look at District 12, which is part of the nation of Panem. District 12 is located roughly in the Appalachian mountains. The district is broke as hell. If you look behind Katniss (our hero on the left) you can see a parade of (what we're assuming to be) workers heading out to the coal mines (as coal is District 12's chief export). Which is unfortunate as Katniss' father died in a horrible coal mining explosion, leaving his family penniless. Her mother eventually became a local apothecary and Katniss an amazing hunter and gatherer. Together (well, mostly thanks to Katniss' archery skills) Prim (her younger sister) and her mother manage to feed themselves (a big accomplishment for someone from District 12).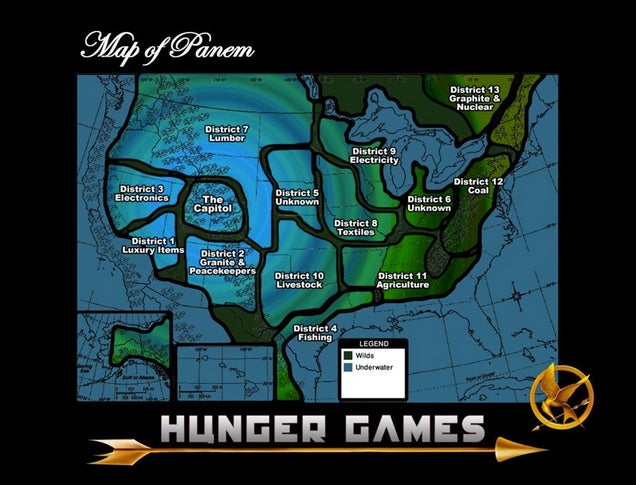 S

Oh, and if you're wondering where all the other Districts are in the nation of Panem, here's a trusty map from Kaydicakes. As you can see, a lot of North America is now currently underwater, or covered in wilderness.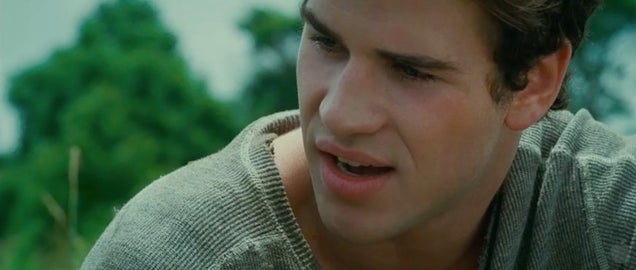 S
First look at Gale Hawthorne, played by Liam Hemsworth. Gale is Katniss best friend, hunting companion and my constant.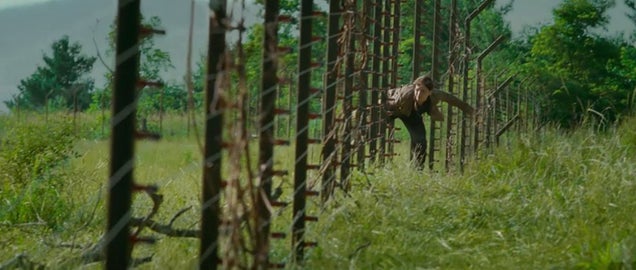 S
The infamous electrified fence that surrounds District 12, put there by the "peacekeepers," supposedly to protect the people of District 12. Obviously all of this land outside of the fence is off-limits.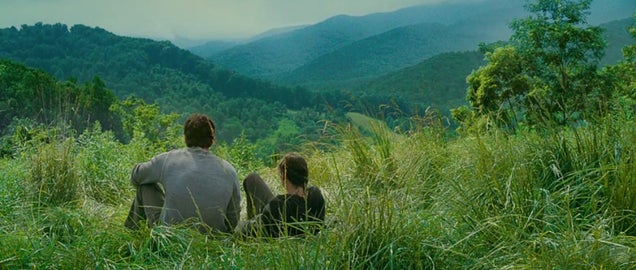 S
Nice view of Gale's shoulders District 12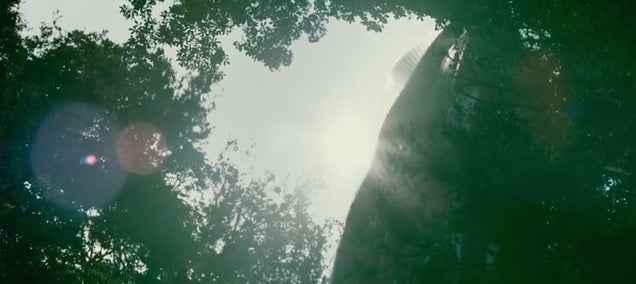 S
A hovercraft appears above the wood. Could this be the same hovercraft that abducts the Avox Girl we meet later ? Most likely. But this scene also brings up a good point. If this is the scene with the Avox (later revealed to be Lavinia) then some really horrible, and bloody, stuff is about to go down. Will the movie version allow this horror to take place on screen? Sure this is just a precursor to the real blood fest that is the Hunger Games themselves, but it's still important. Are they still going to cut the tongues out of the mouths of Capitol criminals?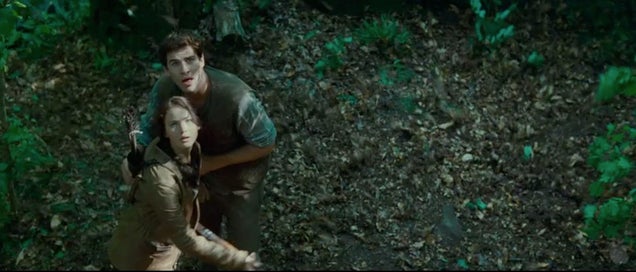 S
Gale and Katniss scamper away.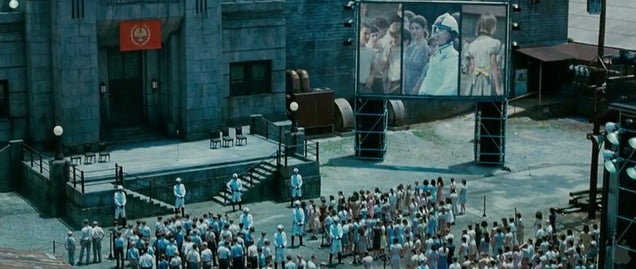 S
First look at District 12's Reaping! Where all the eligible teens gather to see if their names are called to be summoned to the Hunger Games. One male and one female is picked from each district and becomes "tributes." They are then shipped off the The Capitol to fight the 22 other tributes from the 11 other Districts, to the death. The whole thing is televised, including Reaping Day.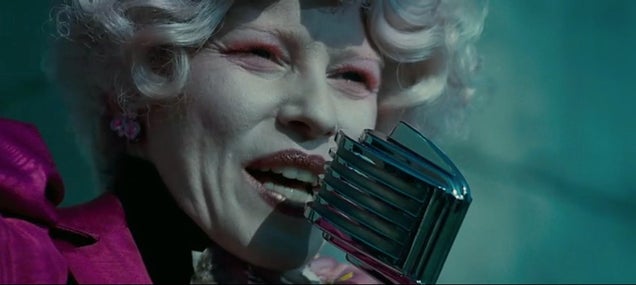 S
Elizabeth Banks as Effie Trinket done up in the Capitol fashions. She is the official Escort to the tributes, and isn't particularly happy with her District 12 placing. However, she believes that if her Tributes do a good job she will eventually get promoted to a better place.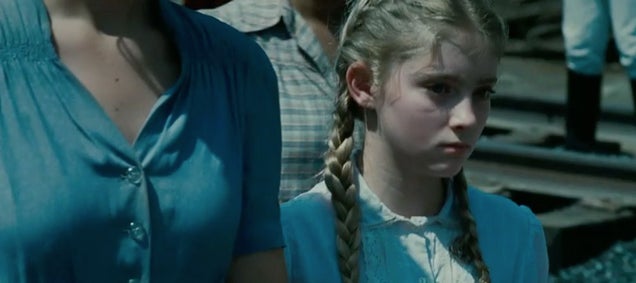 S
First look at Katniss' little sister Primrose Everdeen (played by Willow Shields).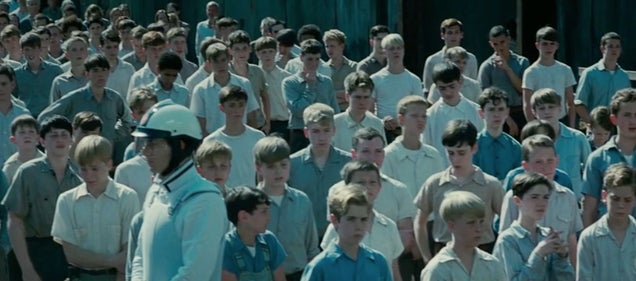 S
All the potential tributes line up.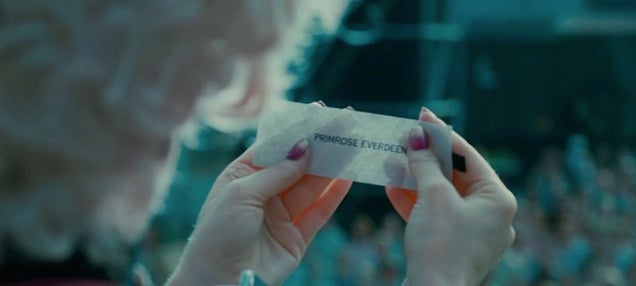 S
Prim's name is chosen. (Check out Effie's nails).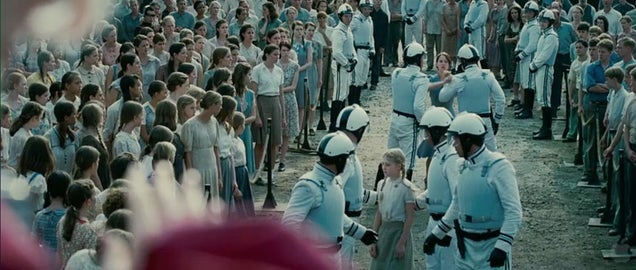 S
Katniss freaks out. Good look at the "police officers" of the Panem, known as the Peacekeepers in the book. They kind of look like the Cop from the Village People, but all in white.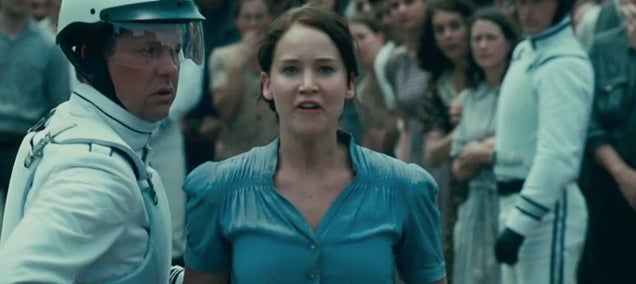 S
Katniss volunteers to go in her sister's place. There's a good shot of Katniss in her mother's dress (which she wore to The Reaping). This is also the moment where Jennifer Lawrence won me over on her Katniss.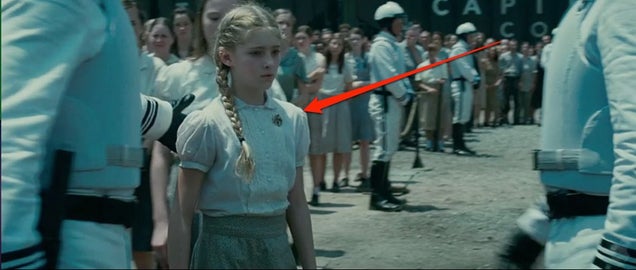 S
Anyone else notice that PRIM has the Mockingjay pin on? Methinks the movie changed this part so Prim would give Katniss the pin, and not the Mayor's daughter (who is not at all that important to the first book). Makes sense. But still, THIS IS NOT CANON. Anyway — holy hell, are those Mockingjay pins going to make Lionsgate a pretty penny.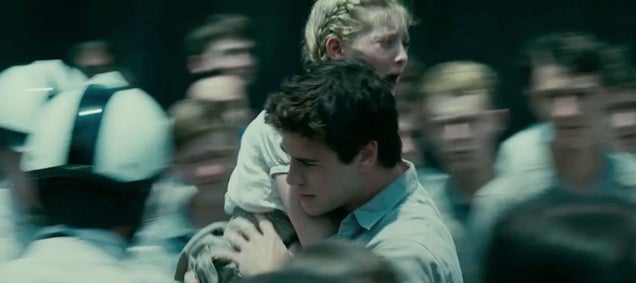 S
Prim screams, and Gale pops over and carries her off. Swoon.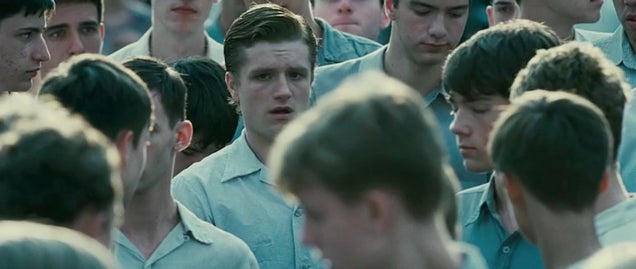 S
The baker's son Peeta Mellark, played by Josh Hutcherson, is picked next.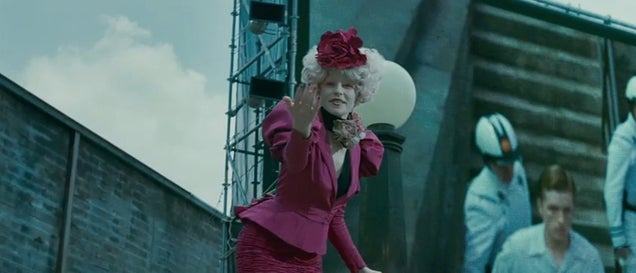 S
Effie and her amazing outfit. I love the contrast of Effie's pink with the grey and blue tones of D12.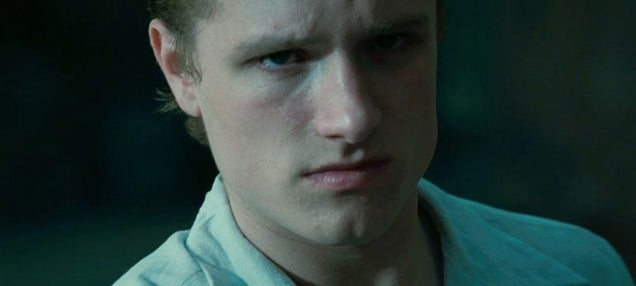 S
A close-up of Peetah! Brooding Baker Boy.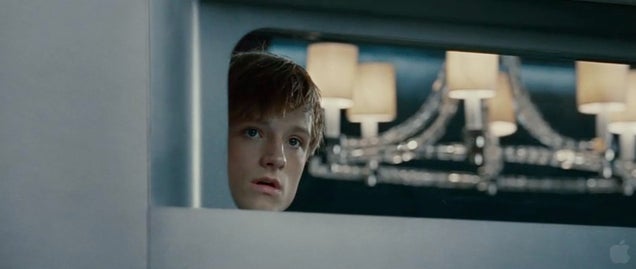 S
Peeta and Katniss take off in the train to the Capitol — it's much nicer than D12, judging by the chandelier.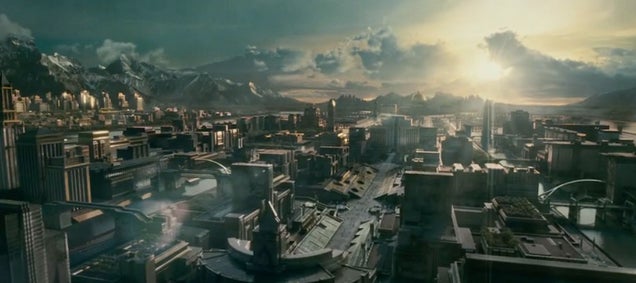 S
First look at the mighty metropolitan Capitol.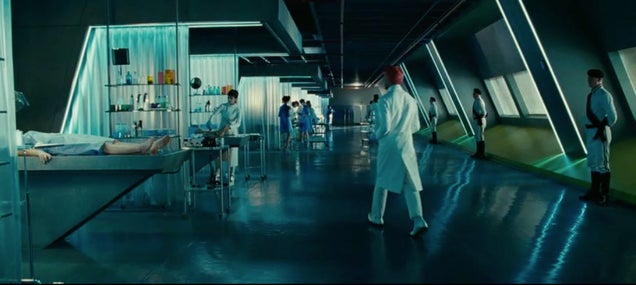 S
The tributes are then ushered into this tall skyscraper in The Capitol to get their hair and makeup done and meet their stylists. Yes, everyone in the Capitol dresses like Effie. It's all very "Merry Old Land of Oz," only with more crying and death.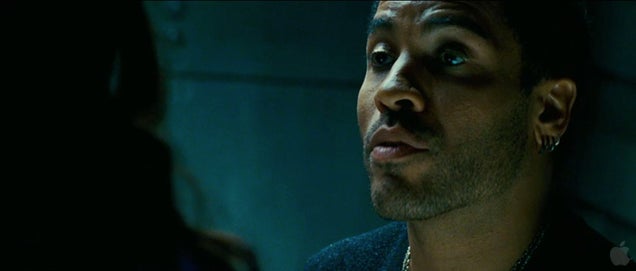 S
Meet Katniss' stylist Cinna. Yes, that is Lenny Kravitz. And yes, he is wearing Cinna's signature gold-eyeliner.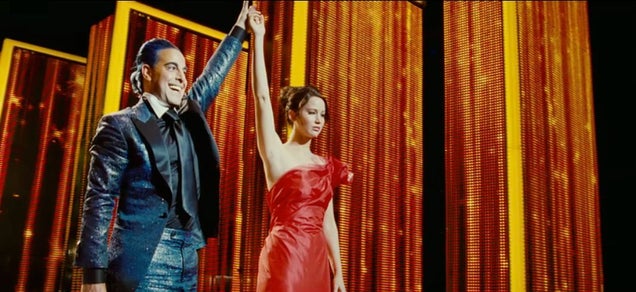 S
Now there's tons and tons of press for each tribute to do, they have to hype themselves to the people of Panem, in hopes of getting donations and goods during the games (which are all wildly expensive). In order to do this, they appear on Caesar Flickerman's show to be interviewed and stared at by the nation. IMDB says that Caesar is being played by Stanley Tucci — but holy beans this does NOT look like our man Tucci. The laugh in the trailer certainly sounds like him, but wow. It could be him, we guess, we've never seen Tucci in a blue pony-tail. Side note, right before this image was shown Katniss was seen spinning around in this red dress in the trailer, which is one of the ways she made everyone fall in love with her. Well, that and lamb stew!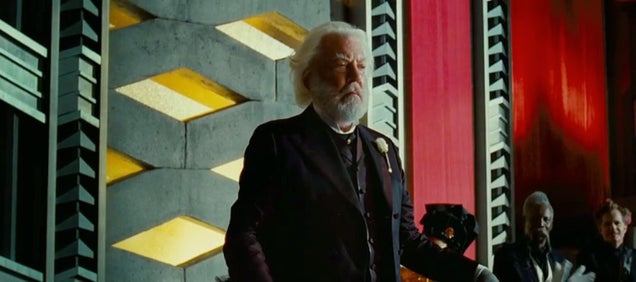 S
First ever image of the nefarious President Snow, played by Donald Sutherland. He's a bad, bad man.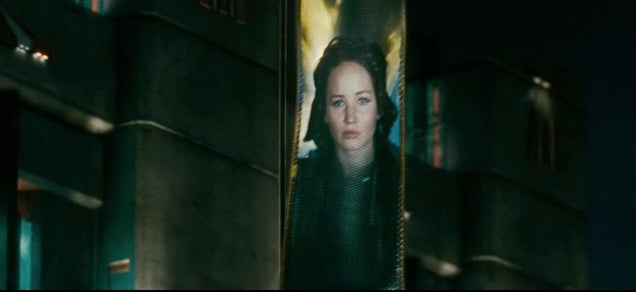 S
A cool video banner from the future.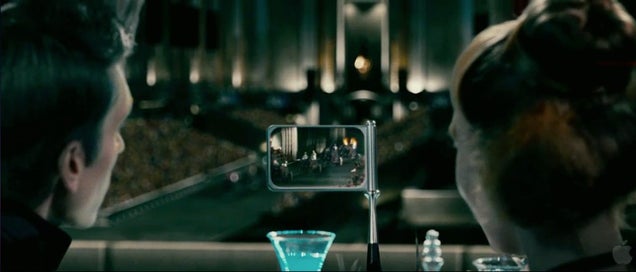 S
Fancy Capitol folk doing fancy things.
UPDATE: It was just pointed out by commenter ANkhUp that if you look VERY closely (through the glass) you can see that this is the big tribute parade. In the back are a few chariots, one that looks to be ON FIRE. And you all know what that means.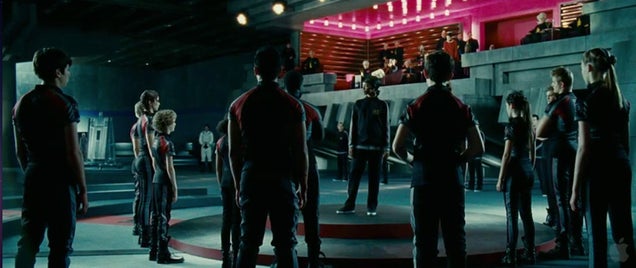 S
All 24 tributes together in their practice room.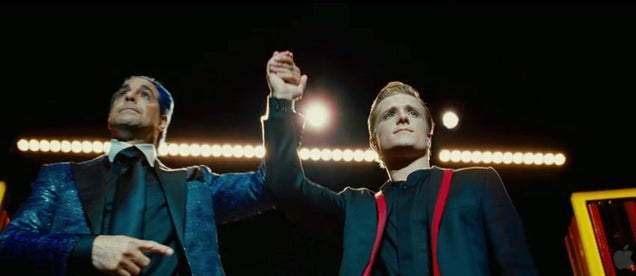 S
Peeta after his interview with Caesar (Okay, that looks like Tucci). We're expecting lots of red lapeled boys and girls in red dresses, at next year's Comic Con now.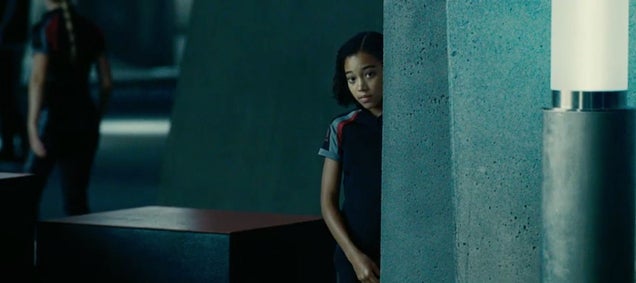 S
It's Rue the youngest tribute, played by Amandla Stenberg.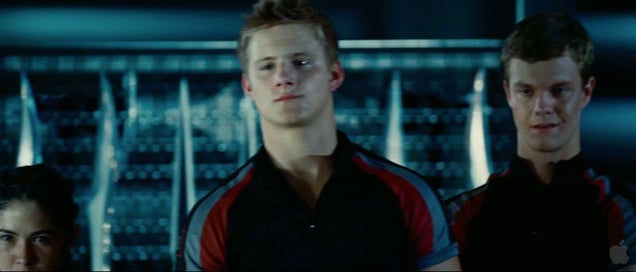 S
Cato from District 2 — throws a mean spear. Is a psychopath. We're assuming that's the other tribute from District 2, Clove, on his left. She's good with a knife.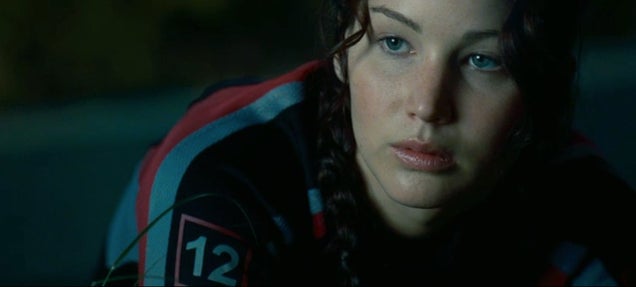 S
Katniss in her workout gear.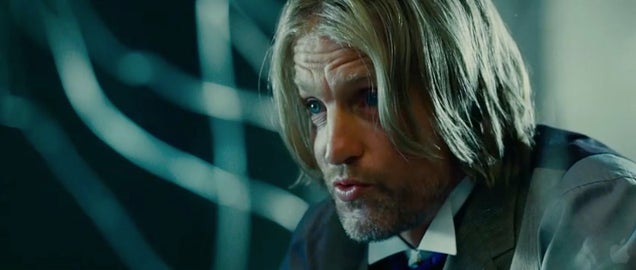 S
Woody Harrelson as Katniss and Peeta's trainer Haymitch Abernathy. The only winner of the Hunger Games from District 12. He's also a drunk.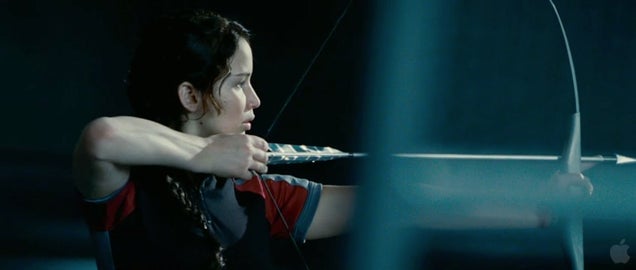 S
Katniss doing what she does best.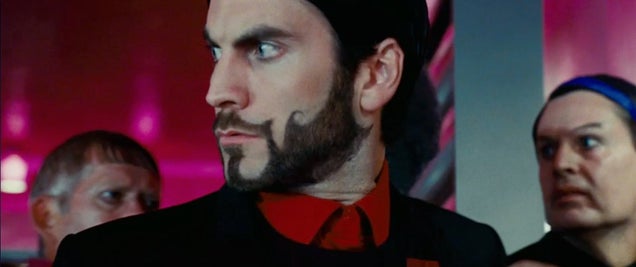 S
A gamemaker with a fancy beard takes note of Katniss' mad archery skills.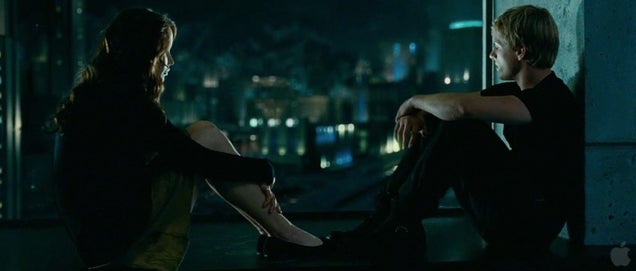 S
Katniss and Peeta have a lovely rooftop meeting. Peeta confides in Katniss, "If I'm gonna die I want to still be me." To which she replies, "I just can't afford to think like that." Which means, if she dies, Prim and her mother will starve to death. So screw being yourself — survival is what matters.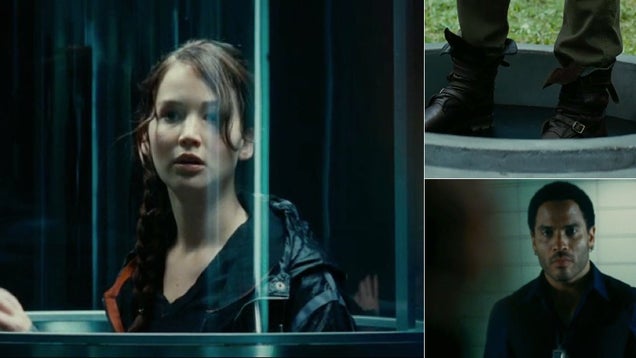 S
The games are about to start and Katniss gets inside her entry tube and stands on her plate (careful not to rush to the cornucopia, or else the mines surrounding her feet will explode — fun!)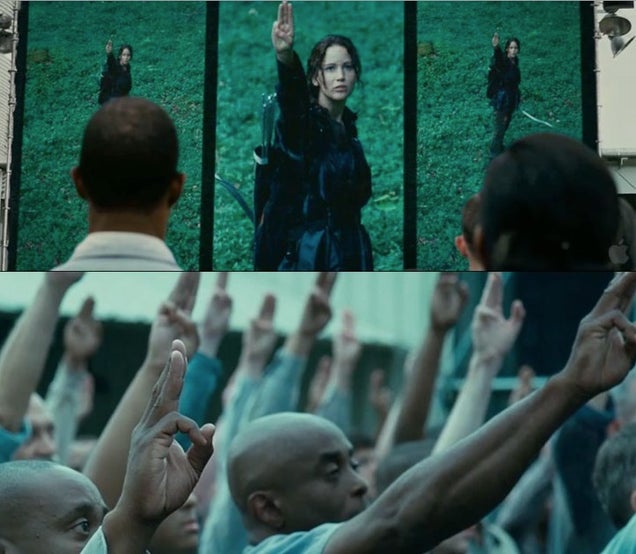 S
Katniss gives the three fingered salute of District 12 (the folks there do not clap) but instead raise their hands silently like so (it means thank you, love, or goodbye to a special someone). A group of folks watching the Hunger Games from afar give the salute back to Katniss. Oh dear, I think I know what this scene is.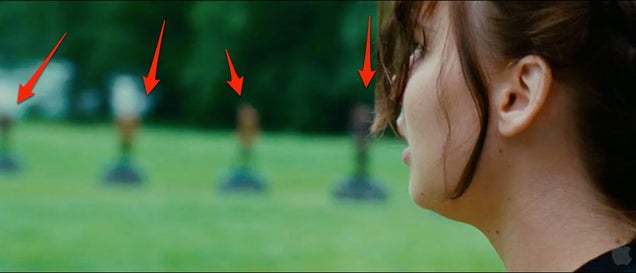 S
And finally the beginning of the games, which is too blurry to grab, but you can see the circle of all the other tributes standing on their plates in a circle. Waiting to run to the cornucopia. Then the trailer stops. It shows nothing from the Games proper, which is a really good thing. All we're left with is the song of the mockingjay, which we believe is the tune Rue teaches all the birds in the Games to sing.