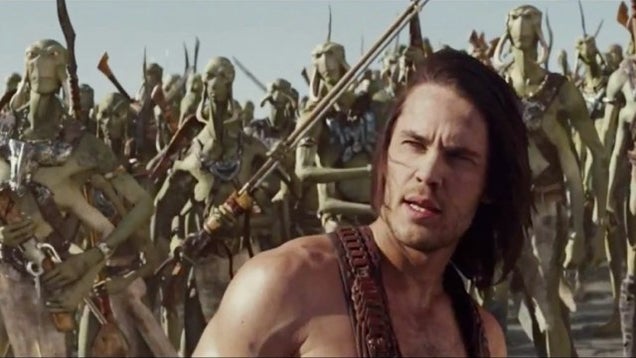 You've seen the mayhem-filled new trailer for Disney's John Carter — now let's pick it apart and study all the awesome details — such as horrific piles of burning bodies, Martian puppies... and a wedding!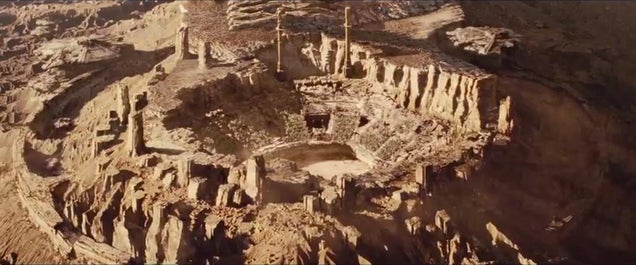 S
And we're off. Behold the giant Thark arena that appears to be carved right out of the landscape. Which was exactly what director Andrew Stanton told io9 he was going for when he revealed his influences for the John Carter landscapes. Stanton revealed that he specifically pointed out Petra in Jordan as a massive influence.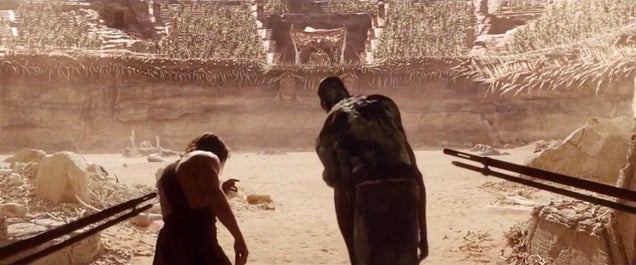 S
John Carter and a limping Thark (green Martian warrior beasts with super strength, 4 arms and very tall bodies) enter the arena.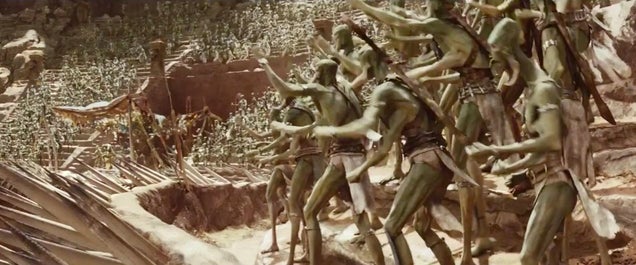 S
The Tharks do a Thark wave — and holy hell, it's getting really hard not to draw similarities between Star Wars Episode 2's Geonosis Fight.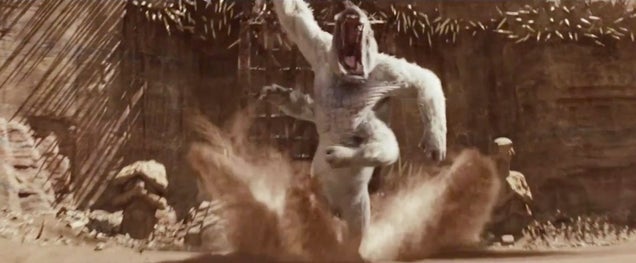 S
What will John Carter have to fight, why a White Ape of course! Disney released a super high res shot of the creature here if you want a closer look.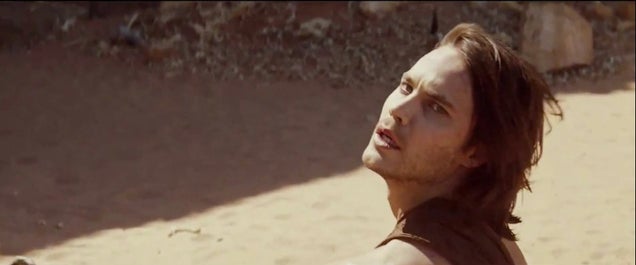 S
Carter sees the Ape and does the "case of the Mondays" look.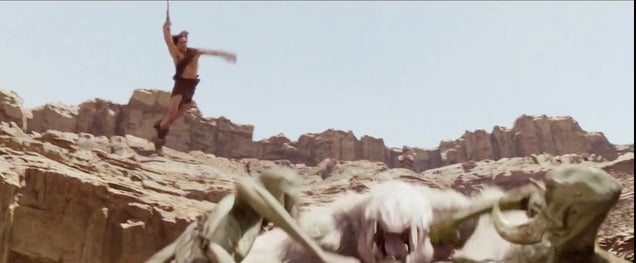 S
Carter uses his Mars super strength to leap over the beast and spear it WITH ONE BLOW (according to the shocked Thark we'll show you in the next image). Carter's super strength hasn't been shown too much in the earlier trailers but there's some good tiny-man-leaping action in the lastest trailer. It turns out that Carter, being an Earthling, has super powers on Mars because of the gravity.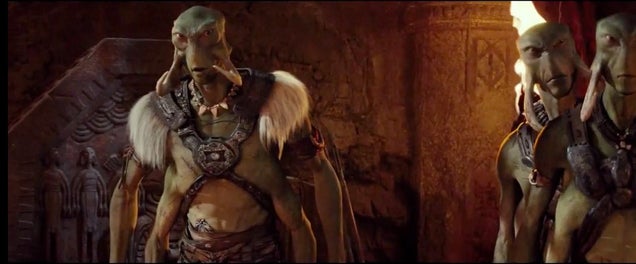 S
Is this Willem Dafoe as Carter's soon-to-be Martian friend Tars Tarkas? It certainly sounds like him.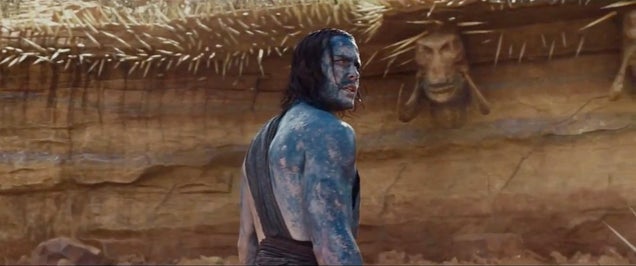 S
Carter is covered in the blue blood of his White Ape kill, suck it Braveheart.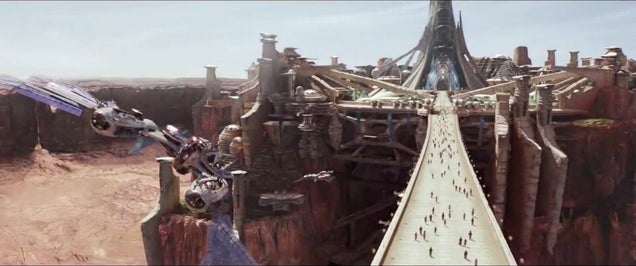 S
This is either the city of Helium or Zodanga. Those are the two humanoid cities in the Martian land of Barsoom.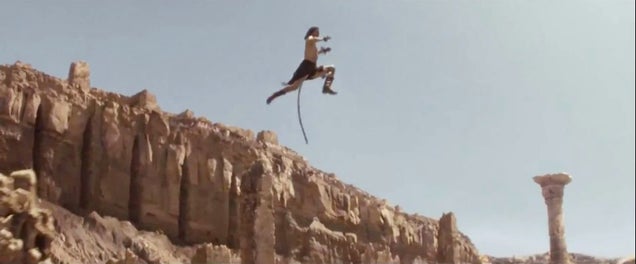 S
More super jumps.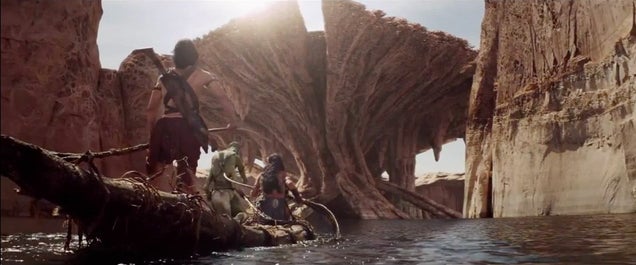 S
Tars Tarkas, Princess Dejah and Carter sail down one of Barsoom's canals.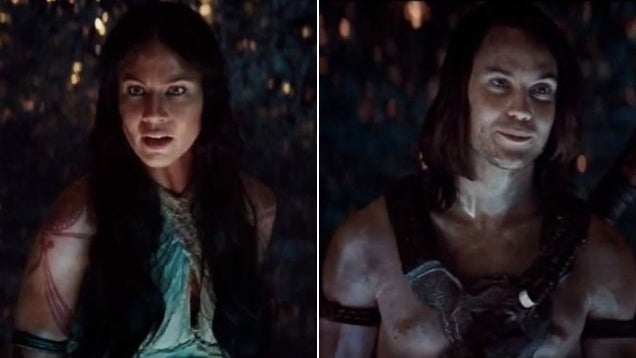 Princess Dejah Thoris (Lynn Collins) asks if Taylor Kitsch is he is John Carter. He smiles and says "Yes Ma'am," and I'm pretty sure that's how Kitsch got this job. Swoon.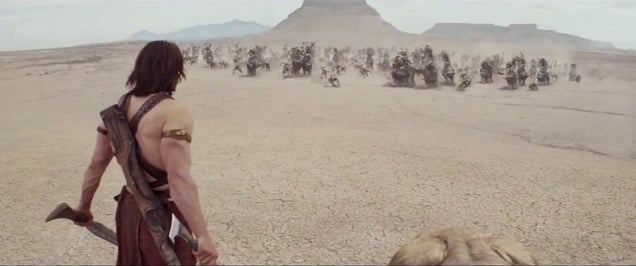 S
Tharks mount their Martian horses (Thoats) to attack (greet?) Carter.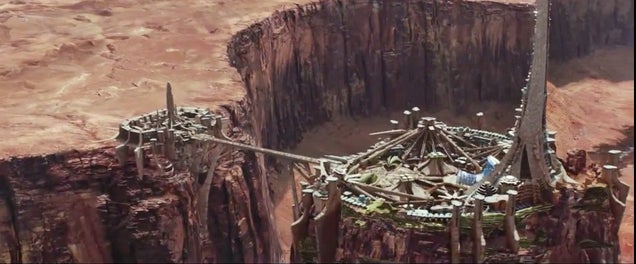 S

Another glorious shot of a Barsoom city.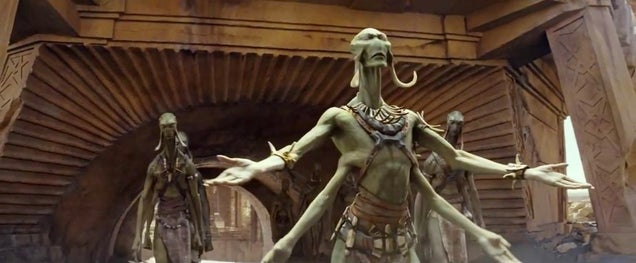 S
Welcome!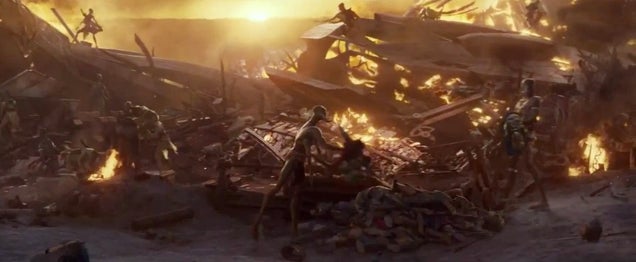 S
The Tharks are burning piles of bodies. Why?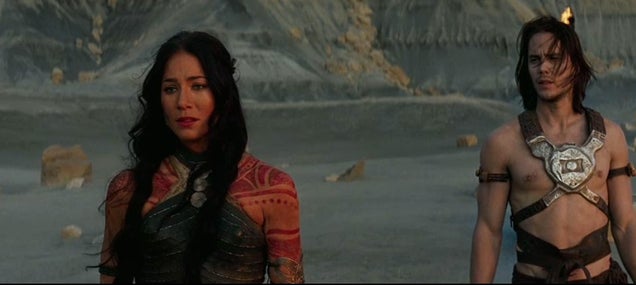 S
Carter asks Dejah "What happened to this place?" Seriously, why are they burning bodies? I don't remember this part from Edgar Rice Burroughs (it could be in there I'm sure) but wow — Disney movie!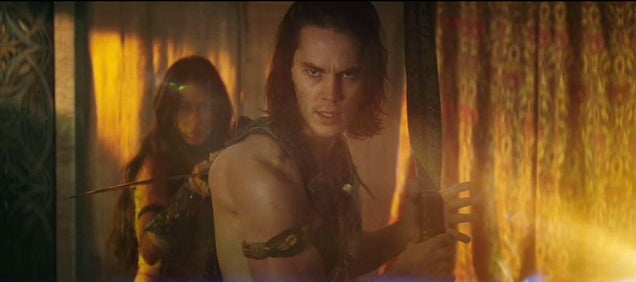 S
Carter and Dejah stalking in the shadows (yes Dejah is a princess who kicks ass sometimes).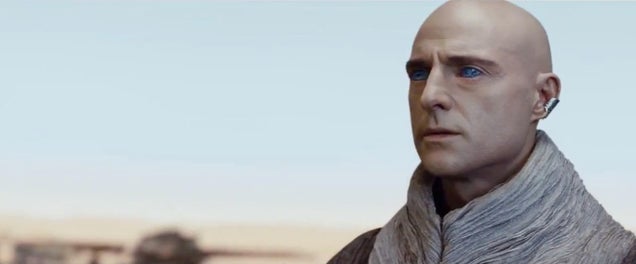 S
Mark Strong makes his first appearance as Matai Shang. Creepy Dune-like eyes, my friend.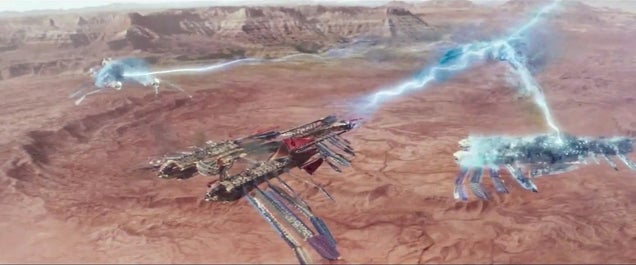 S
Coincidence that when Matai Shang makes an appearance Dejah gives a voiceover about a new power that is destroying their city, then we see images of destructive blue lighting? No, it is not.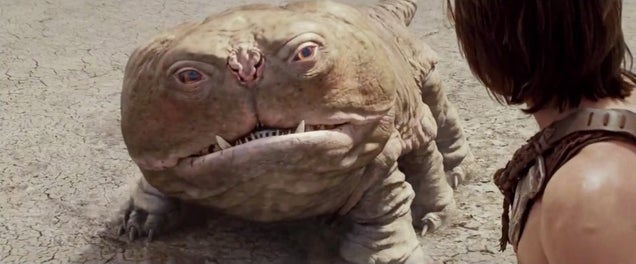 S
Woola, a Mars dog and Carter's companion through parts of the books.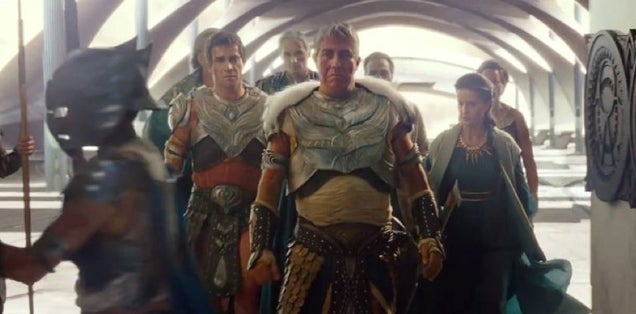 S

Ciarán Hinds makes his first appearance as Tardos Mors. He's the grandfather of Princess Dejah Thoris and the Jeddak (Emperor) of Helium (a city in the Martian land of Barsoom).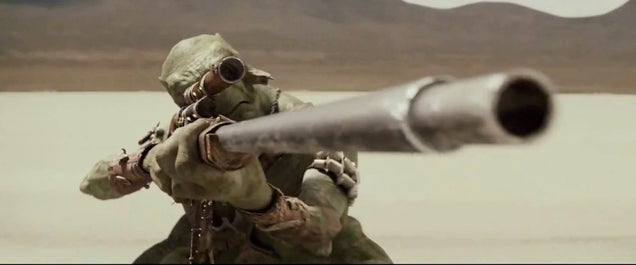 S
Thark gun!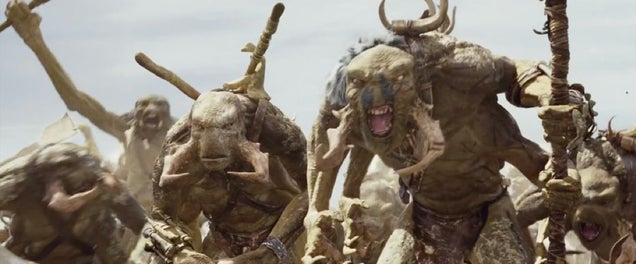 S
Larger Tharks.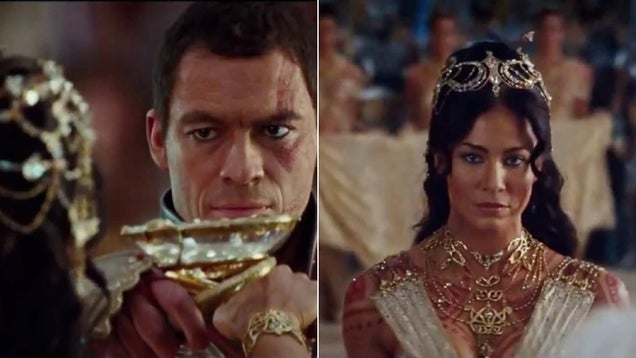 S
Dominic West plays Sab Than, Prince of Zodanga. Clearly this is a glimpse of some sort of wedding ceremony. We can only assume these two are getting married for the political purposes of their Jeddaks. But as we all know, she and Carter are in love, how much you want to bet that gets in the way?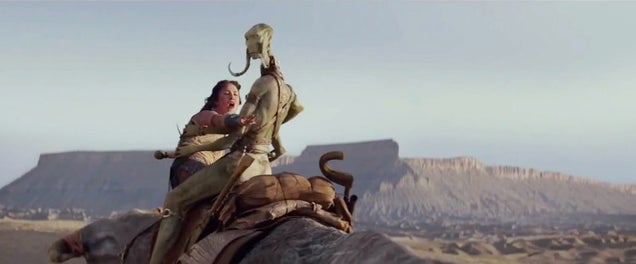 S
Dejah screams at an off camera problem while Samantha Morton's character Sola rides her away on her Thoat. At least we think it's Sola, due to the slender tusks and pivotal part of Dejah's and Carter's storyline.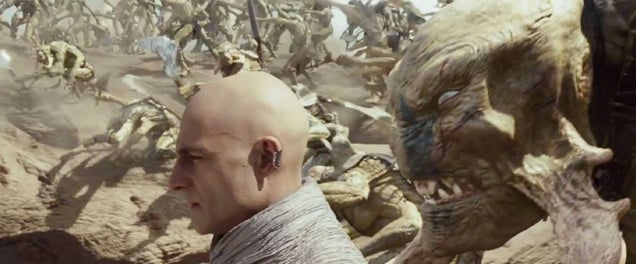 S
It would appear that Matai Shang is in cahoots with the big scary Tharks. And from Carter's shouts in the trailer, it looks like he's now completely tangled up in the political war going on in Barsoom. He may not have started it, but he's going to finish it. And all without putting on a shirt.