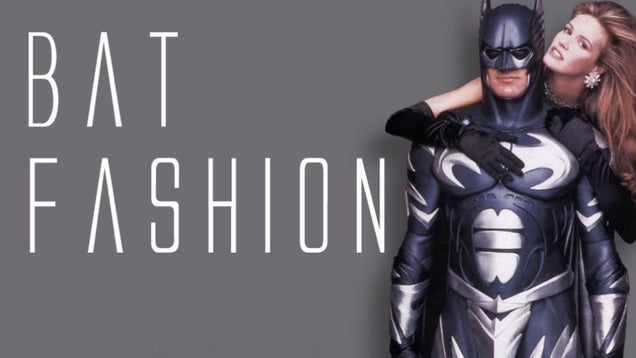 S
Not everyone gets to wear a superhero T-shirts in the workplace. So how do you show your love for Gotham City, without getting a pissy memo about your office dress code?
Simple: Try these high fashion Batman-centric ensembles.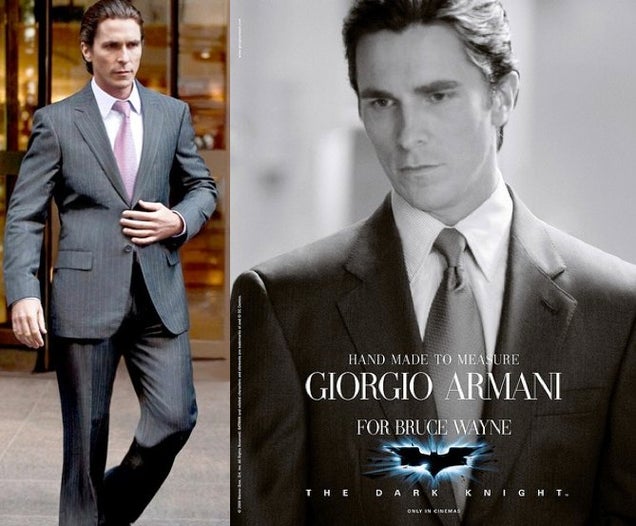 S
Bruce Wayne Wear
It might be hard to pull off the full bullet-proof Batsuit while walking down the street (unless you really "dig this day") but everyone looks good in a custom tailored Giorgio Armani suit. Armani has returned for Dark Knight Rises (yet again) to clothe the billionaire vigilante. The prices aren't listed, but the Made To Measure line at Armani usually starts at about $3,000.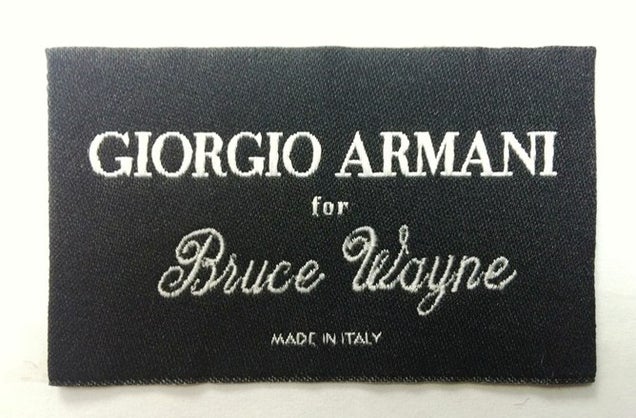 S
Bruce is even getting his own customized labels.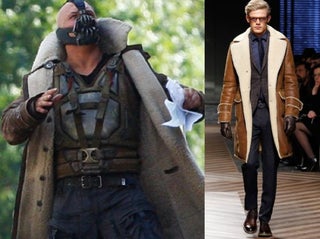 S
Bane's Coat
We've actually seen fairly close Bane knock-off coats in the Cana street markets of New York, and around the London street shops in Camden. But if you want to go high end, Esquire suggests this Ermenegil Zegna coat, pricing at around (our guess) $4,000 plus. That's $3,950.00 more than the street coats.
[Via Esquire]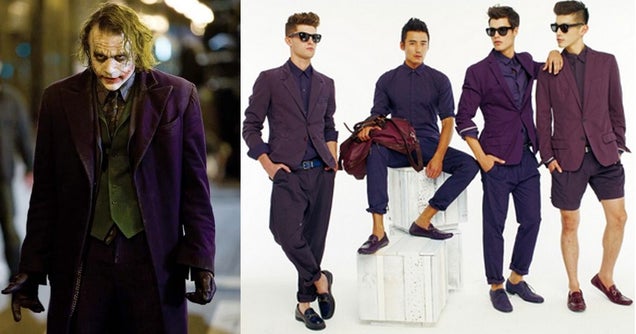 S
The Joker's Blazer
The iconic purple jacket is up for grabs at Dolce & Gabbana for about $717. But H&M has been peddling (much cheaper) purple blazers for both men and women as well.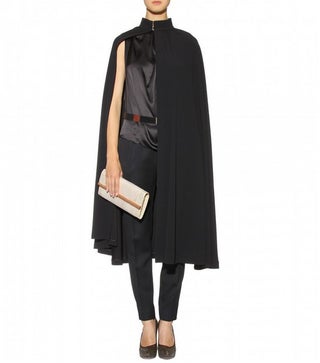 S
The Cape!
Last bit of the high end merch for the truly daring, a long black cape from Yves Saint Laurent clocking in at a resounding $1,178. Had we the means, we would have that cape. It's says crime fighter and theater geek at the same time!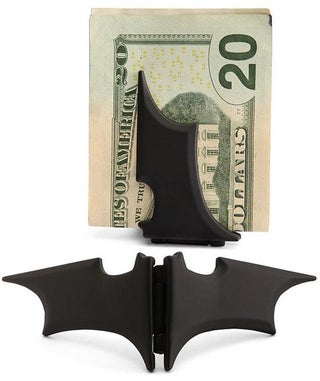 S
Batman Money Clip
Now for a few items that are d less high end cosplay, like this exceptional Batman Money Clip form Think Geek ($39.99).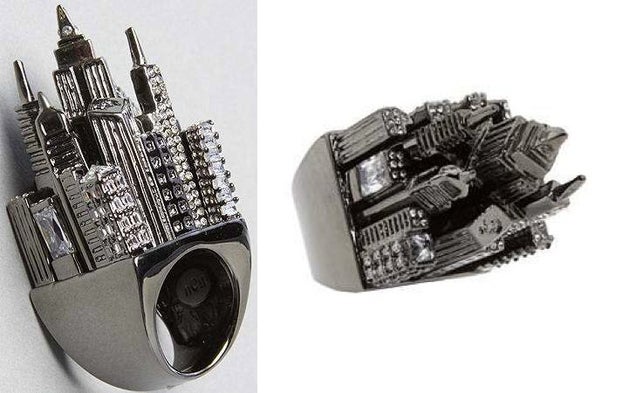 S
Gotham City Ring
Carry the city of Gotham on your pinky with this $225 ring from Noir Jewelry.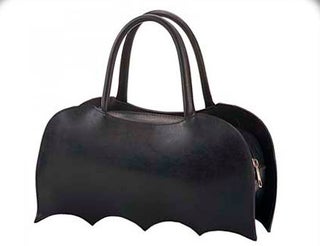 S
Batwing Bag
The bat logo bags are so loud (but still awesome), so tone it down in the office with this batwing bag. Which is in the shape of a... batwing. Available at e-potpourri for $24, plus it's made out of rubber which is what we expect Batman's chest would feel like.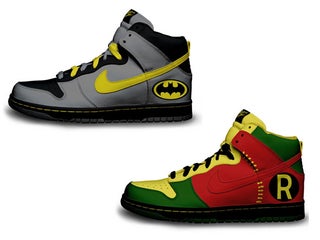 S
Batman and Robin Nike Dunks
Totally rad, and available on ebay for around $130. Isn't it time we bring back Dunks in the workplace?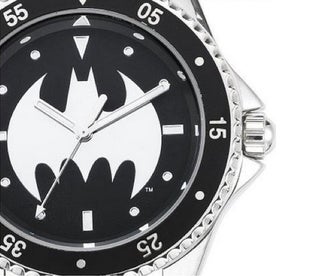 S
Bat Watch
Armitron watch, merely $25 at Sears. When Gotham's reckoning comes and all the power is out, you can still depend on your watch. Unless he has an EMP gun that kills batteries. Maybe.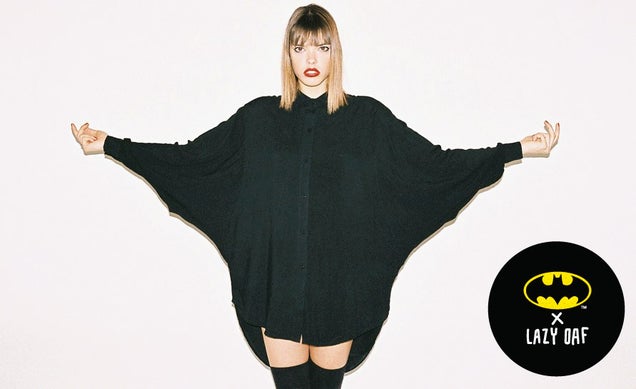 S
Lazy Oaf has a sick collection of crazy batman gear, like this shirt that will look rad when you get drunk and run down the street (arms spread) screaming "WHERE IS SHE!" Only $100.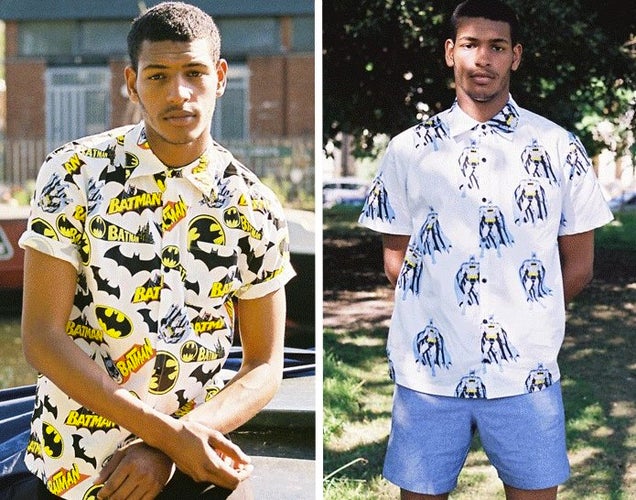 S
Batman Button Downs
Can't wear a t-shirt? Fine, be professional and wear a button down. You'll look sharp and geeky. $102 at Lazy Oaf.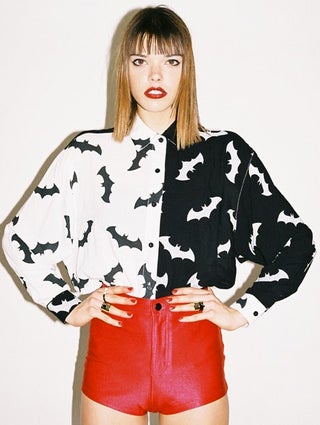 S
One more awesome blouse from Lazy Oaf ($100).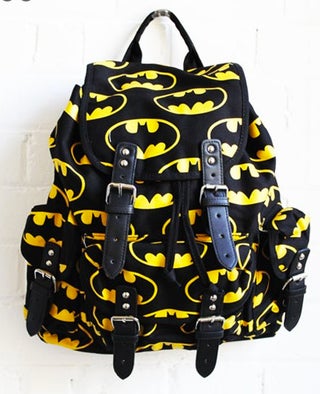 S
Batman Backpack for Adults!
This backpack
is for adults — adults, I say!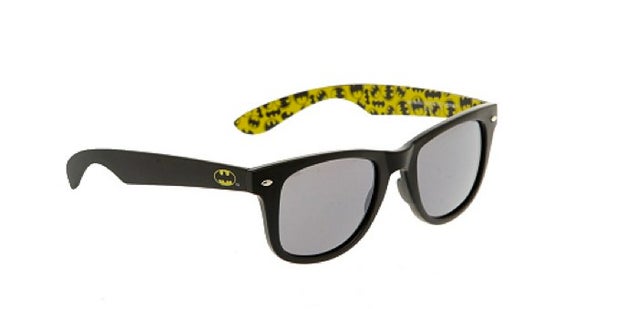 S
Batman Sunglasses
Hot rod rayban knockoffs on the outside, all Batman fanatic on the inside. 12 smackers, from Hot Topic.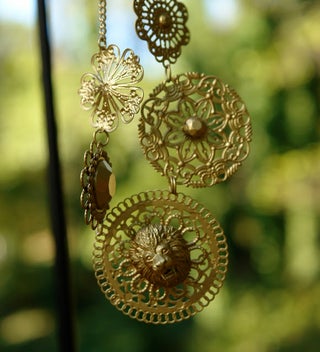 S
Julie Newmar Catwoman
Go old school with your jewelry and make your own Newmar necklace like this crafty family did. Well done!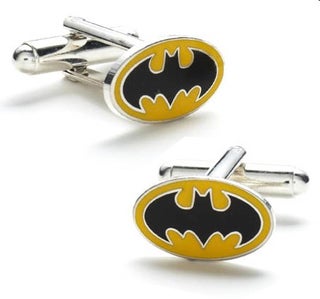 S
Batman Cufflinks
For formal occasions, don your best Bat-cufflinks. These beauties will sit you back $50.
[Via Cufflink Aficionado]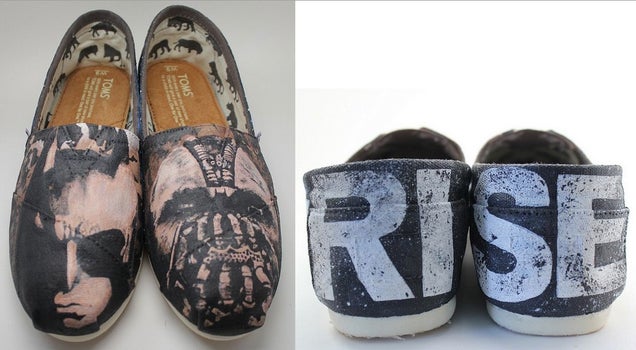 S
Toms
Created by Sarah Kidd these comfy Toms are perfect for the Hipster fan. No idea if they are for sale but you could always try and knock these out yourself (should you have the steady hand and artful eye for Bane face).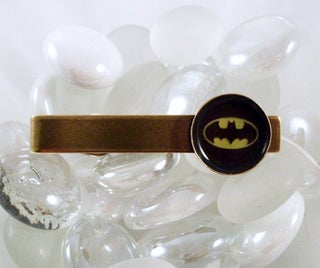 S
Bat Tie Clip
Let the world know that you will be spending this weekend fighting off loud teenagers in the cinema hoping to be one of the first humans to see Dark Knight Rises with this subtle, yet classy Bat-Tie Clip. Made with love at Etsy for $18.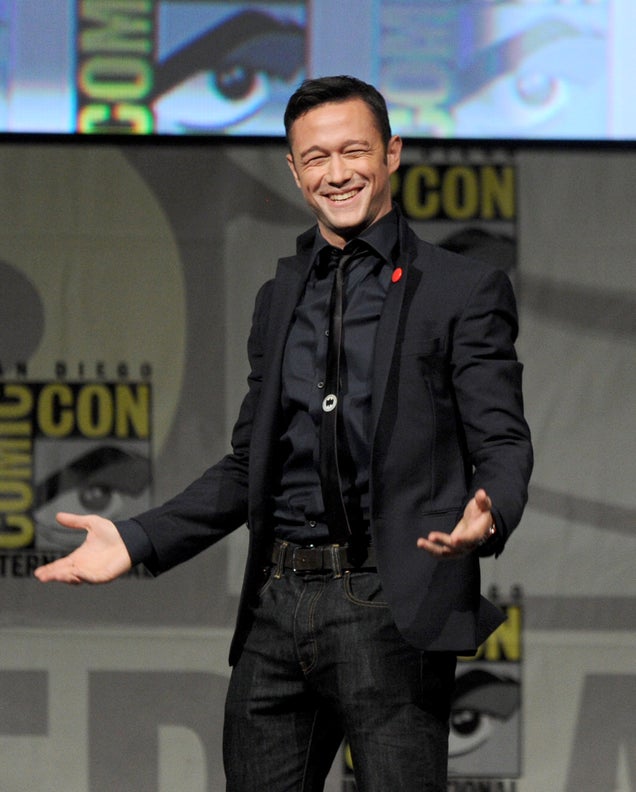 S
Bat-Tie
And finally, we beg you all, where did Joseph-Gordon Levitt get this amazing skinny Batman tie he wore on the Looper panel at Comic Con? It is gorgeous and we MUST HAVE IT.
Photograph via Getty Images.