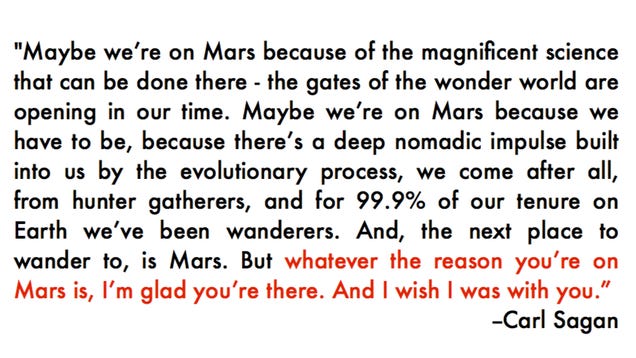 A few months before he died, Carl Sagan recorded a moving message which he dedicated to future explorers and settlers of Mars. A brief excerpt of that recording has been making the rounds on the internet since early Monday morning, in the form of the quote featured up top — but Sagan's entire message is a little more difficult to come by. We've tracked it down for you, and included it below, along with a transcript.
Fair warning: you might want to have some tissues on hand. Sagan was passionate about the exploration of Mars, establishing a human presence there, and venturing out into our solar system and beyond; and that passion really comes through in the recording.
Hi, I'm Carl Sagan. This is a place where I often work in Ithaca, New York near Cornell University. Maybe you can hear, in the background, a 200-foot waterfall right nearby, which is probably — I would guess — a rarity on Mars, even in times of high technology.

Science and science fiction have done a kind of dance over the last century, particularly with respect to Mars. The scientists make a finding. It inspires science fiction writers to write about it, and a host of young people read the science fiction and are excited, and inspired to become scientists to find out more about Mars, which they do, which then feeds again into another generation of science fiction and science; and that sequence has played major role in our present ability to get to Mars. It certainly was an important factor in the life of Robert Goddard, the American rocketry pioneer who, I think more than anyone else, paved the way for our actual ability to go to Mars. And it certainly played a role in my scientific development.