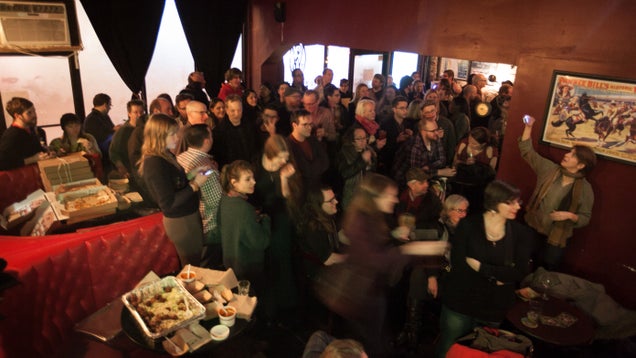 S
On Friday night, io9 celebrated its golden fifth anniversary at the otherworldly Brooklyn bar The Way Station, where the bathroom looks like a TARDIS and creatures from every dimension can mingle without fear of creating a rift in the multiverse. How can we already be at our golden anniversary, when we've only been around for five years? As you probably know, one year is equivalent to ten years in internet time, which is why we are absolutely certain that io9 will be around for at least another 5 million years on the hyperneuronet of tomorrow. Thanks to everybody who came out in the freezing snow to get their io9 t-shirts, drink some delicious cocktails, and listen to the incredible Rob Schwimmer play the theremin! Here are some pictures, taken by Noah Fowler, of the reality-defying antics that took place . . .
Click any image to enlarge!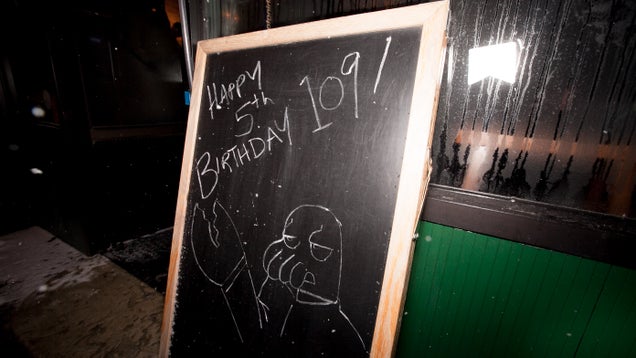 S
This is the sign that greeted visitors who braved the icy snow to celebrate io9's golden 5th anniversary at the incredible Way Station bar in Crown Heights, Brooklyn.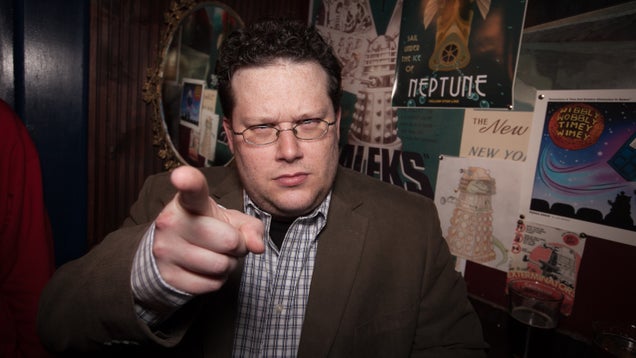 S
io9 morning editor Rob Bricken scolds you for some reason!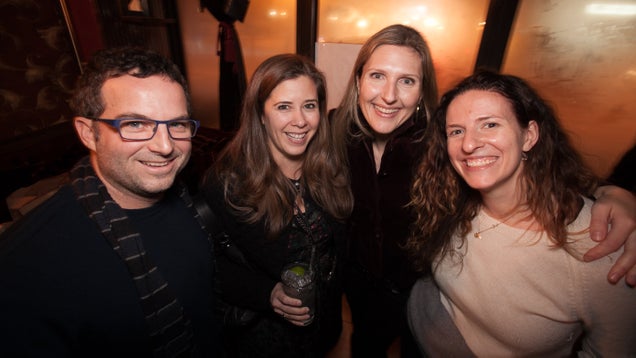 S
Revelers!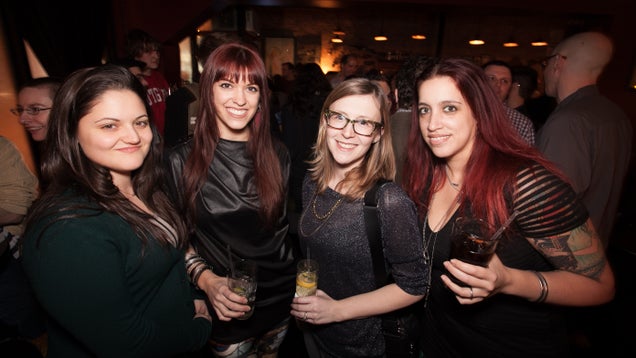 S
Time travelers, including Lauren Panapinto!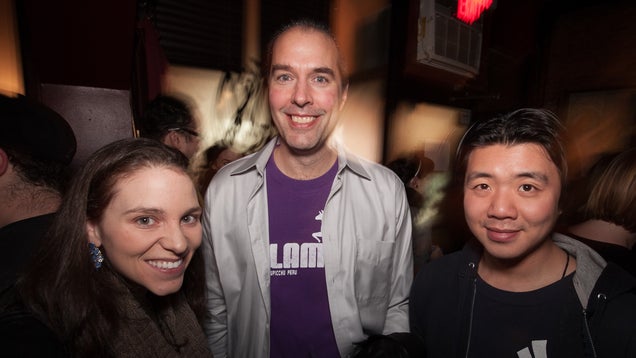 S
Science writers, including Virginia Hughes, John Timmer and Charles Choi!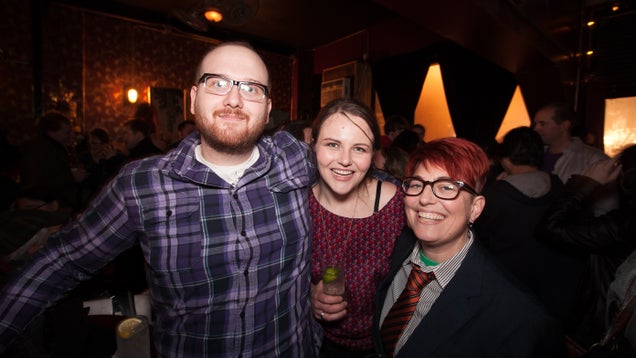 S
Editors and writers, including Hannah Wood and Annalee Newitz!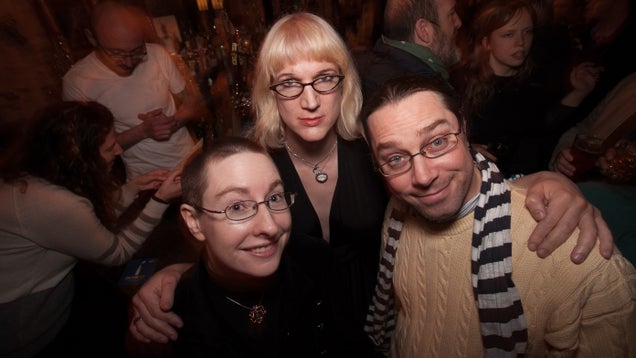 S
More editors and writers, including Charlie Jane Anders, Rose Fox and Josh Jasper!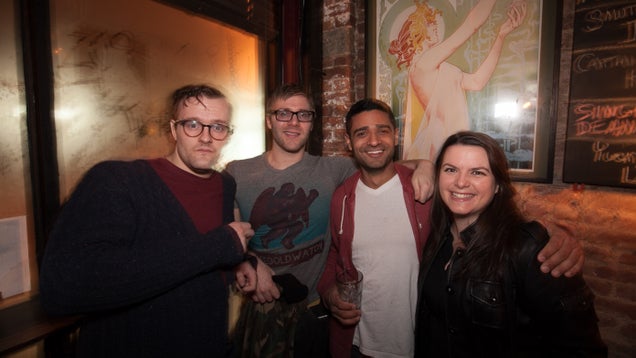 S
Editors from the sideways dimension, including Cyriaque Lamar, Robert Gonzalez, and Meredith Woerner!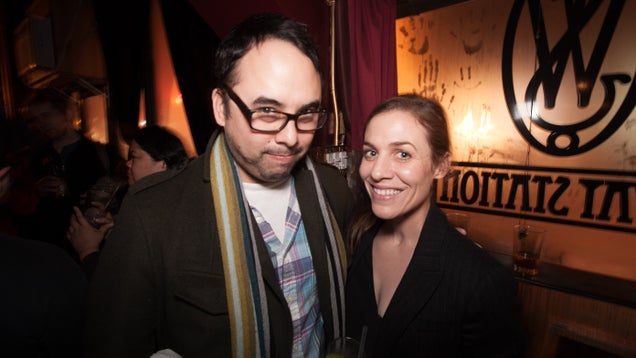 S
Suspiciously adorable life forms, including Tommy Craggs and Suzanne LaBarre!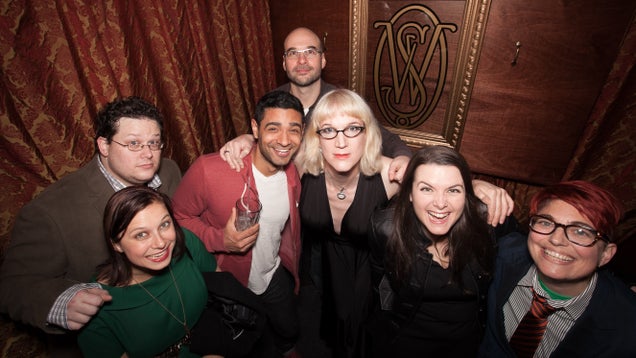 S
The entire io9 staff, including Lauren Davis, Rob Bricken, Robert Gonzalez, George Dvorsky, Meredith Woerner, and Annalee Newitz (whose head is being sucked into a Stargate).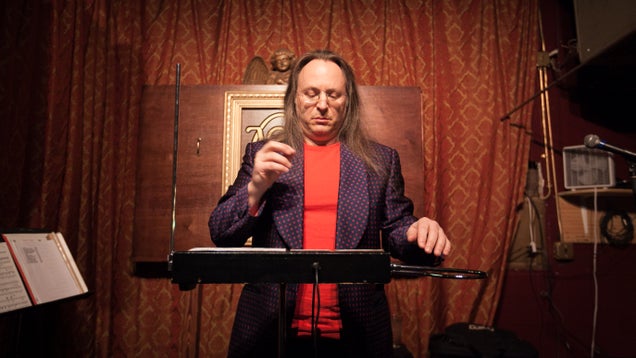 S
Rob Schwimmer electrifies us with his theremin!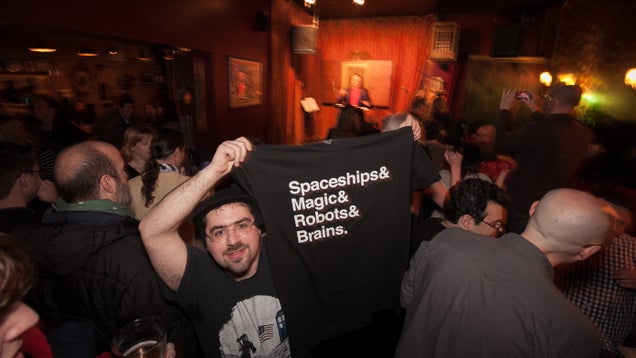 S
A visitor from Andromeda, showing off his io9 t-shirt!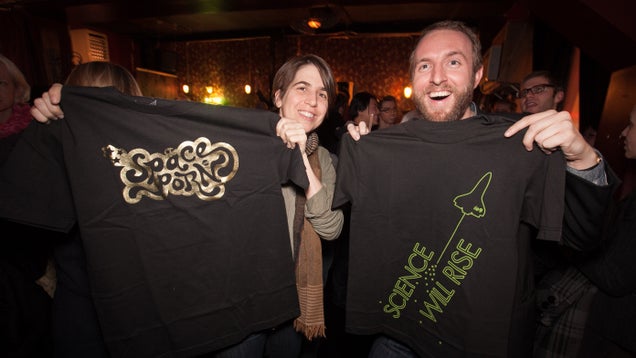 S
Artistically inclined individuals with io9 t-shirts, including Irene Gallo!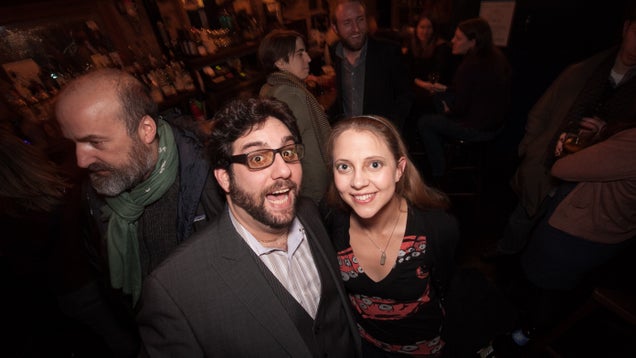 S
Devils from the tentacle dimension, including Michael Ann Dobbs!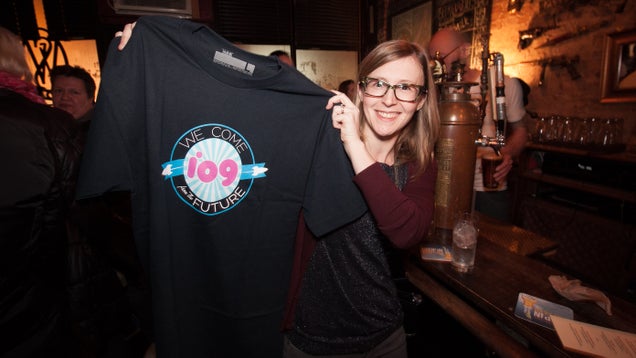 S
A peaceful alien who only wants us to stop polluting our world, with an io9 t-shirt!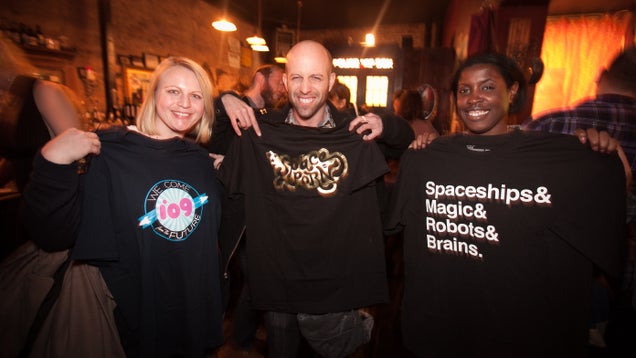 S
More peaceful aliens, with more io9 t-shirts!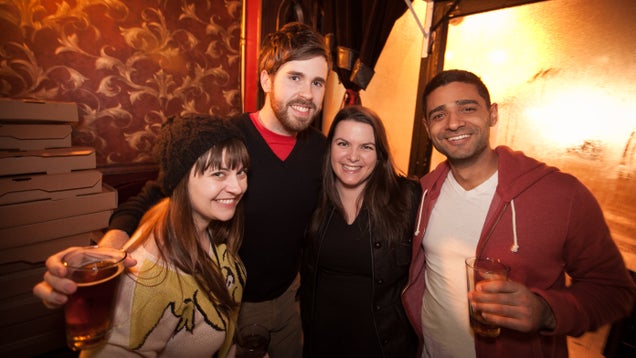 S
Amazing chaos generating energy beings, including Meredith Woerner and Robert Gonzalez!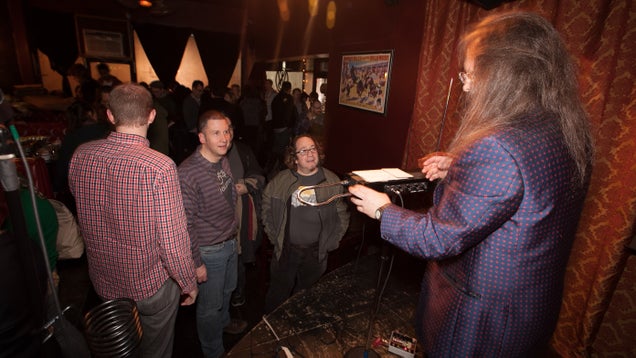 S
Theremin player Rob Schwimmer dazzles the Earthlings!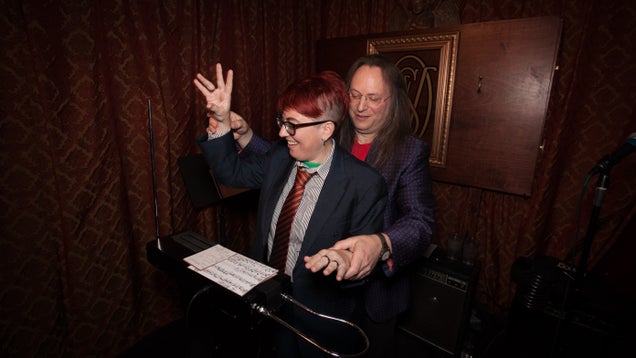 S
Rob Schwimmer is the puppetmaster and Annalee Newitz is his thrall!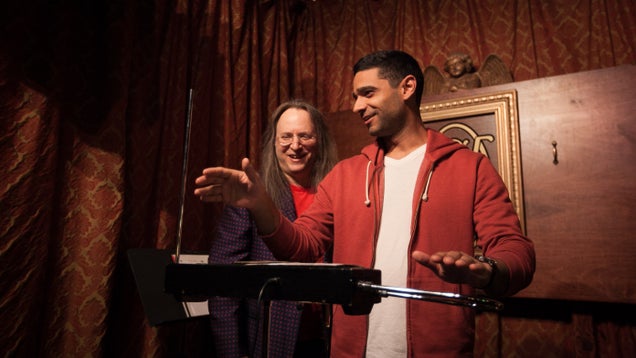 S
Rob Schwimmer teaches Robert Gonzalez to play the theremin — USING ONLY THE POWER OF HIS MIND!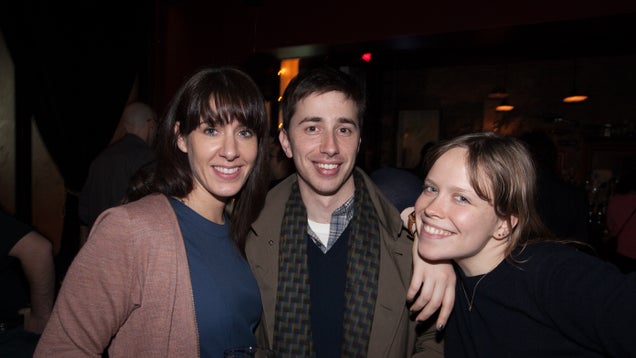 S
Universe-organizing superbeings, including Danielle Dana, Josh Schnakenberg, and Julia Schweizer!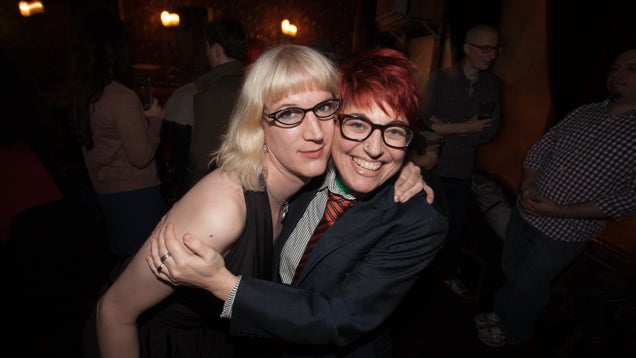 S
Rare psychic twins who share a single brain implant, Charlie Jane Anders and Annalee Newitz!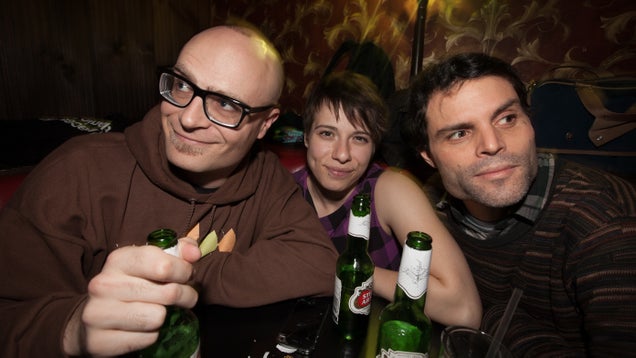 S
Awe-inspiring beasts from digital paradise, including MC Frontalot!