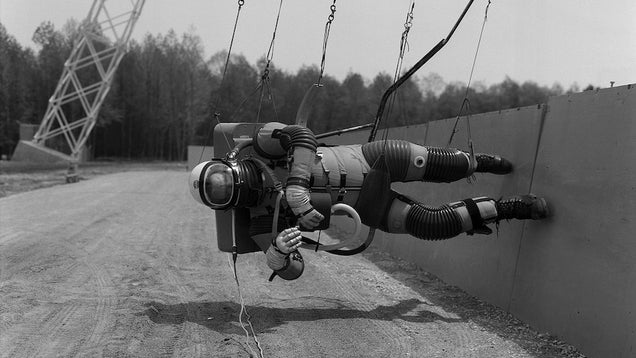 S
There's no hardware as cool as space hardware. And there's nothing cooler than watching astronauts and scientists testing out equipment to take us off-world — even equipment that was never used. Here are our favorite images of NASA testing its equipment on Earth.
Top image: Reduced Gravity Walking Simulator, located at the Lunar Landing Facility at NASA's Langley Research Center in Virginia, 1965, via Wired.
Inventor Allyn Hazard from Grumman Aircraft Engineering Corporation testing his moon suit mock-up in a lava crater in the Mojave Desert. The suit carried oxygen and food. Photo by Fritz Goro in the early 1960s.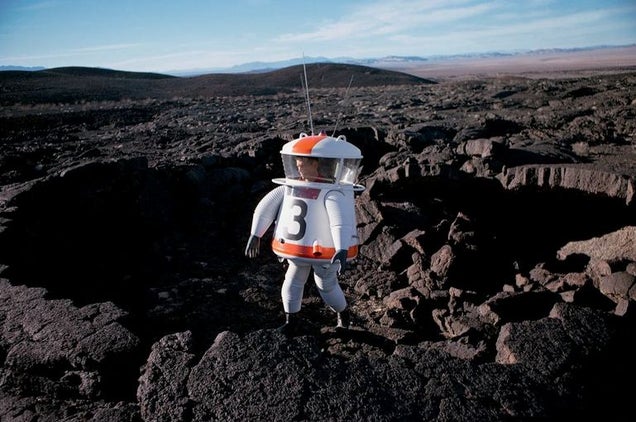 S
(via io9)
A test subject being suited up for studies on the Reduced Gravity Walking Simulator located in the hangar at Langley Research Center, December 1963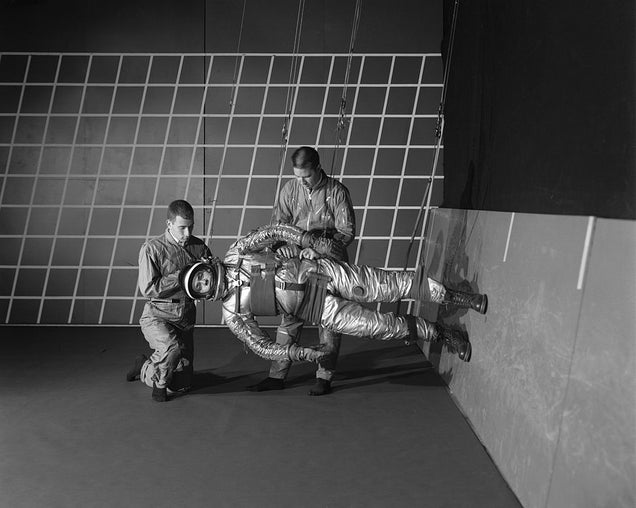 S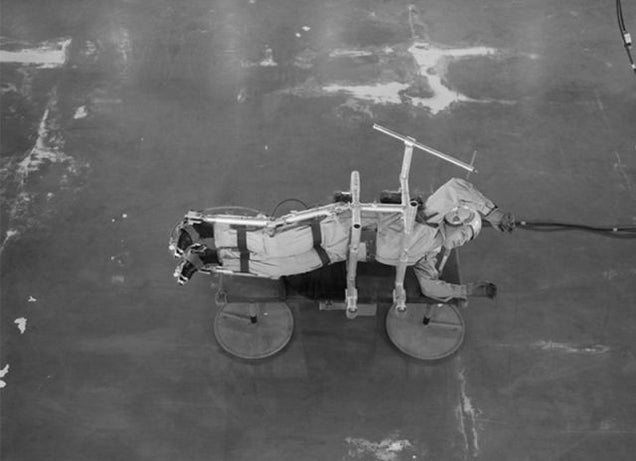 (via Wikimedia Commons and Retronaut)
Lunar Landing Research Vehicle test flight at the South Base of Edwards Air Force Base in 1964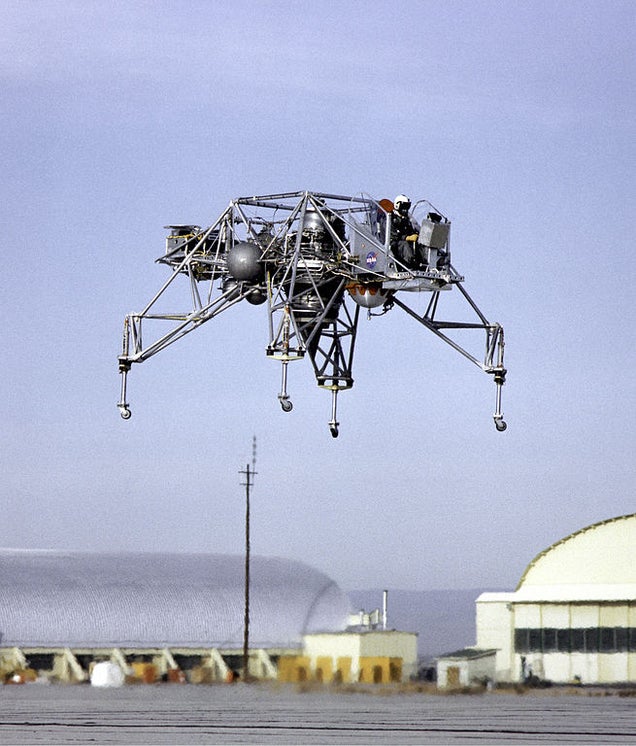 S
(via Wikimedia Commons)
Lunar Roving Vehicle Models by Northrop, 1966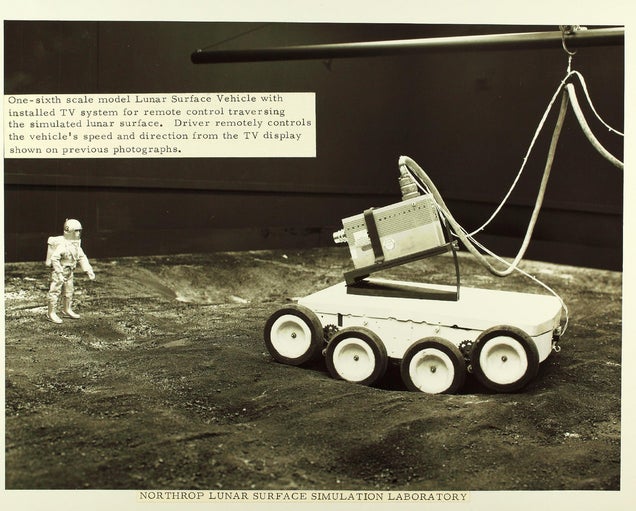 S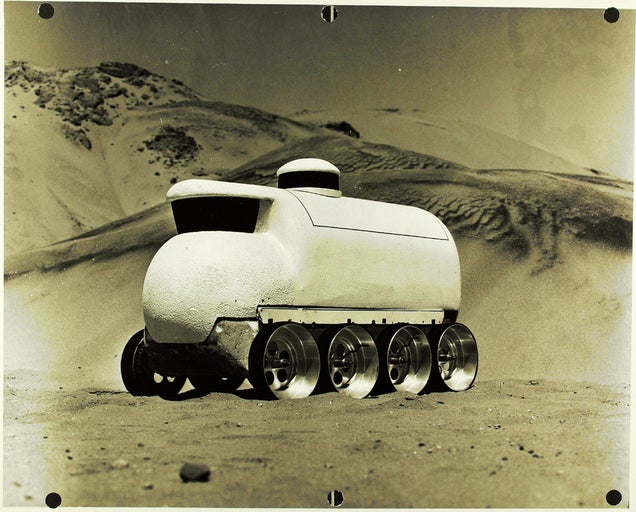 S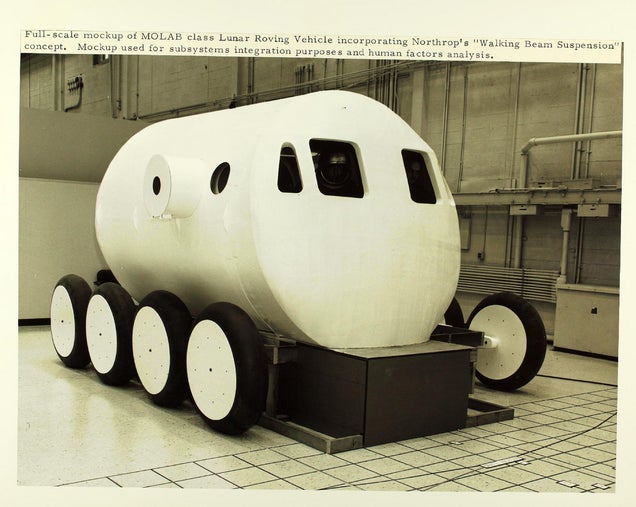 S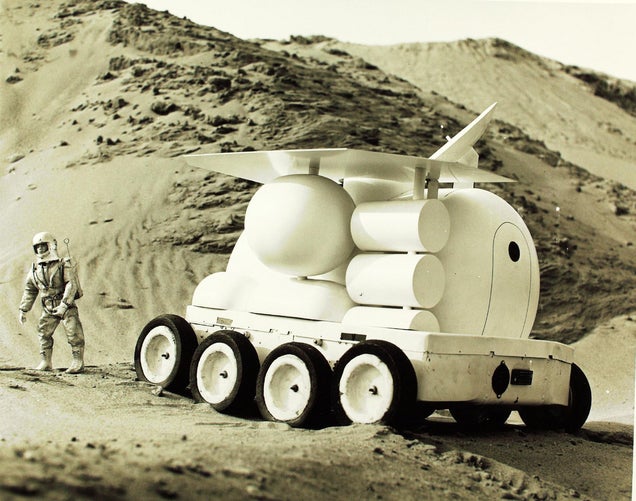 S
(via San Diego Air & Space Museum Archives)
Another spacesuit test, mid-1960s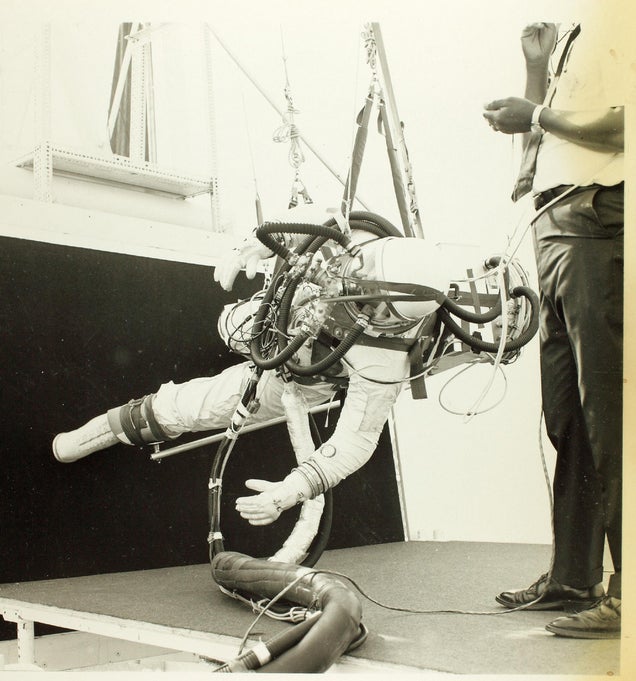 S
(via San Diego Air & Space Museum Archives)
Astronaut Buzz Aldrin during counter balancing for neutral buoyancy simulation training and standing in dutch shoes on the underside of the Gemini capsule adapter before the Gemini XII flight in November 1966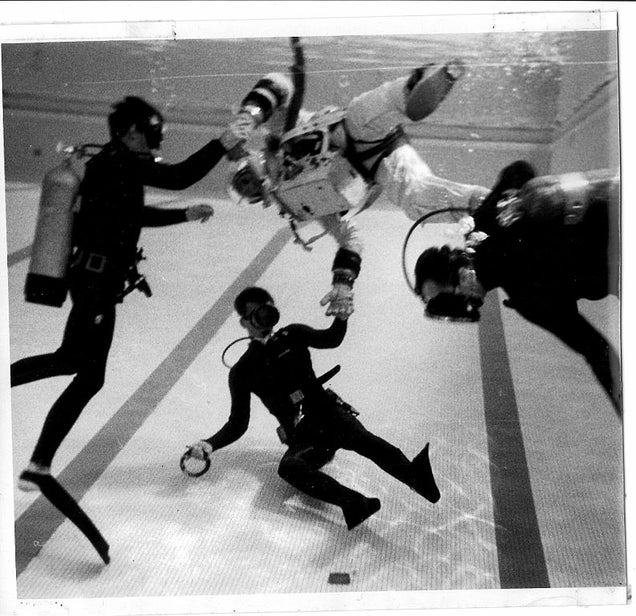 S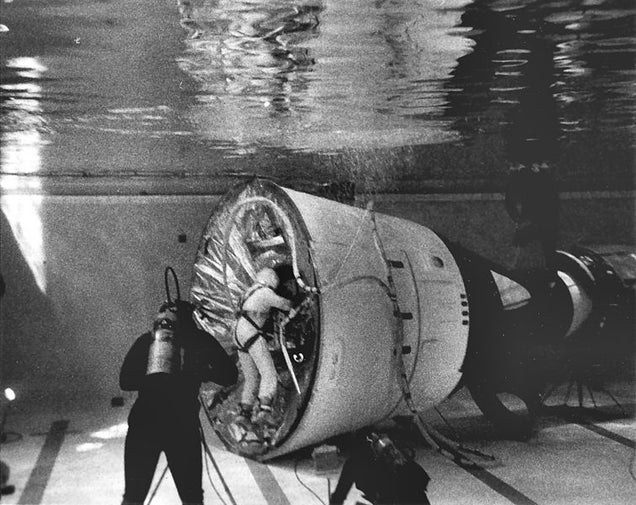 S
(via Wikimedia Commons 1 - 2)
The OMEGA (One-Man Extravehicular Gimbal Arrangement) shown here permits unlimited freedom, and was designed around a parallel pair of 32-inch-diameter thin-line angular-contact bearings with half the balls removed to minimize friction, 1967
S
(via Wikimedia Commons)
Astronaut in spacesuit traveling on the Pogo test vehicle under the Lunar Landing Research Facility gantry, June 1967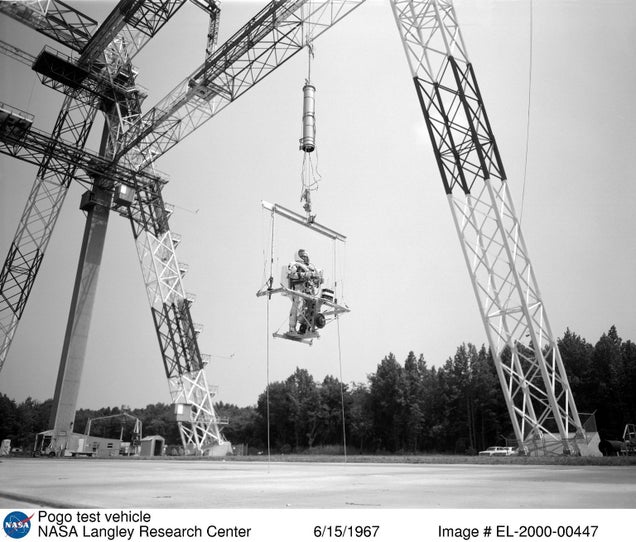 S
(via dvids)
An Apollo suit test with Bill Smyth, 1968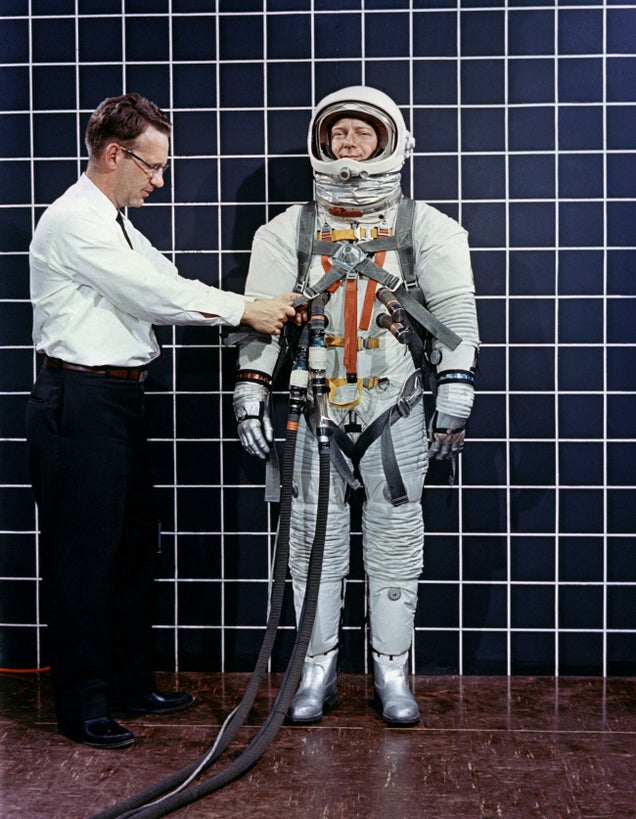 S
(via JSC)
Apollo 16 astronauts (left to right), Lunar Module Pilot Charles M. Duke, Commander John W. Young, and Command Module Pilot Thomas K. Mattingly II during a training exercise in preparation for the Lunar Landing Mission in 1972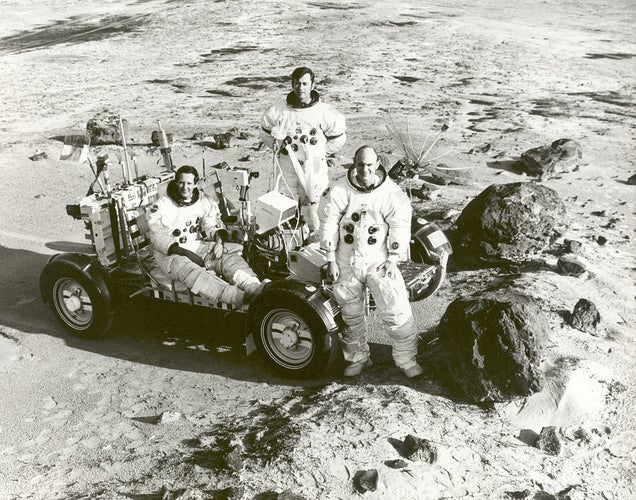 S
(via Wikimedia Commons)
An early Space Shuttle ejection escape suit from the first Shuttle orbital test mission, modified version of a USAF high-altitude pressure suit, 1981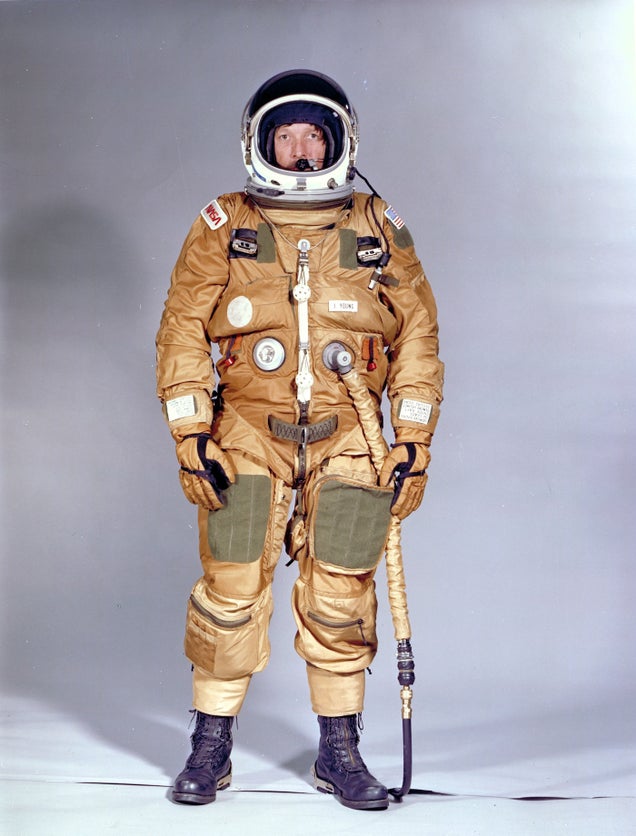 S
(via Visit Space Coast Blog)
The experimental Ames AX-5 rigid spacesuit of NASA from 1988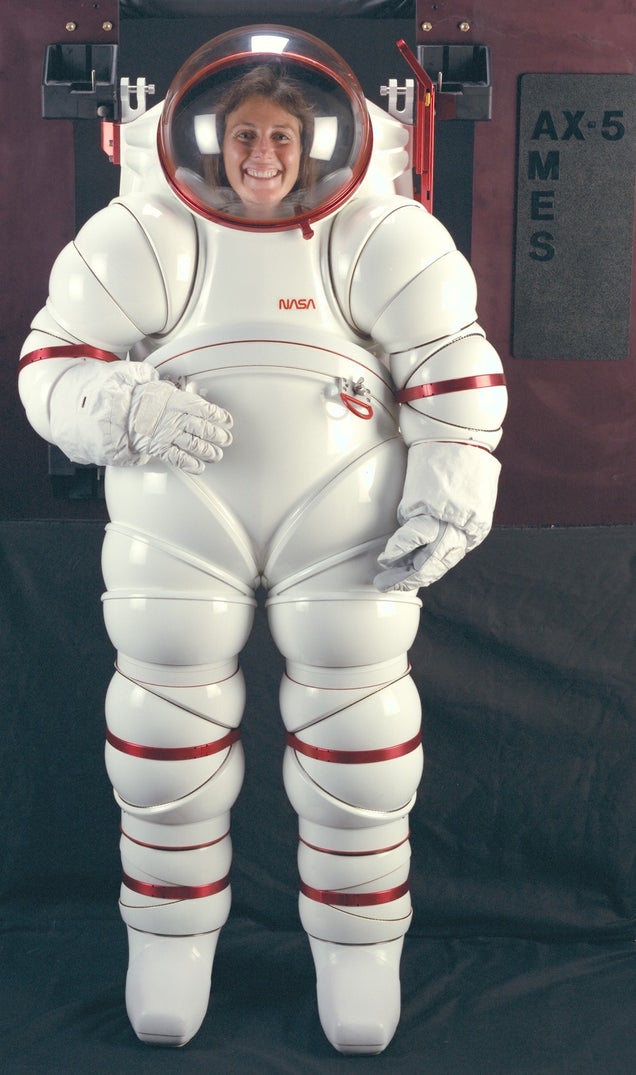 S
(via Wikimedia Commons)
A spacesuit tested underwater at NASA's Ames Research Centre, around 1990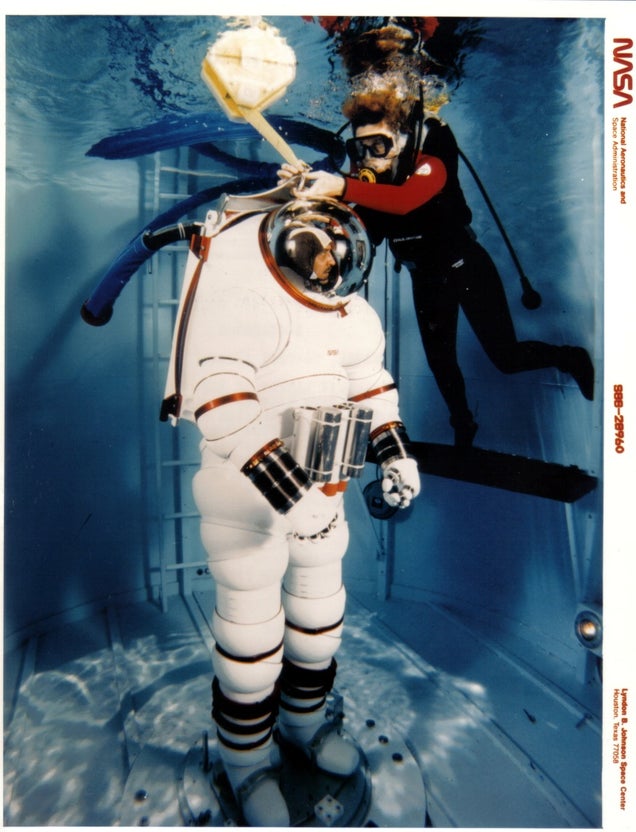 S
(via Le Club de Passionnés d'Astronautique)
Mission Specialist Ellen Ochoa, wearing a Launch and Entry Suit (LES) and Launch and Entry Helmet (LEH), simulates an emergency egress procedure at JSC's Mockup and Integration Laboratory (MAIL), 1992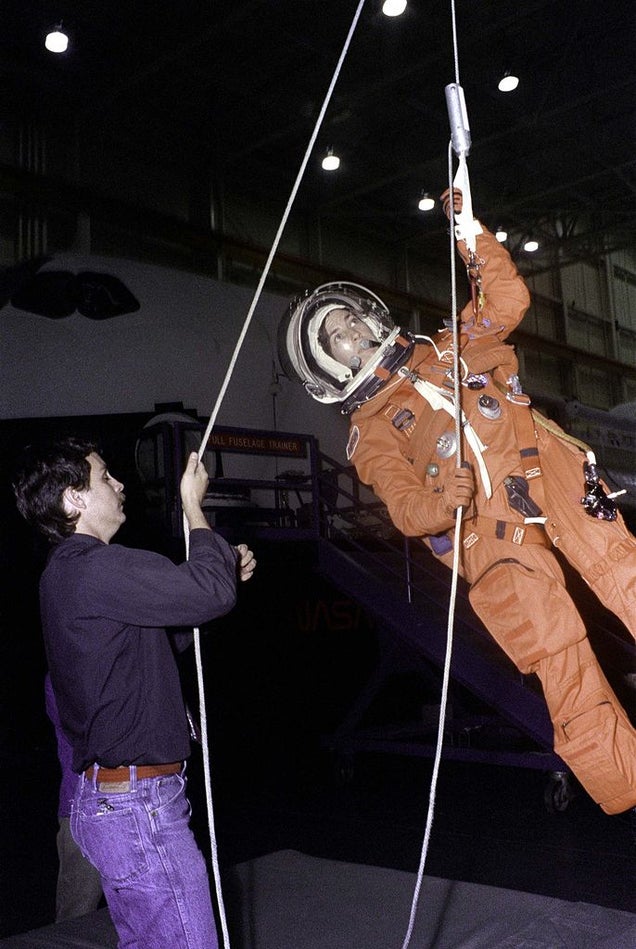 S
(via Wikimedia Commons)
NASA's Mars rover, FIDO — Field Integrated Design and Operations, is tested Thursday, April 29, 1999, in the Mojave Desert near Baker, California. FIDO was designed to help scientists figure out how to use the kinds of instruments the next Mars rovers will need to fetch the most scientifically interesting rocks.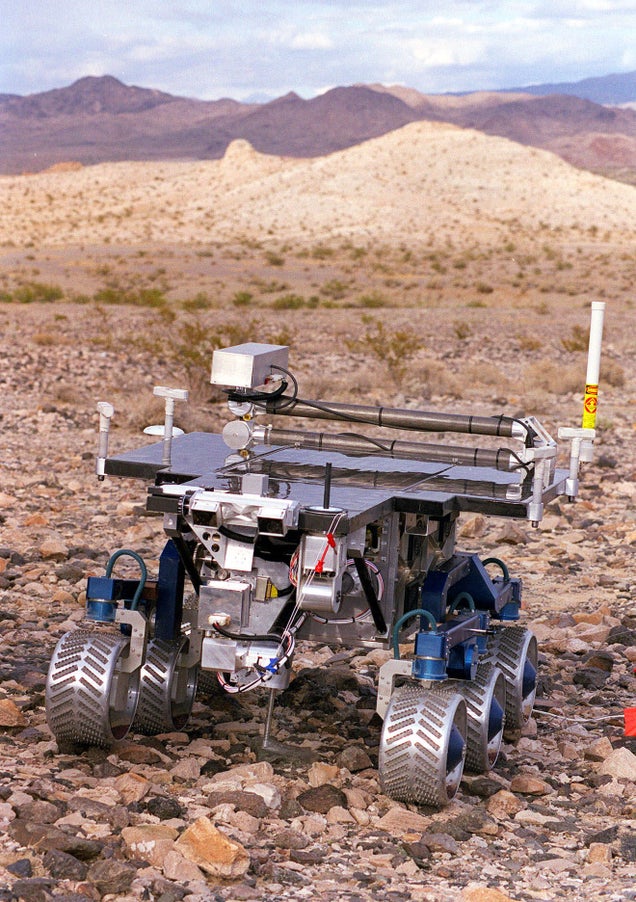 S
(AP Photo/JPL/NASA)
A University of North Dakota Space Studies graduate student named Fabio Sau tests out a experimental planetary space suit in the North Dakota Badlands near Fryburg, N.D., on Saturday, May 6, 2006.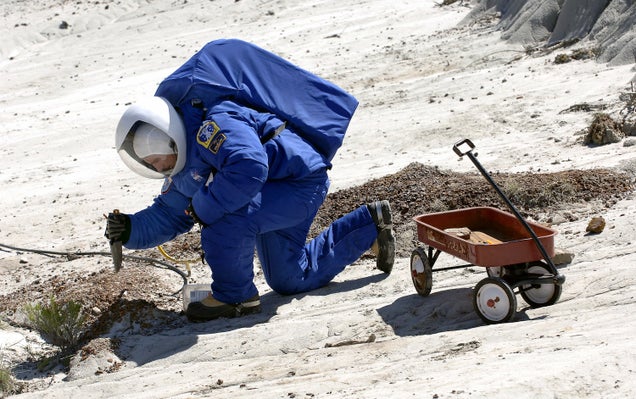 S
Sau is the guinea pig for an experimental Mars space suit that he and about 40 other students from five North Dakota schools developed under a $100,000 grant from NASA. On the picture above you can see the suit with the outer blue covering, and here without it: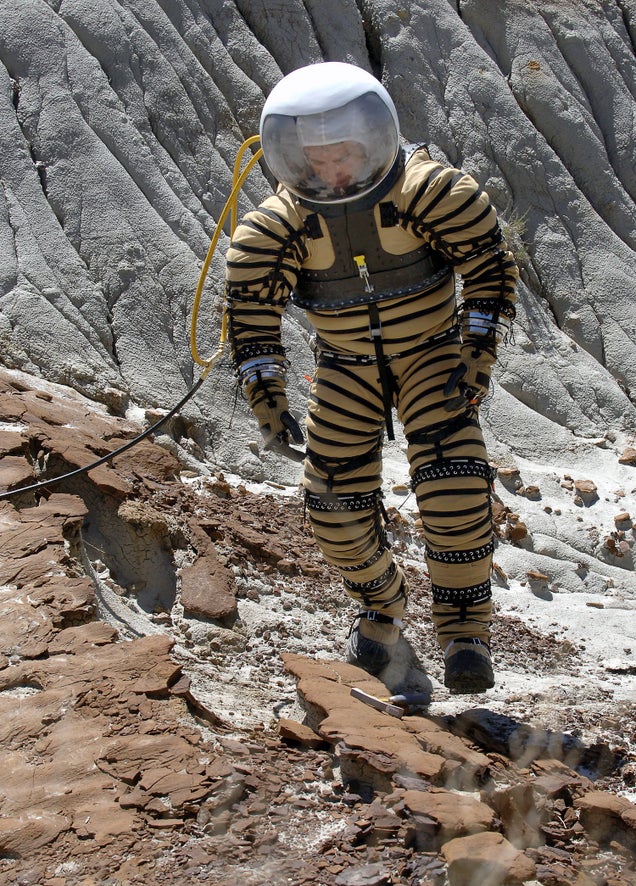 S
(AP Photo/Will Kincaid)
Future suit testing at Moses Lake, Washington, June 2008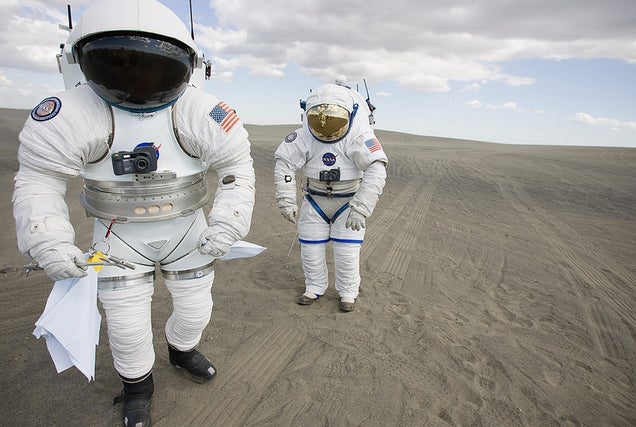 S
(via Visit Space Coast Blog)
A team of an astronaut and a geologist drive a Small Pressurized Rover through the Arizona desert during field tests of the latest moon buggy. It's not the final rover design, only the leading prototype at the moment when the photo was taken in 2009.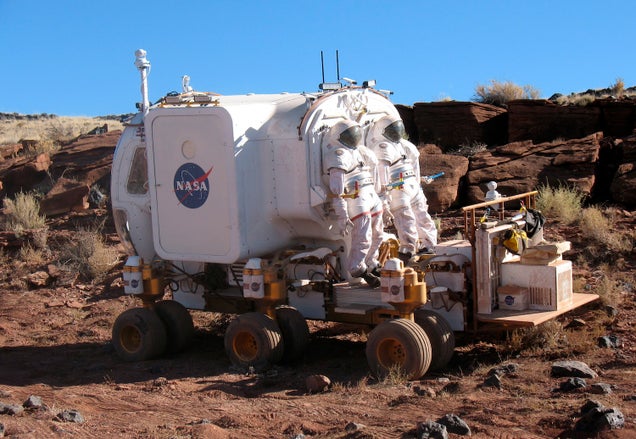 S
(AP Photo/NASA)
Researchers test spacesuits on a simulated Mars surface during a training session at Moscow's Institute for Medical and Biological Problems in May 2010.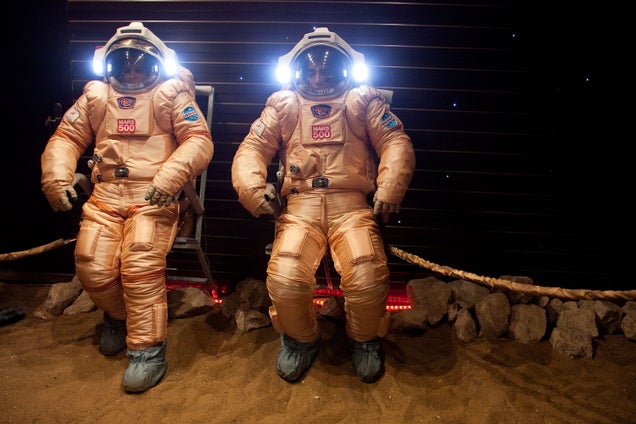 S
(AP Photo/IBMP, Oleg Voloshin, HO)
Bonus: The USAF Mark I Extravehicular and Lunar Surface Suit, designed and built before the launch of the Soviet Sputnik I and the creation of NASA, early 1955. Tested during 1958-59 for more than 600 hours, but never used for real space missions.
(via The Lope)
Double Bonus: Artsy Spacesuit Testing Photos from the 1960s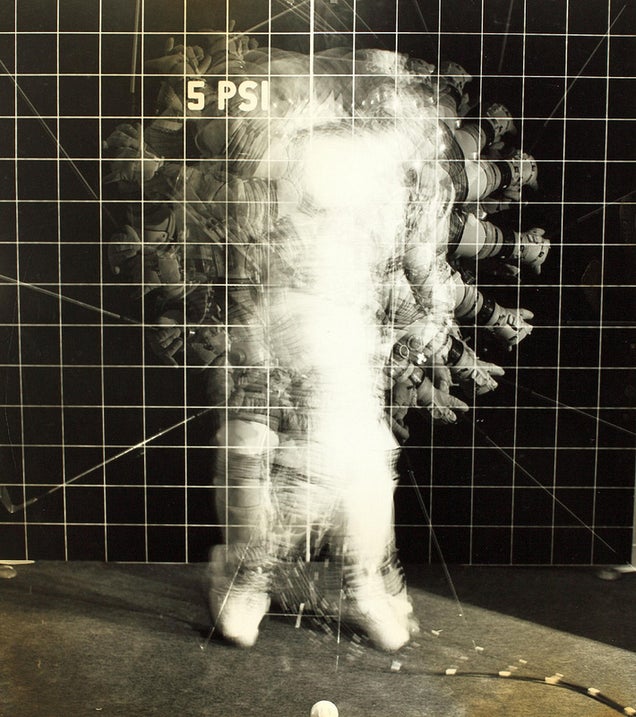 S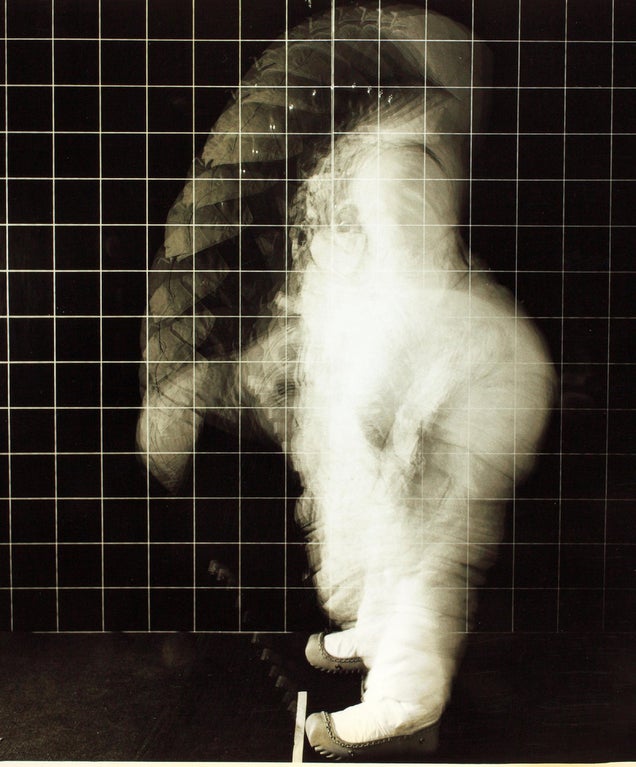 S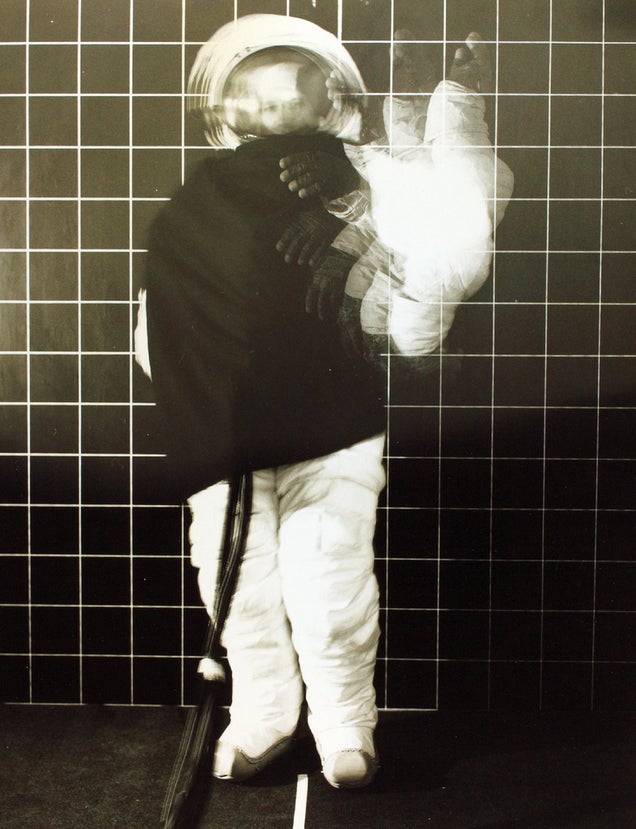 S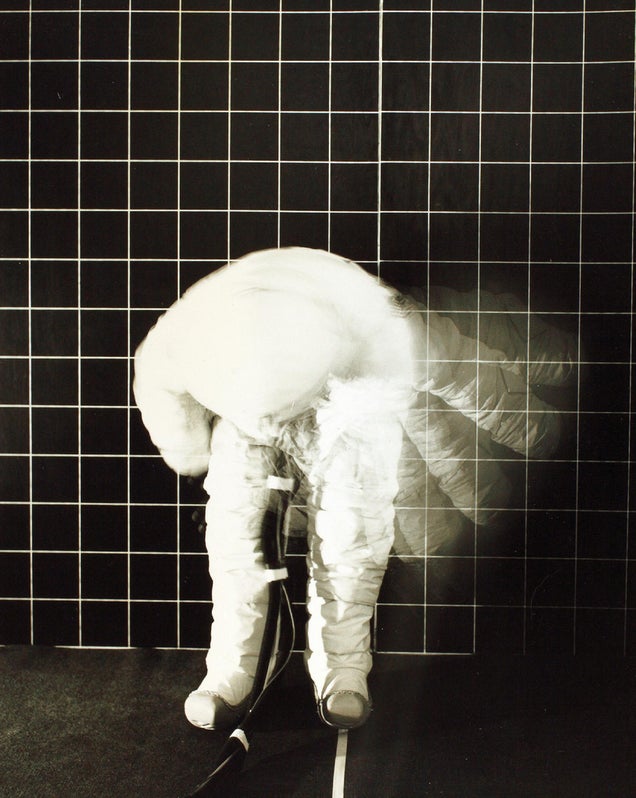 S