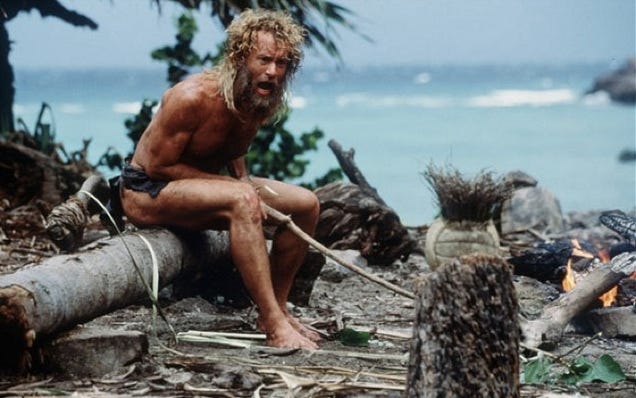 When the second season of True Detective starts, there won't just be a new case, there'll be a new cast as well. What if the internet was allowed to cast the two new partners of True Detective season 2? And thus the meme #truedetectiveseason2 was born. Here are a few of our favorite pairings.
And now we leave it in your hands. Can you top these?
True Detective S6: Return Of The Rust. pic.twitter.com/V9W8JkRfHg

— Ryan McGee (@TVMcGee) February 20, 2014
Ryan McGee is actually just killing it with this on his twitter account.
#truedetectiveseason2 RT @HistoryInPics: Salvador Dali and Man Ray in Paris, 1934. pic.twitter.com/ft9MWLG5Aa

— Scott (@effseedee) February 20, 2014
#TrueDetectiveSeason2 pic.twitter.com/8U3XPHx7iv

— Mike Ryan (@mikeryan) February 20, 2014
#truedetectiveseason2 pic.twitter.com/HT26NlRNWc

— Lizzie O'Leary (@lizzieohreally) February 21, 2014
#TrueDetectiveSeason2 pic.twitter.com/jCiRFZ1NOh

— Jon Caramanica (@joncaramanica) February 20, 2014
#TrueDetectiveSeason2 pic.twitter.com/YPLV6oUJYe

— Katie Notopoulos (@katienotopoulos) February 21, 2014
#TrueDetectiveSeason2 pic.twitter.com/QCawV1IK4r

— Dave Lozolympics (@DaveLozo) February 20, 2014
#TrueDetectiveSeason2 pic.twitter.com/PRi2v5wBIO

— Patrick (@pattymo) February 20, 2014
And now I retire. #TrueDetectiveSeason2 pic.twitter.com/Oiael9NbWS

— Angelo Muredda (@amuredda) February 21, 2014
.@pattymo #TrueDetectiveSeason2 pic.twitter.com/X0trUIbcyb

— Tom Ganjamie (@tomgam) February 20, 2014
#TrueDetectiveSeason2 pic.twitter.com/hztTc5BMjt

— David J. Loehr (@dloehr) February 20, 2014
#TrueDetectiveSeason2 pic.twitter.com/emTwQXWigv

— sir broosk (@celebrityhottub) February 20, 2014
#TrueDetectiveSeason2 pic.twitter.com/ThjOrz7OwR

— Patrick (@pattymo) February 20, 2014
#TrueDetectiveSeason2 pic.twitter.com/8nZACMVcWg

— Matt. (@mattjohnholmes) February 21, 2014
#TrueDetectiveSeason2 pic.twitter.com/OZhlNGgzzG

— Blair Elliott (@blairelliott) February 20, 2014
#TrueDetectiveSeason2 pic.twitter.com/zbmAb3uOry

— Dark Bunny Tees (@DarkBunnyTees) February 21, 2014
#TrueDetectiveSeason2 pic.twitter.com/SKDG5zqOyG

— Vanessa Ramos (@thatRamosgirl) February 21, 2014