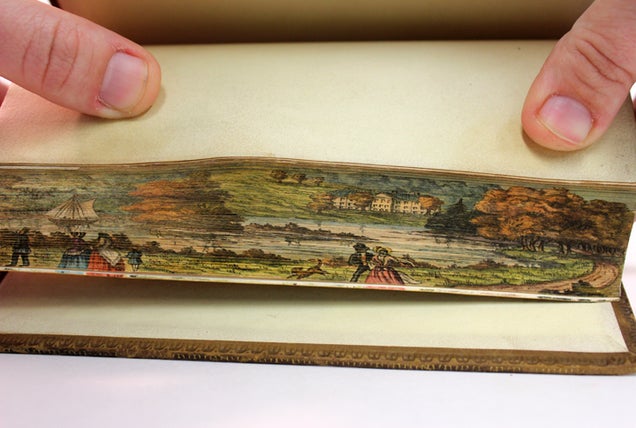 S
Sometimes the greatest artworks are hidden in plain sight. Case in point: the University of Iowa recently discovered a four-volume set of scientific books from 1837 contains hidden paintings on the edges of the pages, which only show up when you fan them part-way open. These "Fore-Edge Paintings" are everywhere, and they're beautiful.
As Flavorwire explains, Fore-Edge Paintings go back to the 16th century, "when Italian artist Cesare Vecellio (cousin of Renaissance painter Titian) started using his books as a canvas in order to beautify them." A bunch of them were posted by the University of Iowa and the Boston Public Library, and check out some of our favorites below.
Robert Mudie: Autumn, Spring, Winter and Summer, 1837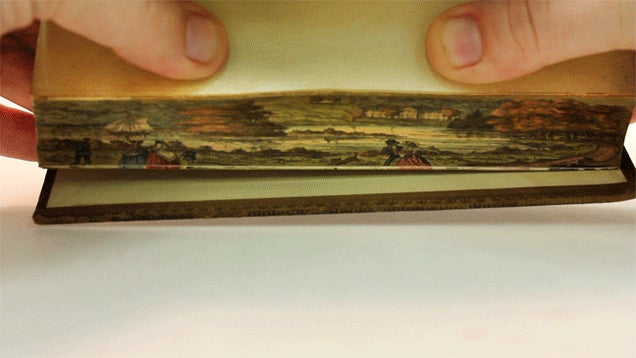 S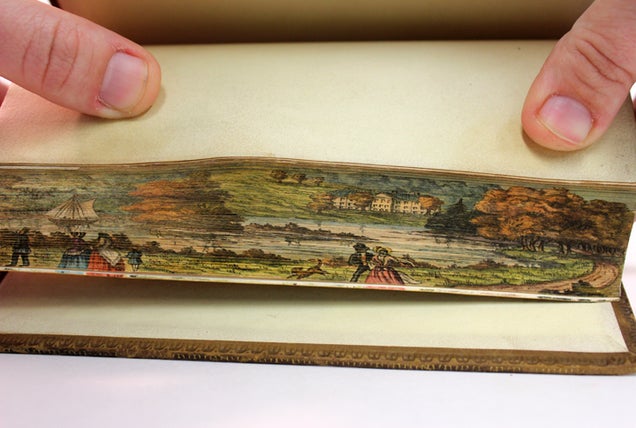 S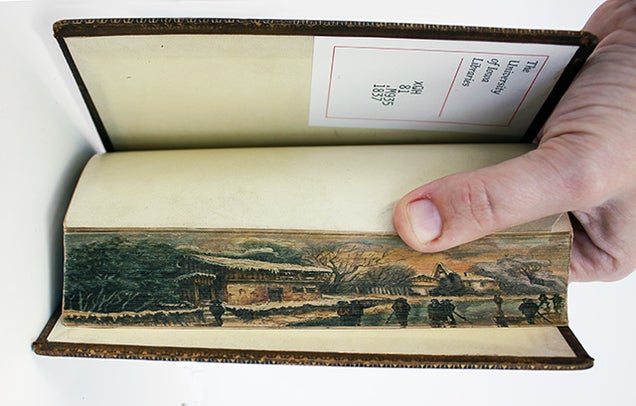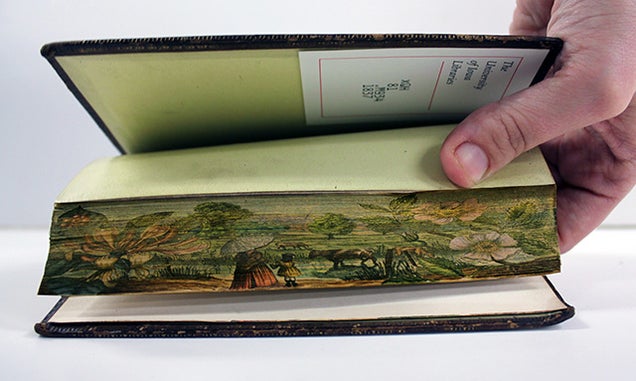 (via This Is Colossal/University of Iowa)
Jerusalem Delivered: a Heroic Poem, translated from the Italian of Torquato Tasso, by John Hoole, London, 1797 with three paintings: Trojans Arch, Ancona (left), Tasso in Prison (center) and the Bridge Of Sighs, Venice (right)

S
The Modern History of Hindustan, by Thomas Maurice, 1802, with a series of Hindu temples on the bank of a river and minarets of a Mohamedan mosque in the distance.

S
The Holy Bible, printed by R. Bowyer and J. Fittler in 1795, with Adam and Eve in the Garden Of Eden and The Last Supper, after Leonardo da Vinci, on a Holy Bible, printed by Sir D. H. Blair and J. Bruce in 1803

S

S
The Speeches of the Right Honorable WIlliam Pitt, in the House Of Commons (vol. 1), 1808, with a battle scene and the portraits of Napoleon and William Pitt

S
Latin and Italian poems of Milton translated into English verse, 1808 with a painting of the inn at Edmonton

S
Paradise Lost by John Milton, printed in 1809, with the view of London Bridge

S
The book titled Analysis of the game of chess with a painting of chess players and a chessboard

S
Lady Jane Grey, a tale in two books with poems in English and Latin, by Francis Hodgson, printed in 1809, with the paintings of Lady Jane Grey and Edward VI with floral decorations.

S
A General History of Quadrupeds by Thomas Bewick, printed in 1811 with a hunting man and his dog

S
Song of the Chace, printed in 1811, with a picture of the finish of a horse race

S
History Of The University and Colleges of Cambridge (vol. 1), by George Dyer, 1814 with a fore-edge painting of New York in 1750.

S
Helga, by William Herbert, from 1815, showing fishermen beaching a boat

S
Historical Illustrations of the Fourth Canto of Childe Harold, by John Hobhouse, printed in 1818, with a scene of Venice

S
The World Before The Flood by James Montgomery, 1819. The painting depicts a scene with some cave dwellers. The males preparing to defend themselves against a mammoth and some other wild animals while the women and children hide in their cave home.

S
Poems by the late William Cowper, printed in 1820, with three paintings on each volume after "The Cries of London"

S
Matches, Mackerel, Scissors

S
Primroses, Milk and Oranges

S
Peas, Strawberries, Cherries
S
Chairs, Love Songs, Gingerbread
A History of New York by John Murray, 1821 with a view of the White House in Washington, DC

S
The Lay of the Last Minstrel, by Sir Walter Scott, with a painting of Kelso Bridge (Scotland), 1823

S
Qunti Horatii Flacii by Horace, printed in 1824, with the painting of the Castle of Angelo, Rome

S
The Rambler (vol. 1) by Samuel Johnson, printed in 1825 with a stagecoach scene of Wych Street, London

S
The Contributions of Q. Q, by Jane Taylor, 1840 with a painting of the Tower of London

S
(via Lombard Maps)
The Royal Kalendar, and Court and City Register, for England, Scotland, Ireland, and the Colonies, for the year 1849, with a painting of Stonehenge

S
The Poetical Works of Sir Walter Scott, 1850, with the painting of the Lady of the Lake

S
(via Lombard Maps)
Lyrics of the Heart: With Other Poems, by Alaric Watts, 1851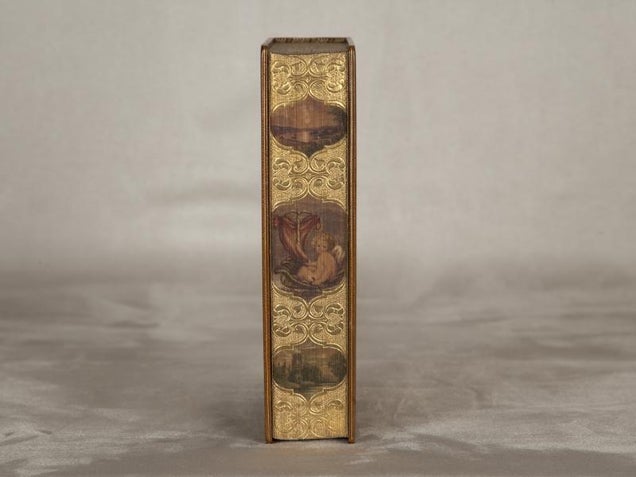 S
(via AbeBooks)
The Works of the British Poets from 1856, with a painting of the Elephant Man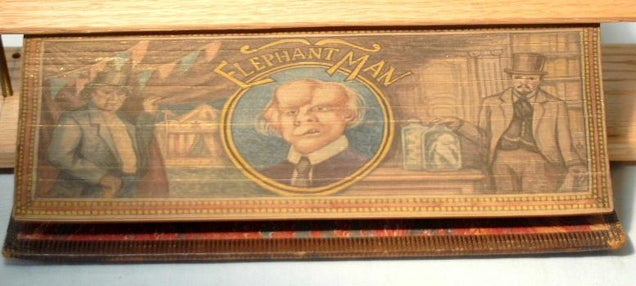 S
(via AbeBooks)
The Poetical Works of Alexander Pope with memoir, dissertation and explanatory notes, by the Rev. George Gilfillan, 1863, with the painting of Pope's Villa at Twickenham

S
View of the State of Europe During the Middle Ages, by H. Hallam, 1869, with a painting of dancing medieval peasants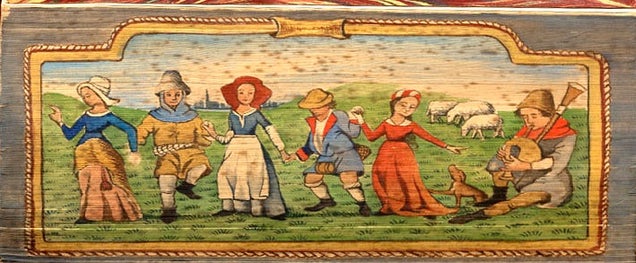 S
(via Lombard Maps)
Paradise Lost by John Milton, 1876 with a three-part painting. Left to right: Milton's House on York Street, Portrait of Milton and his burial place at St. Giles, Cripplegate

S
The Poetical Works of Lord Byron, 1883, with the painting of The Time Machine
S
That machine is weird-looking enough, but you can see some of the strangest ones here.
(via AbeBooks)
The Holy Bible with the painting of a scene of a barber's shop with monkeys in human form, printed in 1883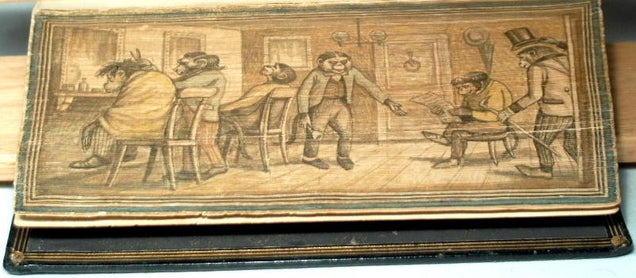 S
(via AbeBooks)
A history of the late siege of Gibraltar with some vessels and soldiers

S
Our Mutual Friend, by Charles Dickens, with a double-side fore-edge painting showing the portrait of the author as a young and an old man with vignettes from The Pickwick Papers and Oliver Twist

S

S
Works of Hans Sachsen (Hans Sachsens Ausgewahlte Werke) with a painting of men working in a shop, animals and a tree, and a man playing on violin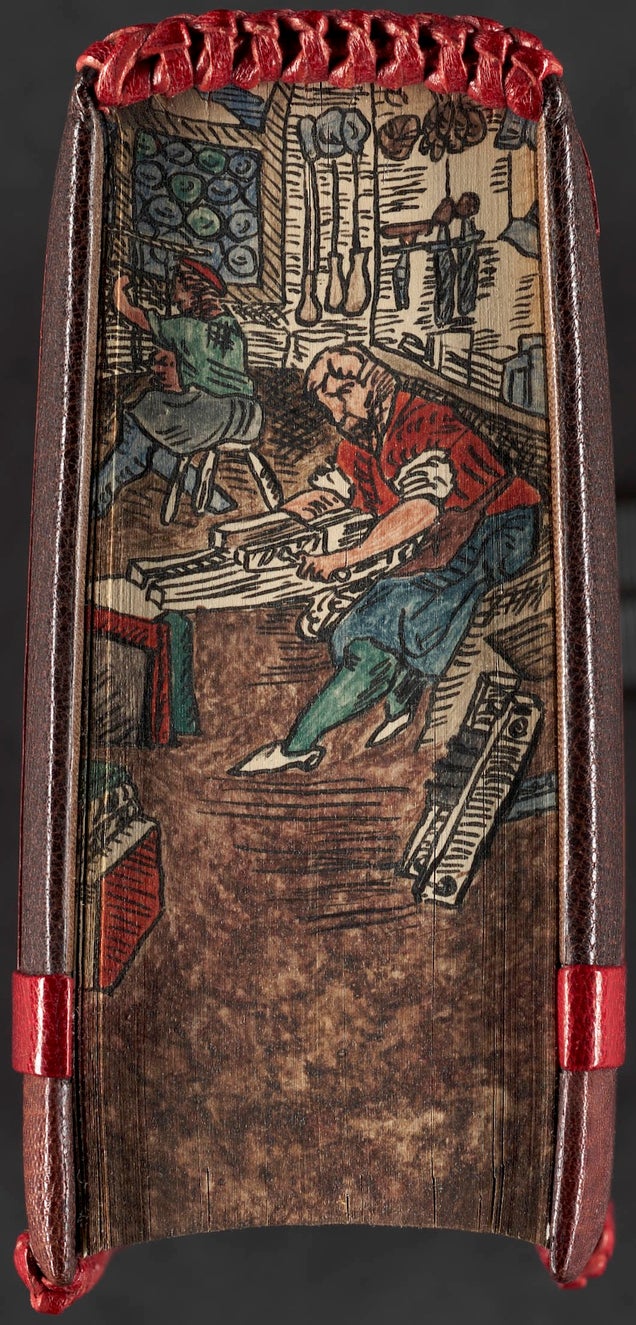 S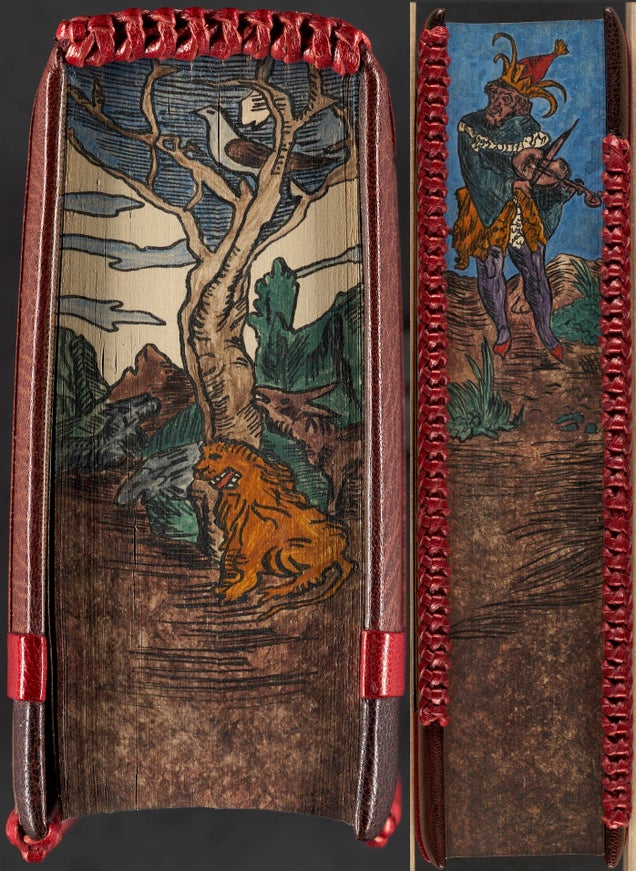 S
Paintings of Martin Frost, who has produced over 3300 fore-edge and miniature paintings since 1970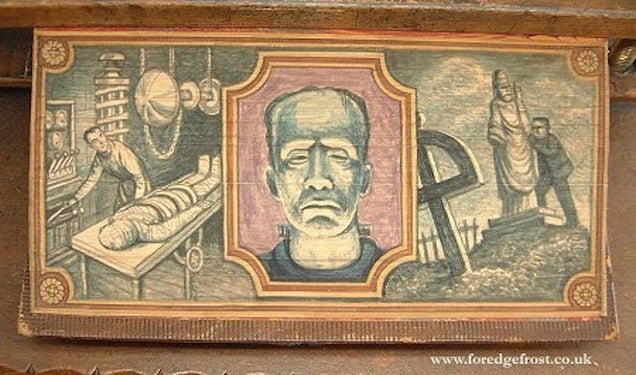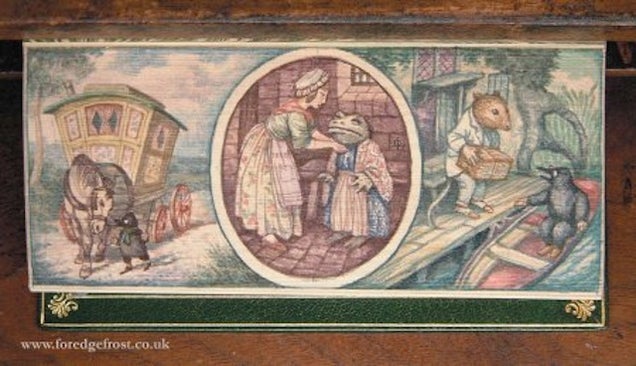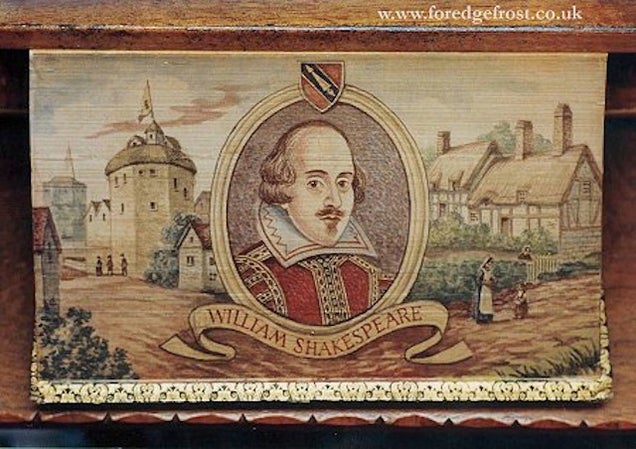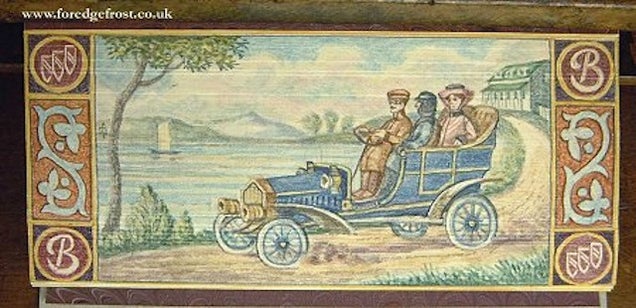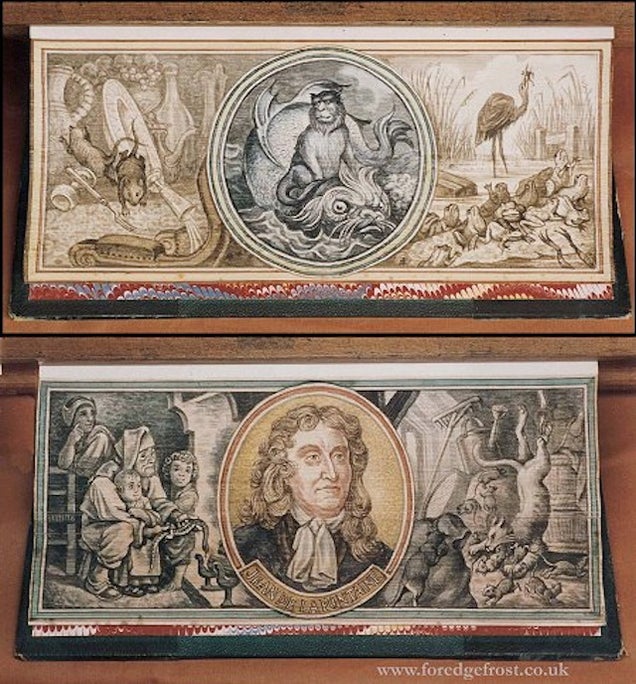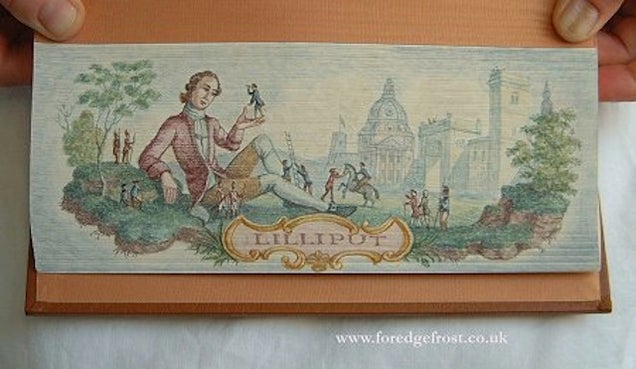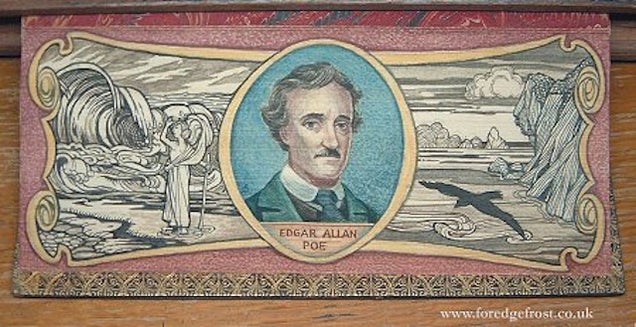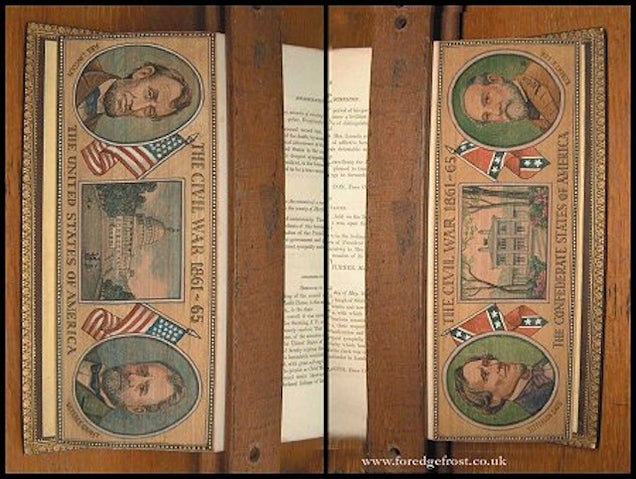 (via Foredgefrost)
Some other examples of fore-edge paintings
Illustrator Stephen Bowers creates a painting on a copy of A Narrative of a Survey of the Inter-tropical and Western Coasts of Australia by Philip Parker King (originally produced in 1826)
____
The pictures came from Boston Public Library and Grand Valley State University, except when noted otherwise.