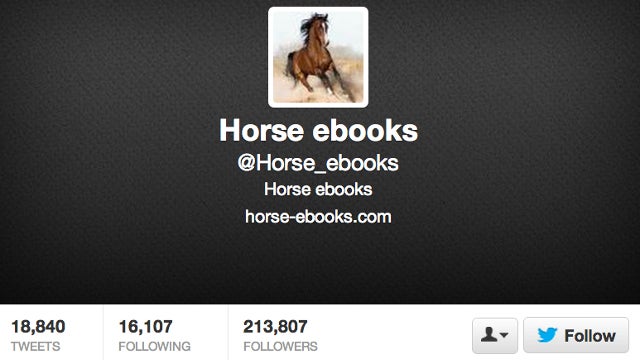 Normally, we worry that Twitter accounts and dating profiles are run by bots — sophisticated algorithms that pretend to be humans. But now, thanks to the Horse_ebooks Twitter account, we have to be on the lookout for humans luring us in by pretending to be machines.
So the cat's out of the bag. As reported by The New Yorker, the infamous and wildly popular Horse-ebooks twitter account is not a charming spambot after all — it's the work of two real human beings just pretending to be a machine. And it was all done as "a conceptual but performative" art piece.
Horse_ebooks was created by Jacob Bakkila and Thomas Bender, both employees of buzzfeed. They kept their secret identity to themselves for years, but they've finally come out.
Now, as some of you may remember, Gawker's Adrian Chen investigated this story in February of 2012, revealing that a human being — Russian Alexey Kouznetsov — was behind the twitter account. Bakilla has admitted that he came across the account in 2011 and reached out to Kouznetsov to inquire about taking it over. He agreed and Bakilla has been running Horse_ebooks since September 2011 — about six months before Chen's investigation. So he was close, but not close enough. Chen has been discussing the turn of events over at his Twitter account:
Other than the burning shame of being scooped by Susan Orlean I think the @horse_ebooks thing is pretty cool.

— Adrian Chen (@AdrianChen) September 24, 2013
@methadonna I mean i suspsected he was different than when he began but I had no idea how it was different. i thought alexey was running it

— Adrian Chen (@AdrianChen) September 24, 2013
The two have been presenting their work at the Fitzroy Gallery on New York's Lower East Side after giving out the project's name and phone number:
Bear Stearns Bravo

— Horse ebooks (@Horse_ebooks) September 24, 2013
(213) 444 0102

— Horse ebooks (@Horse_ebooks) September 24, 2013
This will all come as a great disappointment to the 213,800+ followers of the account — some of whom created Web comics and jewelry devoted to its existence. Part of the appeal had to do with the bizarre, often comical, nuggets of speech, including these gems:
And after some deep thought, I concluded that the gurus were hiding something from me... There is something they

— Horse ebooks (@Horse_ebooks) August 13, 2013
put my strategies to work... And what s so great about this system is that you are

— Horse ebooks (@Horse_ebooks) August 17, 2013
Have a dazzling smile your friends will envy Have a brighter complexion Enjoy life more everyday Bring out the sparkle in your eyes

— Horse ebooks (@Horse_ebooks) August 5, 2013
Think about what you could accomplish if your biggest dreams were

— Horse ebooks (@Horse_ebooks) July 8, 2013
So next time you get a message from a spambot, just remember there could be a human lurking behind those strange zen-like snippets.
Related: Sophisticated chatbot poses as a teenage girl to lure pedophiles.