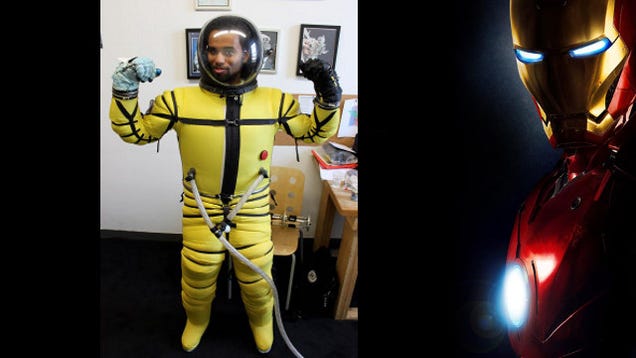 Tony Stark has been to a lot of cool places in that Iron Man get-up of his. But low Earth orbit might still be a bit beyond our operational flight envelope. Not so for the developers of the revolutionary RL Mark VI Space Diving suit.
A hi-tech ensemble consisting of augmented reality goggles, power gloves, control moment gyros, and a low-cost commercial space suit, the RL Mark VI will allow future thrill seekers and space tourists an experience that up until now could only be imagined in the boldest science fiction.
A joint collaboration between Solar System Express and Juxtopia LLC., two minority-owned hi-tech startups both based in Baltimore, Maryland, the RL MARK VI Space Diving configuration will allow the well-equipped space tourist of the near future the opportunity to actually return to Earth without their spaceship.
Space diving is the next big step beyond sky diving, and it is envisioned as a concept that would allow spaceflight participants a means of escape from a possibly disastrous on-orbit emergency, or perhaps just a new recreational activity for those no longer satisfied with merely jumping out of aircraft. The RL MARK VI would allow high-altitude jumps from near-space, suborbital space, and eventually low Earth orbit itself.
The first few flight tests of the MARK VI hardware will follow a profile very reminiscent to that of the recent record-breaking Red Bull Stratos dive of Felix Baumgartner, where the daring aerialist completed his plunge through the stratosphere with a soft parachute touchdown back on terra firma. But the ultimate goal of this futuristic project is far more radical than that. Eventually, through the use of modern "wing suit" skydiving technology and assisted by miniature aerospike engines attached to specially designed footwear, the space diver will end his spectacular glide through the heavens with a propulsive, power-assisted landing on two feet.
No parachute. At all. Just like Tony Stark does it in the movies.
In addition to Hollywood, the RL Mark VI also draws upon history for its inspiration. Major Robert Lawrence, United States Air Force, was America's first African-American astronaut. Major Lawrence was killed on December 8, 1967 in a test flight at Edwards Air Force Base in California before his dream of flying in space ever came to pass. In his honor the principal design team at Solar System Express chose to use his initials for the product code name of this revolutionary new concept.
On October 2, 2012, the birthday of Robert Lawrence, Blaze Sanders, Chief Technology Officer of Solar System Express, ratified a licensing agreement with Dr. Jayfus Doswell, president and CEO of Juxtopia, for the use of Juxtopia's Augmented Reality (AR) head mounted display technology.
Similar in functionality to Google Glass, Juxtopia's AR Goggles are primarily intended to provide the space diver with a continuous stream of vital information that will keep him on course and within safe life-support parameters throughout the duration of his jump. These visually displayed real-time dynamic analytics will tell the jumper his heart rate, respiration, internal space suit temperature, and his external temperature as well. They will provide data on GPS location, elevation, and rates of acceleration and deceleration. An FAA radar display of the local airspace will always indicate his current relative position.
Falling through the vacuum of space will be quite different than a dive that begins in the relative thickness of Earth's lower atmosphere. There will be no aerodynamic forces acting upon the diver's body that will allow him to stabilize his jump. This problem will be solved by a pair of gyroscopic boots and the fingertip controls built into the gloves of the diver's spacesuit. Commands so issued to the control momentum gyroscopes built into his footwear will establish proper attitude and help to steady his fall through the airless void.
As a safety precaution a flat spin compensator will automatically actuate after more than five seconds if the diver is unable to maintain adequate manual control. As the diver descends through the upper atmosphere, eventually the air will thicken to the point where aerodynamic forces will allow him to control the attitude of his body. Olav Zipser, word-renowned skydiver and lead jumper on the FreeFly Astronaut Project, has praised the new suit.
"Your product would be a great way to stabilize my decent during the first 30 seconds of free fall, when there is virtually zero atmosphere," he said.
Solar System Express intends to first test this propulsive landing capability somewhere around 2016, with a production model of the RL MARK VI coming to market about a year later. Until then any live tests of the system will conclude with traditional parachute jumps. Data collected during these jumps, along with rigorous control system testing and computer simulated recreations of each space dive, will enable Blaze Sanders and his team to refine the parameters and the protocols required for a text book propulsive landing.
For more information please visit www.solarsystemexpress.com and www.juxtopia.com. Read their joint press release at http://www.solarsystemexpress.com/press-releases....
This article originally appeared at Universe Today.