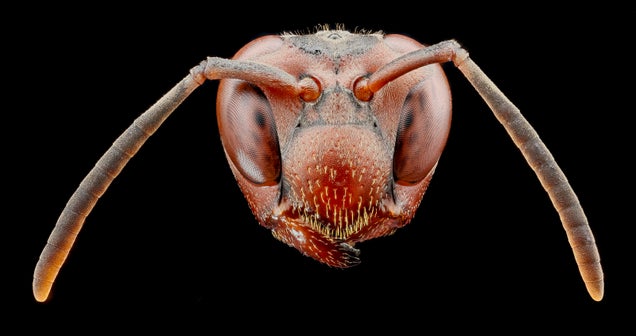 S
Whether it's the claws of a carnivorous caterpillar or the clashing mandibles of warring ants, the most fascinating insect-parts are often the smallest – and we love getting a good look. Macrophotography is one of the best ways to do just that, and the USGS Bee Inventory and Monitoring Lab's collection offers some of the best close-up views of insects we've seen.
The Lab's Flickr album comprises over 1,200 macro-images captured by photographer and lab director Sam Droege at sites throughout the U.S., Cuba, Puerto Rico and the Dominican Republic. Droege's subjects include not just bees, but a variety of plants and insects that bees interact with. Above, for instance, is a head-on shot of a North American paper wasp, photographed in Beltsville, Maryland earlier this year. Like the dimple-riddled headgear of this stinkbug, the minute details of the wasp's head are revealed here through a photo-editing technique called "stacking."
Included here is a handful of our favorite shots, but you'll find a lot more on the USGS BIML's photostream.
All images and captions by Sam Droege via USGS.
---
Japanese Burrowing Cricket, Beltsville, MD, July 2012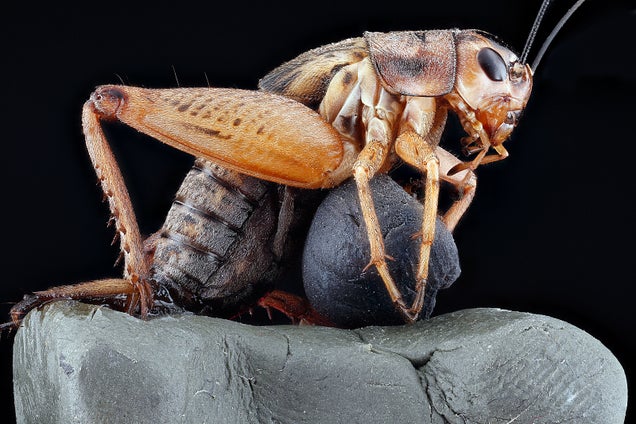 S
---
Anthophora bomboides, male, May 2012, Allegany County, Maryland
S



---
Hoplisoides xerophilus, Cuba, GTMO Naval Base, 2012
S
---
Chrysochus auratus, dogbane beetle, Beltsville, Maryland, 2012
S
---
Eugloss dilemma, male, Florida, Biscayne National Monument, 2012
S
---
Unknown Wasp, Yellowstone National Park, 2012
S
---
Clerid Beetle, Enoclerus ichneumoneus, Prince George's County, Maryland, 2012
S
---
Leafhopper, Sharpshooter Collected in November 2012 Dominican Republic at high elevations in central highlands (yes, those are real colors)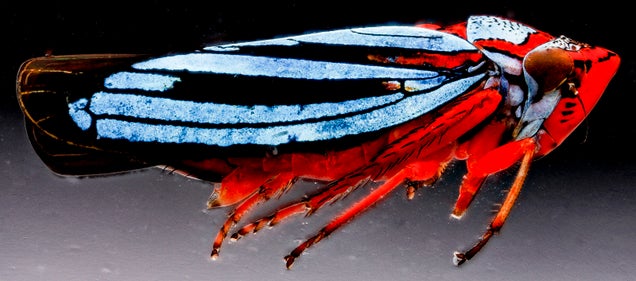 S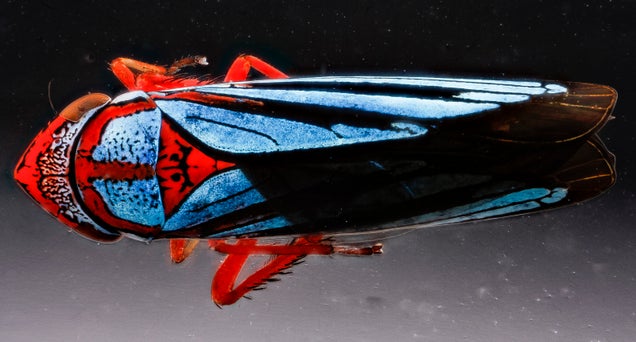 S
---
Lace bug of unknown species, Beltsville, Maryland, 2013
S
---
Collops bipunctatus, taken from flowers in Badlands National Park, South Dakota
S
---
Unknown large weevil from Jarabacoa, Dominican Republic, 2013
S
S
---
Leptochilus acolhuus, Key Biscayne National Park, Florida
S
---
Fly, Fossil Butte National Monument, Wyoming
S
Huge hat tip to Joe Hanson for bringing this photo collection to our attention!