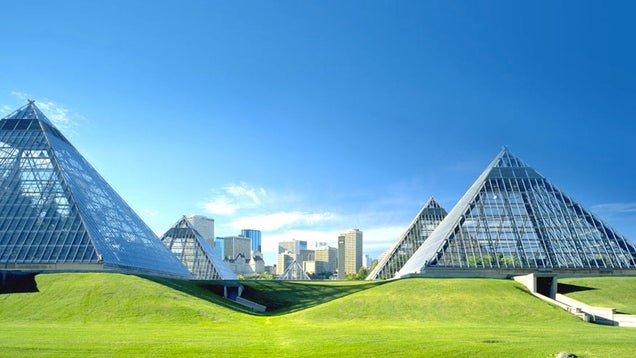 S
There's a reason why ancient Egyptian pharaohs and Mesoamerican royalty wanted to be memorialized with gigantic pyramids. They look awesome. These ultra-modern buildings translate the pyramids' classical grandeur into today's soaring architecture.
Muttart Conservatory, Edmonton, Alberta, Canada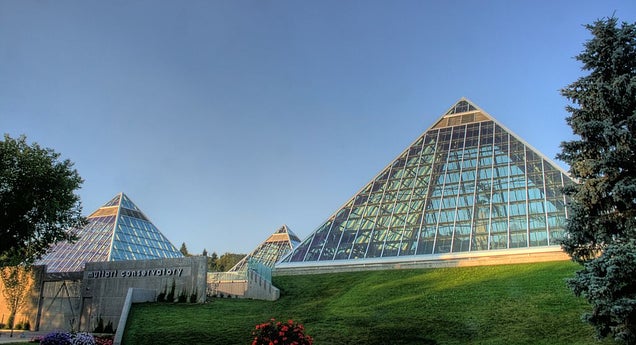 S
This botanical garden has four Peter Hemingway-designed pyramids around a central core. the two larger ones are covering 7100 sq ft (660 sq m) and the other two are 4410 sq ft (410 sq m) in area.
(via Wikimedia Commons and Metterra)
Palace of Peace and Reconciliation or Pyramid of Peace and Accord, Astana, Kazakhstan
S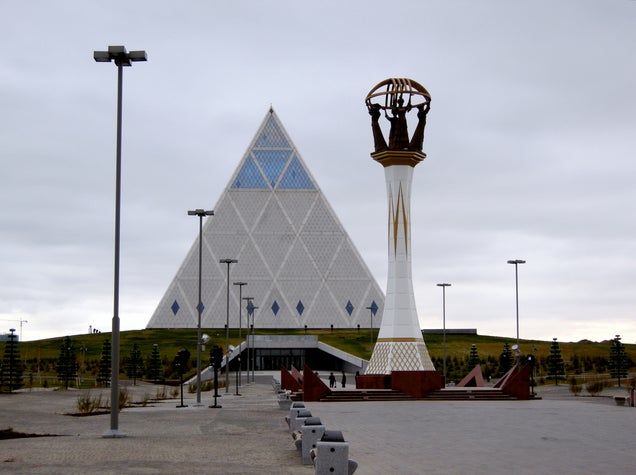 S
The Palace was designed by the Foster and Partners and completed in 2006. It has five storeys, 12 m (40 ft) each. The building has a 1,500-seat opera house inone of the lower levels, and an art gallery. Originally it was constructed for a meeting place for the leaders of all world religions.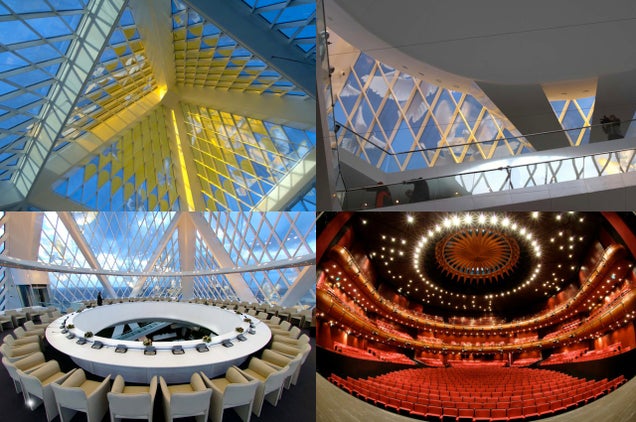 S
(via Flickr/kersy83, Flickr/cachecache and Foster And Partners)
Pyramid Arena or Great American Pyramid, Memphis, Tennessee, 1991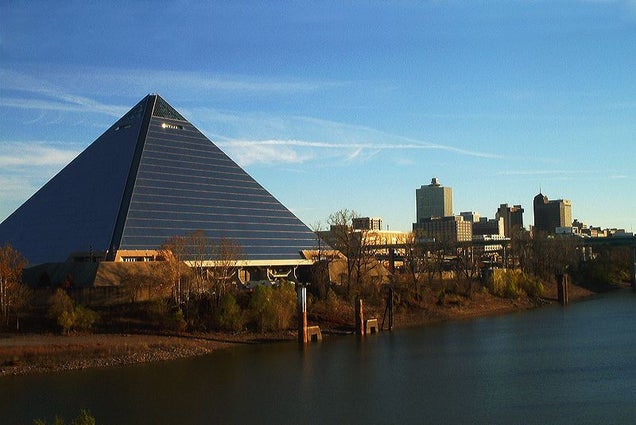 S
The 321 feet (98m) tall building was originally built as a 20,142-seat arena, but not been used as a sports center since 2004.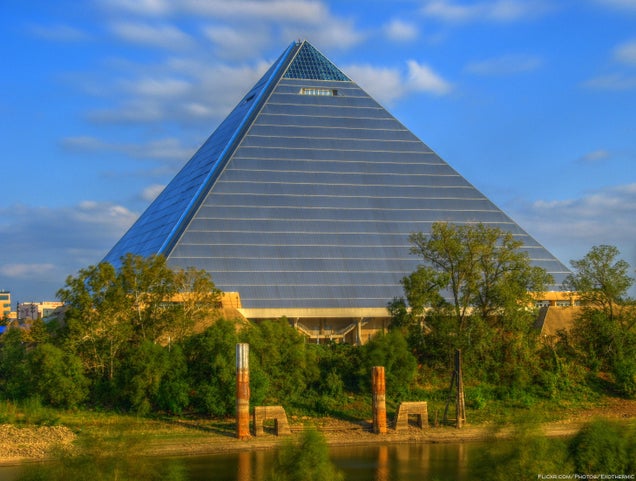 S
(via Wikimedia Commons/Jeremy Atherton and Wikimedia Commons/Exothermic)
Pyramid of Tirana, the "Piramida", 1988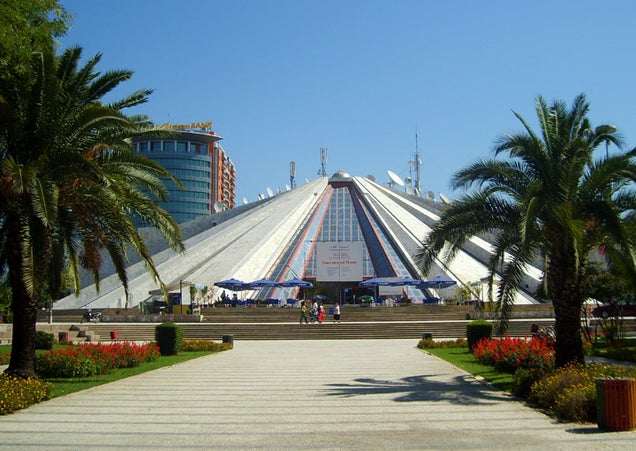 S
It was formerly the Enver Hoxha Museum and the International Center of Culture in the 1990s, but during the 1999 Kosovo War the building was used as a base by NATO and other humanitarian organizations. There are some plans to the demolition, but it's still standing.
(via Wannabe Magazine)
Walter Pryamid (formerly Long Beach Pyramid), Long Beach, California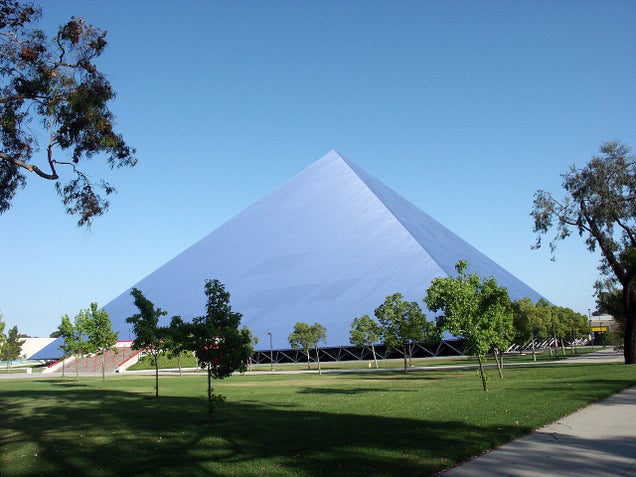 S
The 5000-seat stadium was designed by Don Gibbs for the California State University.
(via Wikimedia Commons)
Luxor Las Vegas, Las Vegas, Nevada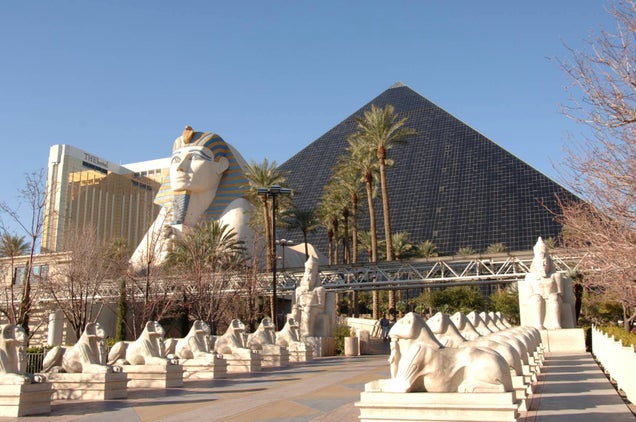 S
The second largest hotel in Las Vegas has a 120,000 square foot (11,000 sq m) casino and a 20,000 sq ft (1,900 sq m) convention space, swimming pools and lots of stores. It was designed by Veldon Simpson and opened in 1993.
(via Go Vegas/About)
Slovak Radio Building, Bratislava, Slovakia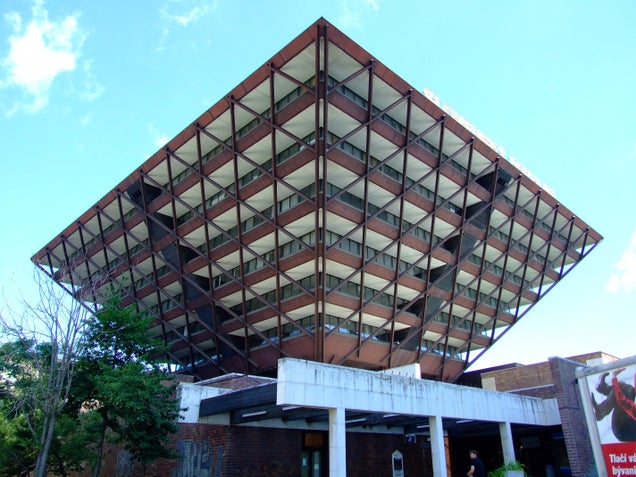 S
This 262 ft (80 m) high upside-down pyramid was completed in 1983.
(via Geolocation.ws)
Maitreya-Buddha Pyramid, Pyramid Valley, Bangalore, India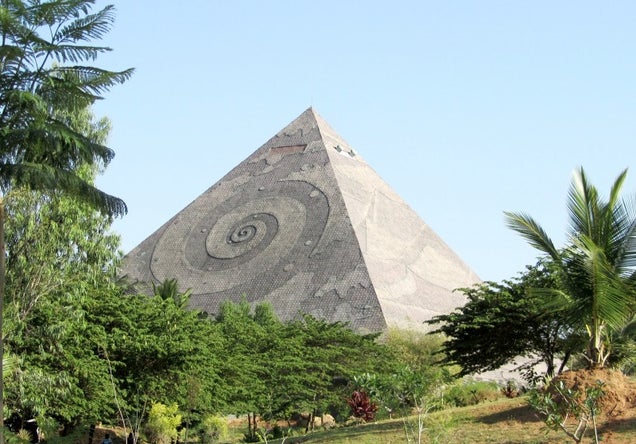 S
The world's largest meditation pyramid has accomodate 5,000 people and could be used for meditation since 2006. It has 640 Himalayan crystals fitted inside its hall.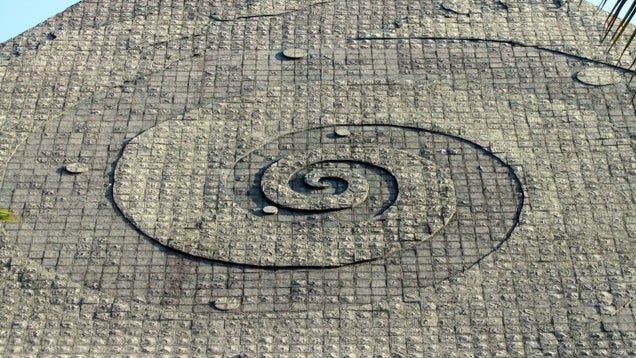 S
(via Worthview)
Pyramid houses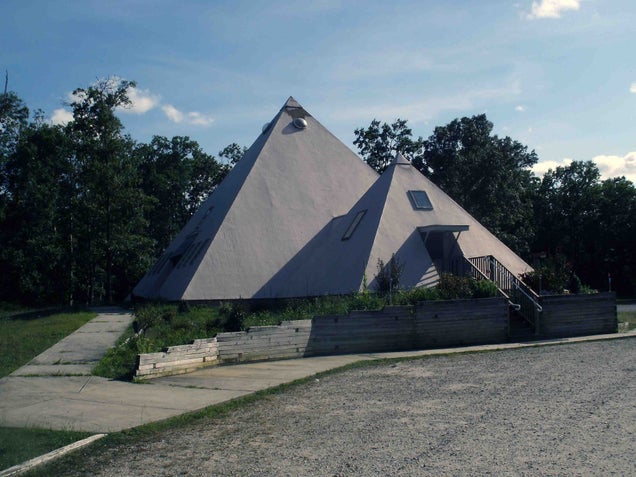 S
Pomona, New Jersey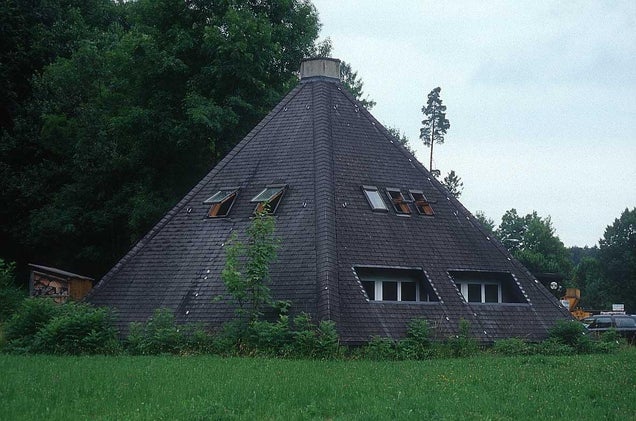 S
Unknown
(via Waymarking and Magic Child)
Gold Pyramid, Wadsworth, Illinois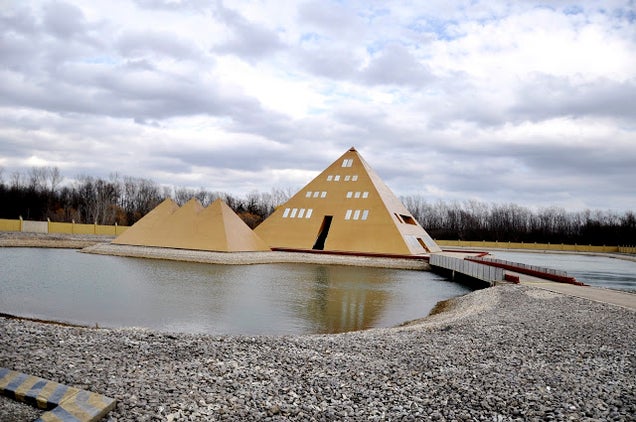 An enormous, 64 ft (19,5 m) tall statue of Ramses II guards the 24-carat gold-plated pyramids that were built in 1977 by Jim and Linda Onan as a private residence. One of the pyramids containing a replica of King Tutankhamun's tomb and an other one is a garage.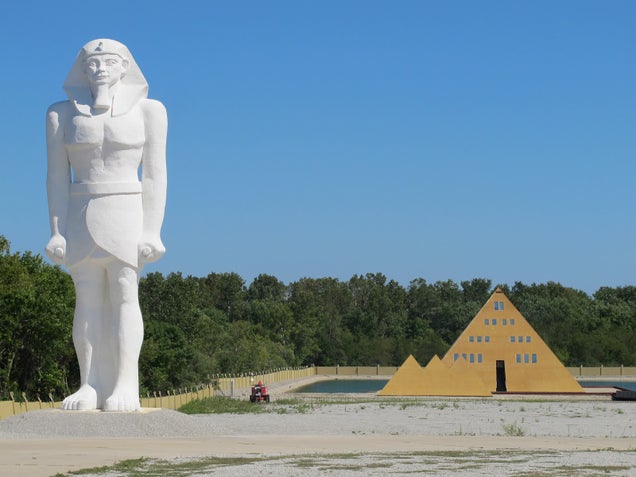 S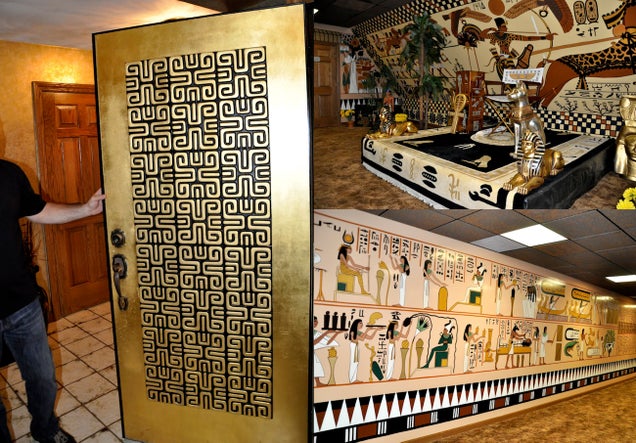 S
(via Just Another American Princess and All Over The States)
Pyramid of Kazan, Tatarstan, Russia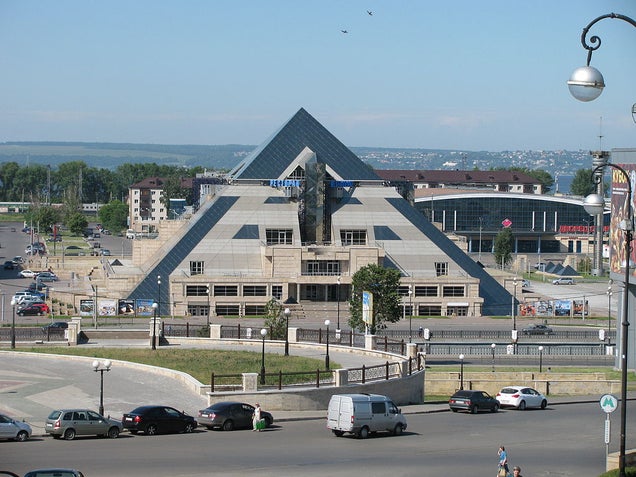 S
The largest recreation center of Russia was opened in December 2002 and has everything that you need for relaxation. It's 98 ft (30 m) high and the total area is 147,500 sq ft (13,700 sq m).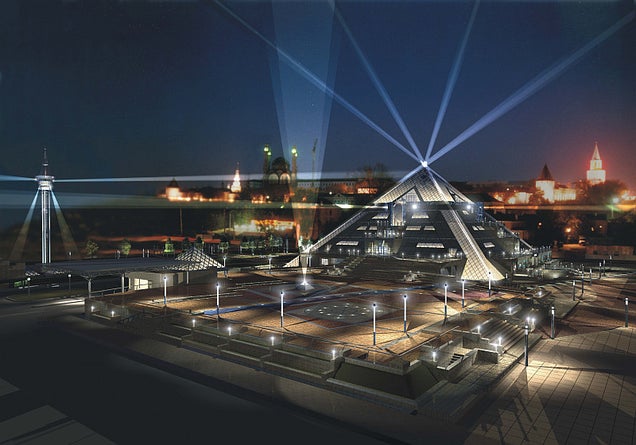 S
(via Wikimedia Commons and Visit Kazan)
Summum Pyramid, Utah, 1979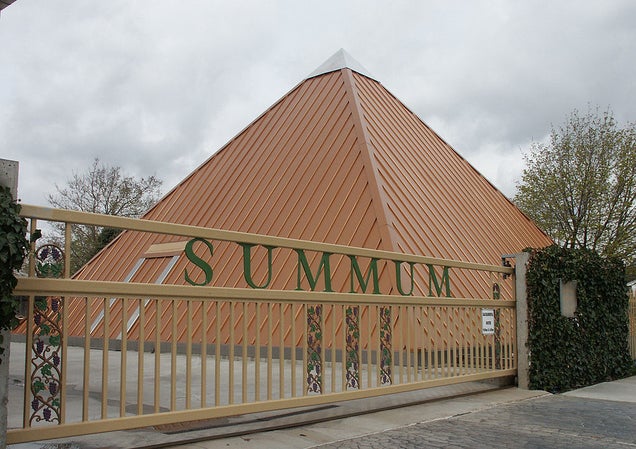 S
This place is a sanctuary and temple used by Summum, the religion founded by Claude "Corky" Nowell after an encounter with the mystical and highly intelligent Summa Individuals. The pyramid was built between 1977 and 1979, and oriented towards True North.
(via Wikimedia Commons)